Southwest Michigan fruit update – June 5, 2018
Cooler weather is ahead, which will reduce the recent drought stress on plants. After bloom, the focus shifts to insect and disease control to protect the fruit.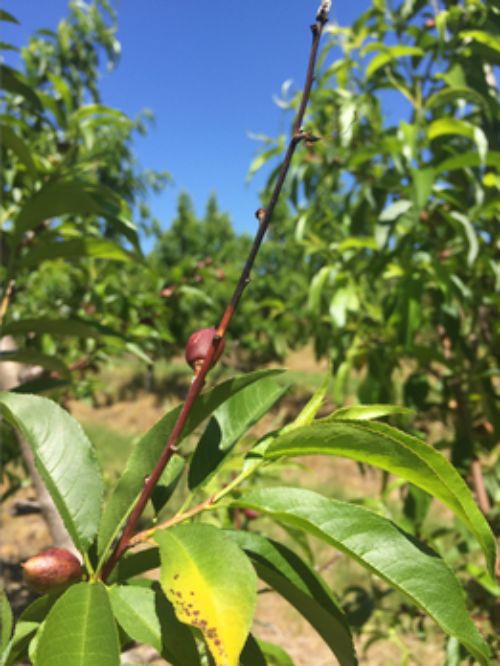 Weather
Last week began very hot with highs in 90s. Highs fell into the 80s and then into the 70s for the weekend. Last Wednesday, May 30, was rainy across the region. Rainfall totals for last week ranged from 1 to 2 inches. Rains on Wednesday and Sunday were disease infection period for some crop diseases. The hot Memorial Day weekend with highs in the 90s really increased the plants demands for water. This was a combination of hot condition and the extensive leaf growth we have seen in the last month. Most trees are fully developed leaf canopies, so the demand for water had increased greatly in the last two weeks of May. Sandy soils dried quickly, but water is still standing in many fields.
Because of the cool, wet conditions this spring, most plants have not developed extensive root systems to match the extensive canopy growth. With the hot, dry week, they lacked the ability to suddenly extract a lot of water quickly from the soil.
This coming week will be cooler with highs starting in the 60s and rising to the 70s. Highs in the 80s are forecast for the weekend. The chance of rain is high on Tuesday and then rises again Friday. We are a little ahead of our normal heat accumulation for this date.
Southwest Michigan GDD summary from March 1 – June 3, 2018

Station

GDD 42 F

GDD 45 F

GDD 50 F

Benton Harbor (SWMRC)

888

748

541

Lawton (Lawton)

928

786

577

Fennville (TNRC)

799

667

476

Average for the SW region

903

762

555

Accumulation last week

214

194

158
Miscellaneous
Fields and fruit plantings are still soggy in low spots while sandy areas are generally dry. New plantings will need watering until roots are well established. We are getting calls about spray damage from sprays applied to new leaves with poorly developed cuticles under wet conditions and/or sprays applied under hot conditions last week. We are also seeing some scattered winter injury in some areas.
Tree fruit
A warm May with mild temperatures, sunny skies, and good soil moisture have provided good growing conditions for tree fruit. More reports of poor tree growth in low areas, presumably due to wet feet and Phytophthora root and crown rot. San Jose scale male adults have been flying for the past two weeks (Trevor Nichols biofix May 27, 442 GDD 50 since Jan. 1), with crawlers expected to emerge approximately 375 GDD50 after the biofix, or 817 GDD50 since Jan. 1 or approximately June 15. Plum curculio egglaying scars have become much more prevalent on apple, plums and cherry fruit over the past week.
Apricot fruit have reached 1.2 inches in diameter.
Peach and nectarine fruit are 20 to 22 millimeters in diameter. Smaller fruit are starting to drop. Estimated peach harvest dates are available on Enviroweather. Redhaven harvest is projected to begin about Aug. 1. Bacterial spot symptoms (black angular spots clustered on leaves that are turning yellow) are appearing on leaves close to black twigs infected last year. Exposed fruit are prone to bacterial spot, rusty spot and peach scab infections. Protection by oxytetracycline is needed for warm to hot, rainy periods.
We have been catching oriental fruit moth since May 7, the regional biofix (first sustained catch) based on the Trevor Nichols Research Center trap line. Flagging of peach shoots due to oriental fruit moth larvae entries should be showing up soon. Ragged marks showing up now on peach fruit are probably due to tarnished plant bug.
Sweet cherries are 13 to 15 millimeters and Montmorency tart cherries are 11-12 millimeters in diameter. Poor fruit set is being reported on some sweet varieties such as Rainier and Regina. Cherry leaves are always susceptible to cherry leaf spot infection. We have not seen any cherry leaf spot symptoms yet. Sweet cherry fruit are always susceptible to brown rot infection and need to be protected.
Japanese plums are 18 millimeters and European plums are 17 millimeters in diameter at the Southwest Michigan Research and Extension Center. Fungicide treatment for black knot should continue until shoot growth stops. Some weather related russeting is showing up on Japanese plum. Plum curculio are active with the warm evening temperatures and will target plum fruit for egglaying.
Apple fruit range from 17 millimeters (Gala, Red and Golden Delicious) to 28 millimeters (Zestar) in diameter. After bloom apple fruit are susceptible to attack by plum curculio and tarnished plant bug. Symptoms from the May 2 apple scab infection period have shown up. Scab spore numbers have really declined and the Enviroweather scab model predicts that almost all the spores are mature but not all have been released. Growers should continue to protect the fruit and leaves for another week or two.
Fire blight from blossom infections showed up late last week on apples and pears in the southwest region. This likely traces back to a May 9 infection period. If there are only a few strikes on young trees growers may want to prune these out as quickly as possible. Cuts should be made at least 6 inches below any sign of the fire blight infection.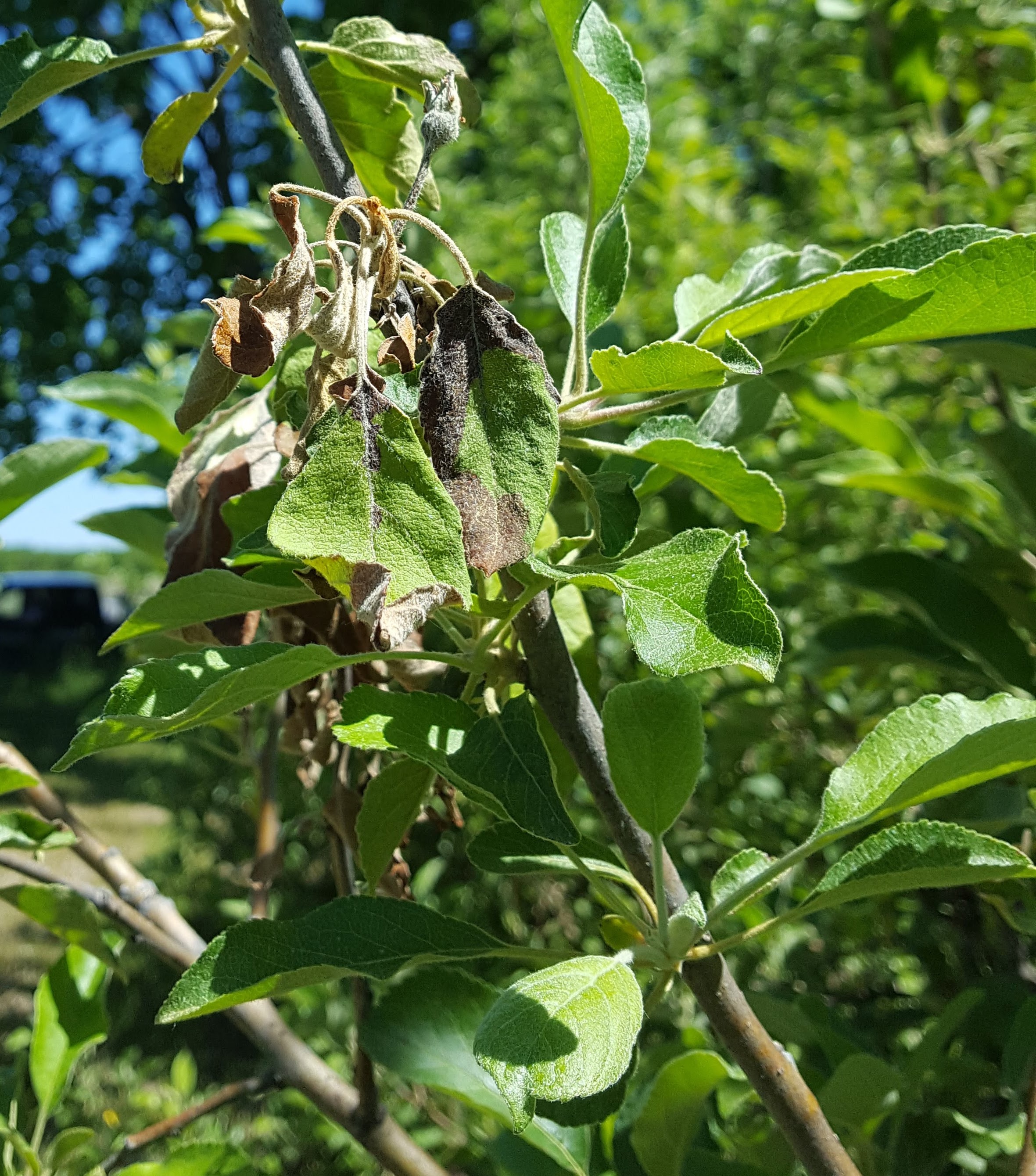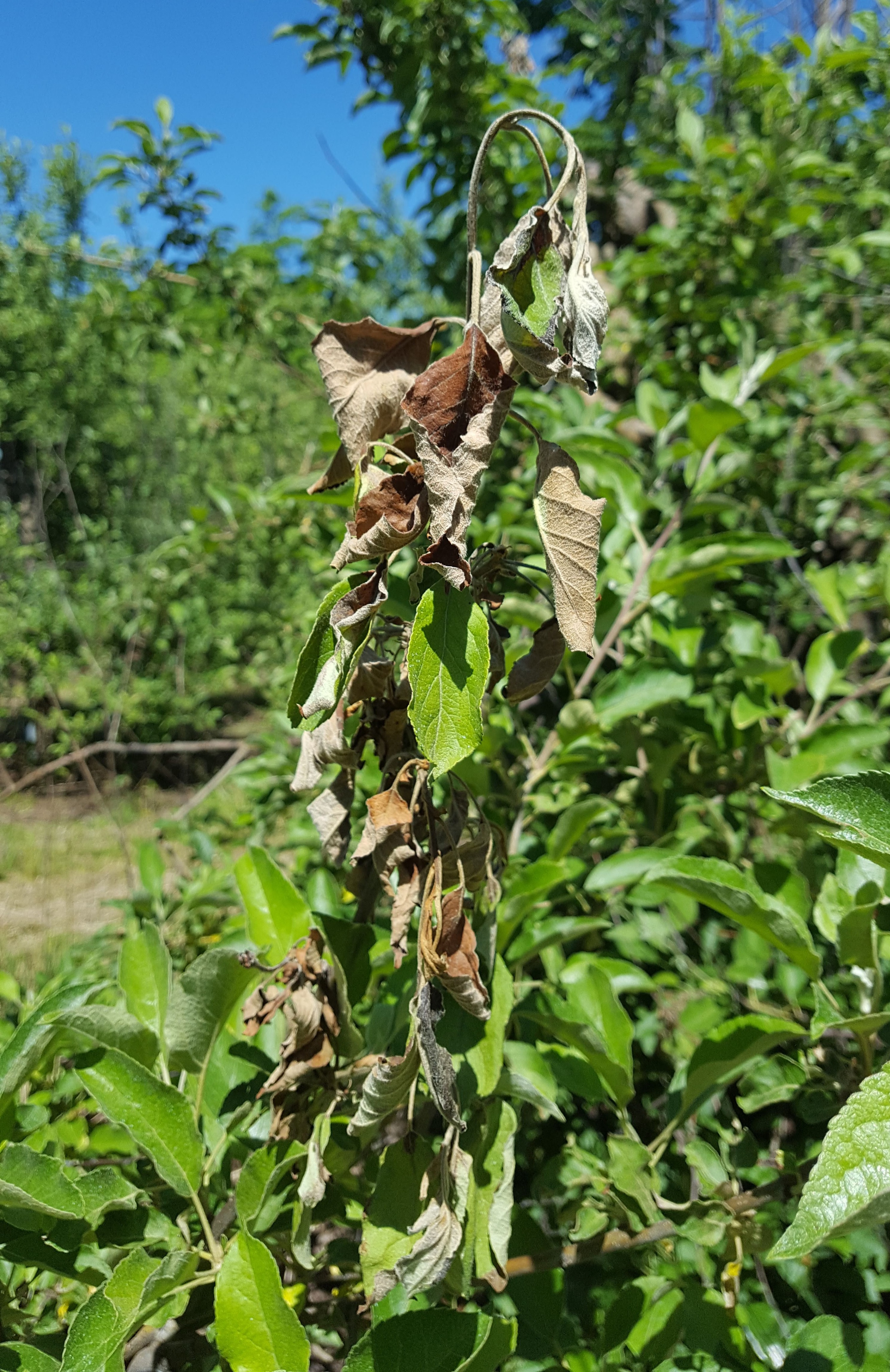 Left/top: After infecting the flower, the fire blight bacterial moves into the plant and kills the fruiting spur. Notice how the infection has moved into the leaves from the stem. Right/bottom: Fire blight moves into the stem and causes the young shoots to wilt and die resulting in the classic "Shepard's Crook" of shoot blight. Photos by Mark Longstroth, MSU Extension.
Some areas caught their first codling moth Monday, May 21. This serves as the area biofix. We have sufficient heat unit (GDD) accumulation to require sprays for protection against hatching larvae on June 2 (see "First generation codling moth management").
Apple thinning has been difficult. Hot temperatures made fruit very sensitive to thinning sprays and there has been a heavy drop in some unthinned orchards. We have fruit sizes exceeding 18 millimeters in diameter, so fruit will now be more resistant to thinners. The forecast is for sunny days and mild temperatures, so thinners will be less effective. If growers still want to thin under these conditions, use maximum rates and combination sprays to get the most out of their thinners. Crop loads vary greatly from orchard to orchard, with many needing only light hand thinning.
Pear fruit are 18 to 20 millimeters in diameter. Pear scab has been found on fruit. Fire blight from blossom strikes have been seen on Harrow Sweet pear, a variety with some resistance against this disease. Pear psylla is the only major insect concern and the window after bloom during active shoot growth is a major control window.
Pear scab is similar to apple scab. Photo by Mark Longstroth, MSU Extension.
Small fruit
In grapes, Concord and Niagara bloom has begun. We are at mid-bloom and the cooler weather has slowed things down. Black rot and phomopsis lesions can be found on the leaves. The immediate post bloom period is a critical time for the controlling diseases on the fruit such as powdery mildew, downy mildew, phomopsis and black rot.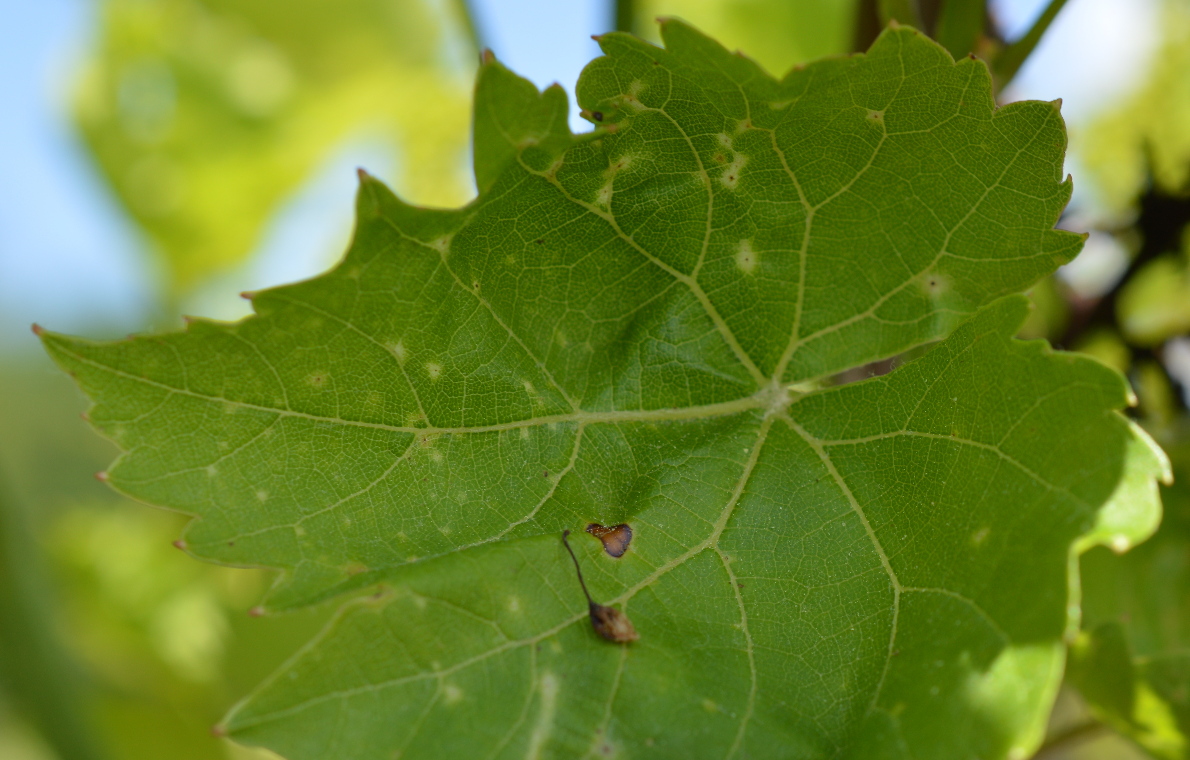 Small, black dots with a pale halo mark phomopsis lesions on this Chancellor leaf. The larger brown dead spot is from black rot. Photo by Keith Mason, MSU.
Grape berry moth flight is reaching its peak across Southwest Michigan. We have not seen any egglaying or larvae in clusters in vineyards or wild grape. We do expect to find egglaying and larvae this week. Most vineyards can skip the post-bloom insecticide spray unless if treatment is needed for other pests like leafhoppers or rose chafer.
Look for webbing in clusters to determine if grape berry moth treatment is needed for. A sample of 100 randomly selected clusters on the vineyard perimeter and another 100 clusters in the vineyard interior should be sufficient. If more than one in 10 clusters have a grape berry moth larva, then treatment may be needed.
Because the larvae are still fairly in young clusters, a contact insecticide such as a pyrethroid would be a good choice if a post-bloom spray is needed. Note the date of wild grape bloom. Wild grapes bloomed quickly in the heat and the bloom was compressed across the region. We believe May 27 is a good estimate of 50 percent bloom in wild grapes. We will use May 27 as biofix for timing the second generation of grape berry moth.
Blueberries have small green fruit up to 8 millimeters. Shoot growth has stopped for many smaller shoots on the bushes. The crop in general looks good, but it is spotty in places. Protect green fruit against anthracnose. Both cherry fruitworm and cranberry fruitworm were caught on May 28. Both the cherry fruitworm and cranberry fruitworm models on MSUEnviroweather say to time controls to egglaying, which has begun.
Strawberry harvest will begin soon. Last week's hot weather caused some berries to ripen strawberries quickly and growers are disappointed in size. Most of the fruit is thimble sized and growers hope the cooler weather will help them size. Leaf spot is common. Anthracnose is appearing.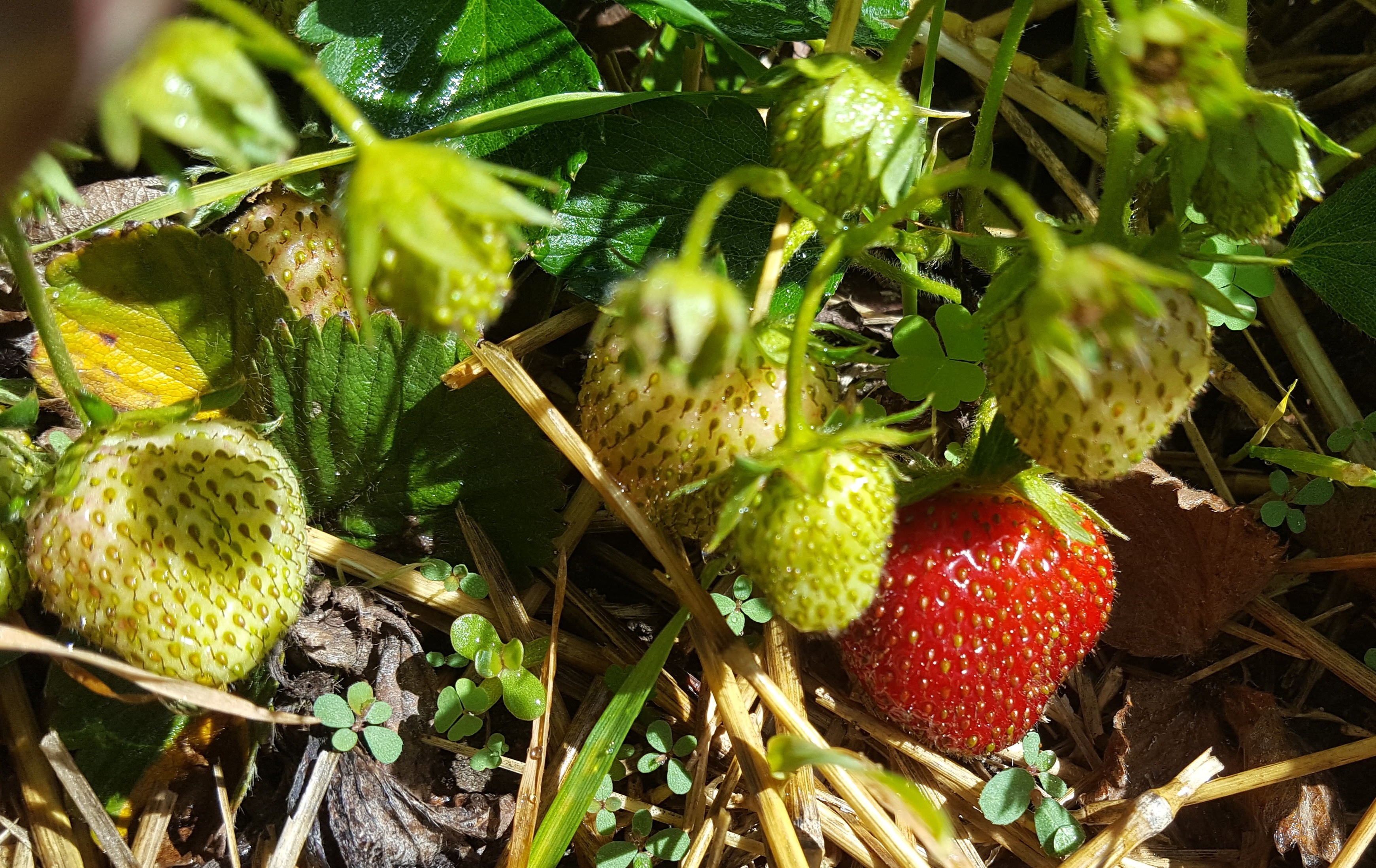 Last week's heat caused some of the strawberries to ripen before they had much size. Fruit that has not yet begun to ripen will continue to grow in the cooler weather. Photo by Mark Longstroth, MSU Extension.
Bramble bloom is ending. Black raspberry bloom is finished and the plants have small green berries. Red raspberry bloom is ending. Blackberry bloom continues. Primocane growth has very rapid in the warm temperatures. Spider mites causing pale green speckles on the leaves have been reported.
Upcoming meetings
The next Monday fruit IPM meeting is June 11 at Fruit Acres Farms, 3452 Friday Rd, Coloma, MI at 5 p.m. Two Michigan RUP applicator recertification credits are available at these meetings.
Pre-register by June 13 for the first Clean Sweep for Southwest Michigan, scheduled for Wednesday, June 27, 2018. Clean Sweep allows pesticide users to safely dispose of unwanted pesticides.
A Blueberry Pre Harvest and Weed Control Update is planned for Wednesday, June 20 from 7 to 9 p.m., south of Grand Junction off Silver Lake Road. The meeting will include updates and insect and disease control as well as a tour of an herbicide trial including standard and new pre-emergent herbicides, some applied in either the fall or the spring.
MSU Agriculture Innovation Day: Focus on Fruit and Vegetable Technologies is June 28 at the Southwest Michigan Research and Extension Center.
Related articles