Southwest Michigan fruit update – May 30, 2023
Tree fruit thinning is continuing. Fruit set is looking good for all fruit crops in the region.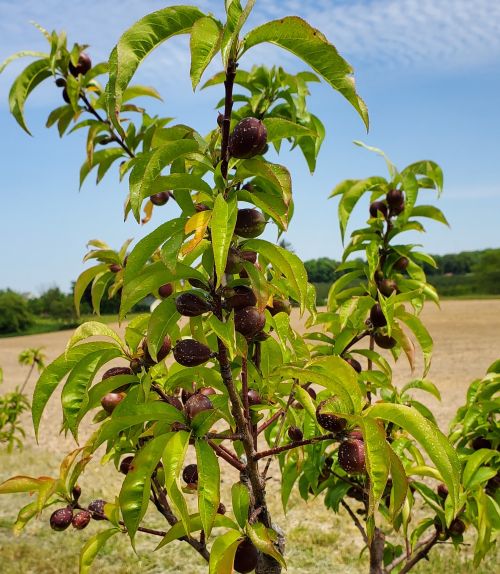 Weather
The region saw another seasonal weather last week. Most days saw high temperatures in the upper 60s to near 80 degrees Fahrenheit. Locations near Lake Michigan were 5-10 degrees cooler. Most nighttime lows were in the low 40s to 50 F.
No rain was recorded for the week. Soils near the surface are dry. Deeper soils still have a decent amount of moisture. So far, irrigation is needed mainly for young plantings and small plants. Large, established plantings can still pull water from deeper roots.
We collected an average number of growing degree days (GDD) last week, 133 GDD base 42 and 89 GDD base 50, respectively. We have been drier than average for several weeks. Soils are dry.
Southwest Michigan GDD summary from March 1 – May 29, 2023

Station

GDD 42 F

GDD 45 F

GDD 50 F

Benton Harbor (SWMREC)

804

654

454

Lawton (Lawton)

808

658

457

Fennville (TNRC)

695

556

375

Average for the SW region

777

630

437

Average last week

640

512

348
A warming trend began on Sunday and Monday, May 28 and 29. Expect warmer weather the coming week. High temperatures are predicted to be in the upper 80s; lows in the lower 60s. Scattered pop-up afternoon showers are predicted Tuesday through Friday with Wednesday and Thursday having the best chances.
Most showers will not result in any relief for the soils or plants but may be enough to splash disease spores in the vineyards and orchards. Expect soils to stay dry. Irrigation may be needed in the coming week for young plantings and sandy sites.
Tree fruit
Dry conditions continue to stress young trees in sandy sites. Insect activity is continuing to increase with warm weather. Oriental fruit moth catch continues to be relatively high.
Apricot fruit range from 30 to 35 mm, with a generally better crop potential this year than in recent years.
Peach and nectarine fruit size ranges from 20 to 25 mm, with drop continuing. Crop loads are still generally good in the area, with cropping problems in some sites. Temperatures have been conducive for tarnished plant bug and plum curculio damage. Shoot flagging due to oriental fruit moth larvae is expected to show up soon, based on an estimated working biofix of May 5 to 7.
Bacterial spot symptoms on leaves are still relatively rare. Disease concerns for susceptible varieties are peach scab and rusty spot. Peach scab is more common in sites that had little or no fungicides in the previous year. Cover sprays for peach scab run from petal fall to third cover and from shuck split to pit hardening for rusty spot (powdery mildew) for susceptible varieties.
Cherry Montmorency fruit are ranging from 10-13 mm, with a relatively good crop potential for the area. Sweet cherry fruit are averaging approximately 15 mm diameter with some fruit drop underway. Sweet cherry pits in central Berrien County have hardened. Cherry leaf spot symptoms are still relatively scarce. Plum curculio damage to fruit is common on sites with weak insecticide programs.
In plum, European plum are ranging from 18 to 20 mm, with Castleton fruit loads noticeably greater than Stanley at the Southwest Michigan Research and Extension Center. Plum curculio is the primary insect problem now.
Apple fruit range from 18 to 25 mm diameter, depending on the variety and location. Gala crop loads are relatively heavy. The Cornell apple carbohydrate model is available in the apple section on MSU Enviroweather to help timing thinning sprays. Fruit drop due to thinning sprays is underway. Accede is a relatively new fruit thinning tool that is useful for apples exceeding 15 mm in diameter and is considered more reliable than ethrel sprays.
Scab symptoms are still relatively uncommon in the area. Disease management concerns now are scab, powdery mildew, rust and fire blight. Newly planted trees and some hard cider varieties may have new bloom susceptible to fire blight. Low rates of Apogee and Actigard help to reduce the risk of shoot blight. Fruit tree leaf roller and oblique banded leafroller larvae are webbing and feeding on leaves. Rosy apple aphids are present on some varieties. Biofix for codling moth is approximately May 18 for the area.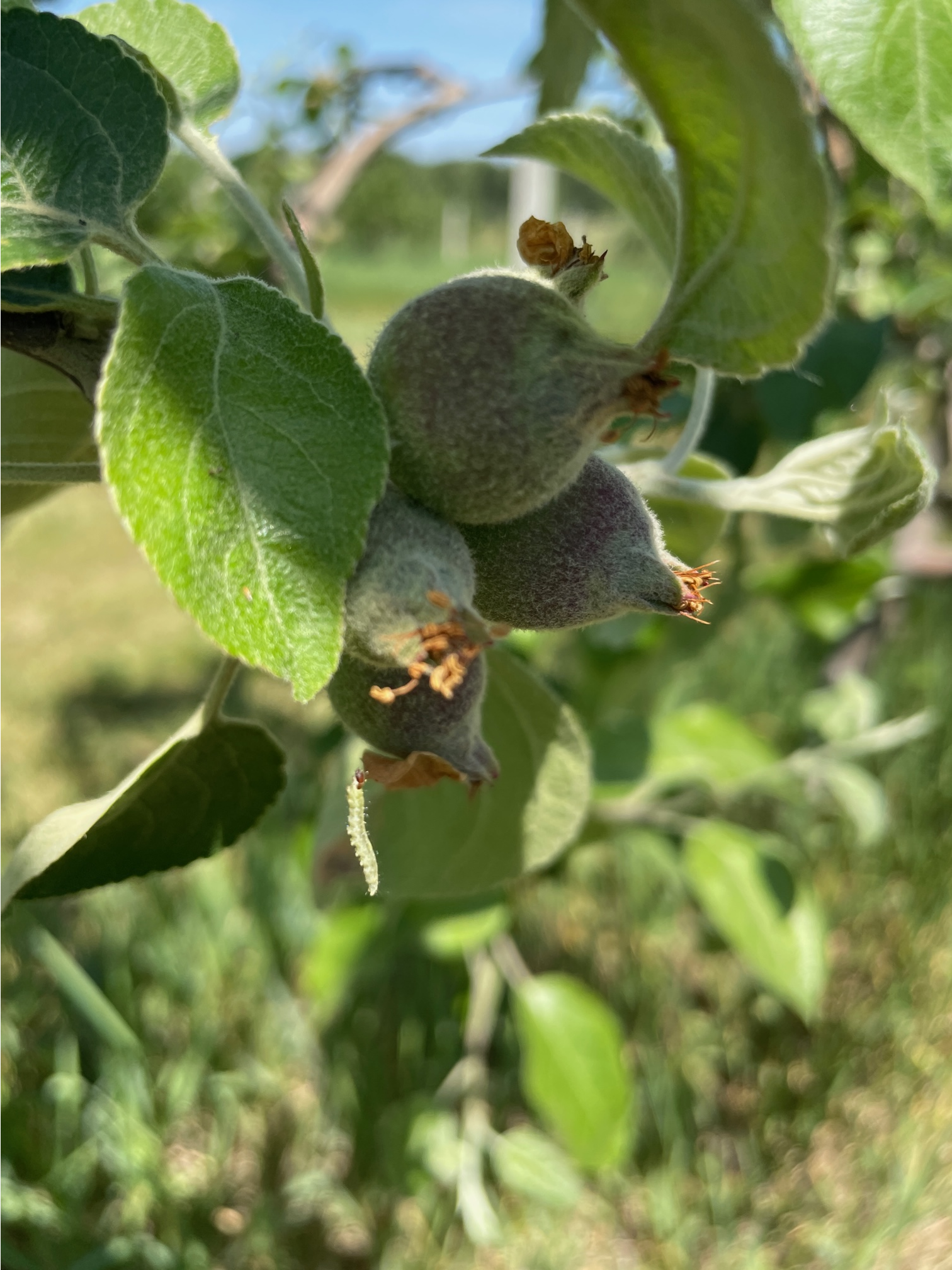 Pear (Bartlett and Harrow Sweet) fruit range from 17 to 20 mm diameter at the Southwest Michigan Research and Extension Center in Berrien County. Pear rust mite puckering/reddening of leaves has been seen in several locations. Pear psylla nymphs are exuding protective honeydew, which encourages sooty mold growth. Tiny, dark adult psyllids are common and can be identified by the upright tent-like wing position of this insect.
Small fruit
Grape shoot lengthening continues on vinifera varieties. Clusters are separating and expanding on juice and hybrid varieties. Secondary shoots are beginning to lengthen on juice grapes at locations that had primary bud loss from the April 27 freeze. Growers with damage are still predicting 80-90% crop. No wine grape damage has been reported.
Wild grape bloom has been recorded throughout southwest Michigan. Reports from grape producing areas in central Berrien County started coming in on May 25. Growers in Van Buren and Allegan counties started reporting sightings two days later. Wild grape bloom is used as a biofix for grape berry moth. Scout for wild grape bloom on your farm. Biofix is when 50% of clusters are at 50% bloom. See this article for more information: Using the MSU Enviroweather grape berry moth model in 2018
With the dry weather the last few weeks, most diseases that impact grapes have had fewer chances to spread. Immediate prebloom sprays may not be as necessary in vineyards that have had good cover sprays applied before now. Focus should shift to preparing for bloom fungicide sprays for phomopsis, black rot, anthracnose, downy mildew, botrytis bunch rot, and powdery mildew.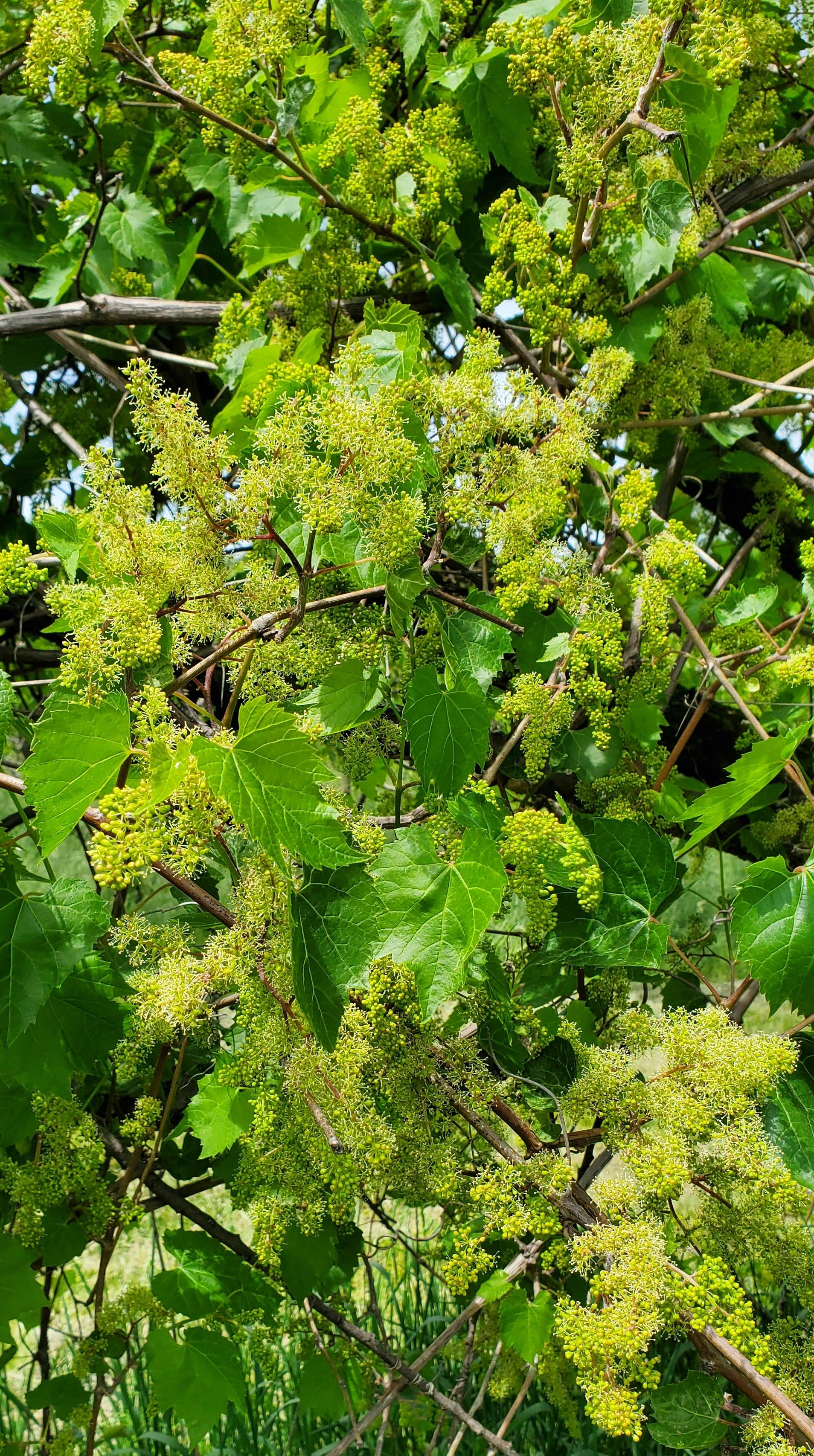 Blueberry bloom is finishing. Early varieties are already showing green fruit. Mummy berry and phomopsis shoot strikes continue to be the main disease focus. We found several mummy berry shoot strikes and other blights while scouting in the Bangor area.
Strawberry bloom continues. Harvest began in southern Berrien County late last week and growers in Van Buren County are expecting harvest to begin in the next few weeks. Growers are still thinking about fruit rot sprays.
Bramble bloom is underway for summer bearing raspberries throughout southwest Michigan. Blackberries are starting to bloom as well.
Announcements
Our regular southwest Monday fruit IPM updates are once again a hybrid format. The meetings are held in-person with virtual attending also available online. Our first meeting was Monday, April 10, at 5:30 p.m. and will continue through the rest of the season. You need to register to receive the Zoom link and password for these meetings. The webinars are free and one pesticide applicator credit is available for each meeting. The same Zoom link will be used with all the Monday meetings—you only need to register once.
This work is supported by the Crop Protection and Pest Management Program [grant no 2021-70006-35450] from the USDA National Institute of Food and Agriculture. Any opinions, findings, conclusions, or recommendations expressed in this publication are those of the author(s) and do not necessarily reflect the view of the U.S. Department of Agriculture.