Southwest Michigan vegetable update – June 27, 2018
Southwest Michigan just can't get a break from rain.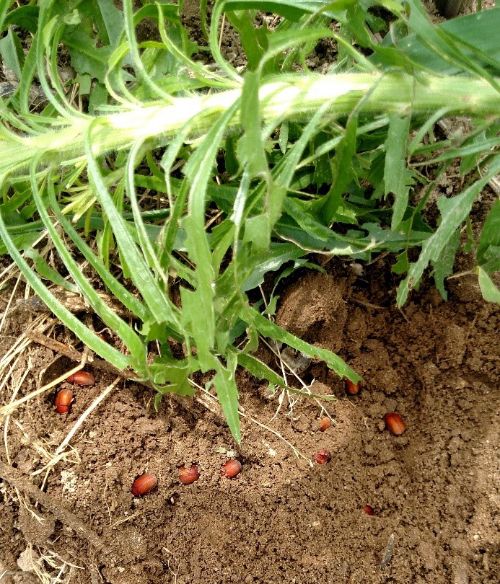 Weather
High temperatures ranged from 68 to 80 degrees Fahrenheit and lows from 57 to 63 F. There were reports of 2 to over 7 inches of rain across the area. Conditions have not be good for drying and many fields still have standing water. The 50 F degree-day units are at 986 for 2018 compared to 1,036 for 2017 and 997 for the five-year average.
Crop reports
Insect activity is increasing. Tarnished plant bug populations are increasing and damage from squash vine borer has been reported. Asiatic garden beetle adults, a fairly new pest, are also present.
Asiatic garden beetle are about half the size of a standard June bug (see photo) and lighter in color. The larvae are the typical "C" shape of a scarab beetle and feed on roots. The adults are active at night and burrow in the ground during the day. We are unsure of their host range, but we do know larvae feed on corn roots and potato tubers.
Egglaying and larval feeding appears to be somewhat concentrate, so the first signs will be areas of poor growth. Pull up some of the grass weeds, Palmer amaranth or the crop to see if adults are present. They will quickly scurry to get back under cover. I have found them when pulling out crabgrass in my plastic mulched crops. It is uncertain at this time as to what crops they will affect.
For more information on Asiatic garden beetle, please refer to the following articles:
Zucchini, yellow squash and cucumber harvest volume is increasing as more fields come into production. First fruit from these fields are often poorly shaped. This will improve once bees find the fields.
Bacterial diseases are beginning to appear on tomatoes. Early transplants have 1- to 2-inch fruit.
The east to west weather patterns of the past week should concern cucurbit growers since cucurbit downy mildew in Michigan generally starts in the southeast part of the state. It would be wise to start protective spray applications to fields that will come into production in the next few weeks. So far, I have not heard of any reports.
The weather has been difficult for hops. Continued wetting makes it difficult to control downy mildew, not only by increasing the number of applications but also making it difficult to get through wet fields. Some hopyards have had stress from too much water and have started to form cones early as a result.