Southwest Michigan fruit regional report – August 19, 2014
Blueberry, peach, plum and raspberry harvest continues while pear harvest has begun. Soils are very dry in southwest Michigan.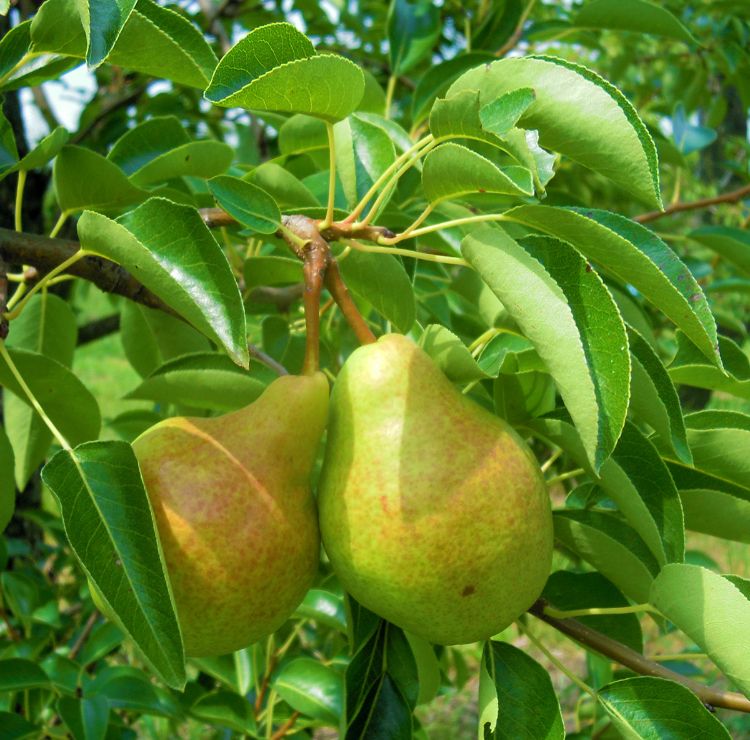 Weather
Last week was cooler and dry. Scattered showers crossed the region Sunday, Aug. 17, and brought a bit of rain to a few sites. Rainfall totals for most sites was zero. High temperatures fell into the 70s and low temperatures into the 40s, with lows in the 30s Friday morning, Aug. 15. Soybeans are wilting on sandy soils and stress is easy to see in some trees with yellowing reddening leaves. Evapotranspiration (ET) for the last two weeks has been about 0.15 inches of water a day. With shorter days, ET will continue to fall, but irrigation now will recharge the soils, maintain plant vigor and help size fruit for harvest.
Last week we picked up about 156 growing degree days (GDD) base 42, about 22 per day, and 102 GDD base 50, about 12 a day. We continue to lag about one to two weeks behind normal in GDD accumulations.
The upcoming week is forecast to be warmer with highs in the 80s with a chance of showers most days.
| | | | |
| --- | --- | --- | --- |
| Station | GDD 42 F | GDD 45 F | GDD 50 F |
| Benton Harbor (SWMREC) | 2,788 | 2,408 | 1,828 |
| Fennville (TNRC) | 2,540 | 2,173 | 1,616 |
| Average for the region | 2,756 | 2,378 | 1,802 |
Tree fruit
No brown marmorated stink bugs were caught in traps over the past week. Most should still be in the less mobile immature stages. We should be seeing the third generation of oriental fruit moth. Trap catches for the second generation continues to be low, but a few sites report catching up to 180 per trap per week. The Trevor Nichols Research Center (TNRC) catch of San Jose scale males remains high for the third week. With a July 21 biofix for the second generation, the GDD base 51 F on Aug. 18 for Fennville, Michigan is 428. Crawlers are expected about 500 GDD base 51 F after the biofix, or approximately Friday, Aug. 22 for the Fennville, Michigan area. This generation is the one that typically leaves red marks on light colored fruit.
Codling moth trap catch of the second generation has been low but continuous since the end of June for many sites. Japanese beetle adults are still active and potato leafhopper damage can be found in many sites. The window for tissue sampling for nutrient analysis is ending.
Peach varieties being harvested in the region include Allstar, PF17, Loring, Coralstar and the white peach Blushingstar. Oriental fruit moth and obliquebanded leafrollers are the typical insect concerns in August. Specks from bacterial spot infections are common on peach fruit. Peach scab is easier to find on susceptible varieties under minimal spray programs.
In cherries, Michigan State University Extension recommends that growers continue protection against cherry leaf spot to maintain good healthy foliage into the fall. Chlorothalonil (Bravo, Chloronil) can be used post-harvest with a maximum of 15.4 pounds of active ingredient per acre per year. Most tart cherry orchards have lost a significant portion of their leaves. These infections probably took place during the wet weather early in August.
Plum harvest of Castleton is finishing up with Fortune, NY9 and Stanley expected in the next two weeks. Apple maggots, obliquebanded leafrollers, codling moths and brown rot can be problems in plums in August. Appearance of new bacterial spot symptoms has slowed.
Apple harvest of Zestar began last week, with some fruit already testing mature with fruit firmness below 14 pounds of pressure and starch test conversion of 4. See "Checking apple maturity: What to look for" for more information. Growers should check the dates for applying Retain for stop drop control for the apple varieties they grow. Apples seem to be developing and maturing faster than we expected. The actual harvest dates may be before the predicted apple harvest dates issued earlier and closer to the average harvest dates in your region. Make sure you do not miss the application window – 30 days or less.
Sooty blotch and fly speck can be found on unprotected fruit. Obliquebanded leafroller trap catches have been climbing over the past two weeks are still low. Apple maggot adult trap catch continues at the TNRC. Flight usually tapers off by late August. At 1,800 GDD base 50, we are just past peak egglaying for the second generation of codling moth. Trap catches in most sites have been at low levels and the return of warmer night temperatures may cause a surge in the flight. Bronzing caused by European red mites is very apparent in some orchards. See "Managing mites in apples" for more information.
Bartlett pear harvest will start this week. Fruit are sizing well. Larvae of codling moth are showing up in fruit and obliquebanded leafroller larvae are also active. Fabraea leaf and fruit spot is becoming easier to find.
Small fruit
Spotted wing Drosophila (SWD) numbers fell last week in our traps. Most of these traps are located in fence rows next to fruit plantings and SWD are very dependent on the availability of small fruit near the trap and most sites appear to have less wild fruit than last year. SWD were caught in all our traps and the numbers are still higher than they were before last week's peak. The population could be low because of the lack of wild fruit located close to the traps or a strict spray program in nearby fruit plantings. SWD usually increases rapidly in early August and we are seeing a more gradual rise this year. Using the Trece SWD lure, we continue to trap more males than females in our traps. More information is available on the MSU Spotted Wing Drosophila website.
In grapes, egglaying for the third generation of grape berry moth began last week in Berrien County and early this week in Van Buren County. We are in the spray window for this pest, several days after egglaying begins. Growers should protect against downy mildew and powdery mildew, which are common this year. Weather conditions for the rest of the growing season with heavy dews every morning are ideal for the spread of downy mildew and growers should make every effort to get in front of this disease. See "Weather is ideal for downy mildew on grapes at this time" for background on the disease and controls recommended by MSU Extension. Additional fungicide sprays may be warranted as veraison approaches.
| | |
| --- | --- |
| Station | GDD 50 F |
| Benton Harbor (SWMREC) | 1,822 |
| Lawton | 1,828 |
| Fennville (TNRC) | 1,611 |
| Average for the region | 1,796 |
In blueberries, machine-harvest of Jersey continues and many growers will finish Jersey this week. Hand-harvest of Elliott and other late-season varieties continues. Next year's flowers buds are appearing near the shoot tips in many fields. Anthracnose and Alternaria fruit rots can be found in many fields. With the dry conditions, growers are irrigating blueberry fields.
SWD trap catch numbers fell last week. Border sprays may be an effective way to slow the spread of SWD into commercial berry fields. Many growers have maintained tight coverage against this pest since the first catch reports last month. SWD trap catches in the fields have zero. See "SWD Management Recommendations for Michigan Blueberry Growers" for more information.
Growers are reminded that MSU Extension recommends shortening harvest intervals to reduce the amount of time ripe fruit is available to SWD. Harvested fruit should be chilled quickly after harvest to reduce post-harvest problems. Lack of labor is delaying harvest, especially in small farms dependent on hand-harvest. Powdery mildew is common in many plantings.
Strawberry plants are runnering well in new and renovated fields. Some fields are getting very dry and need irrigation. Growers need to protect against potato leafhoppers, which stunts plant growth. Day-neutral plantings are producing fruit. Growers need to protect this fruit from SWD.
In brambles, harvest of late summer red and early fall red raspberries is underway. Raspberries seem to be the favorite fruit for SWD and we have received calls from small and backyard growers about soft berries. Growers need to apply controls as soon as there is ripening fruit in the field. Generally, control of this pest has been much better than in previous years. See "Spotted Wing Drosophila Management Recommendations for Michigan Raspberry and Blackberry Growers" for more information.
Upcoming meetings
The Pre-Harvest Grape Meeting is this Thursday, Aug. 21 from 5-8 p.m. at Lemon Creek Winery near Berrien Springs, Michigan.