Southwest Michigan fruit regional report – July 19, 2016
Blueberry harvest is in full swing. Spotted wing Drosophila numbers are climbing. Most soils are very dry.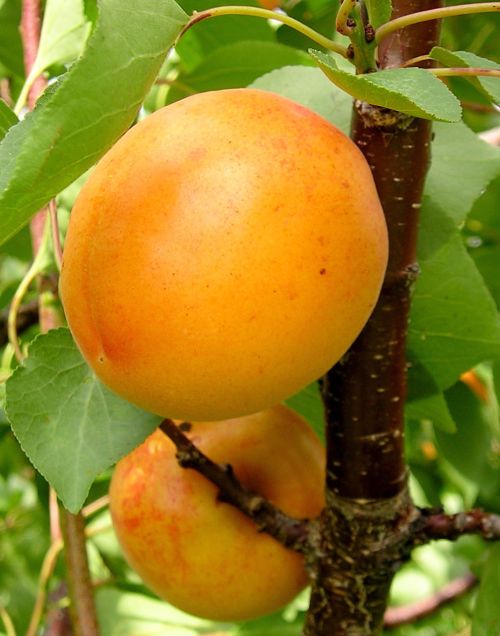 Weather
Last week was hot with high temperatures in the mid- to upper 80s and overnight lows in the 60s. A cold front lowered temperatures Friday and Saturday, July 15-16, but brought little rain. Another front early Monday morning, July 18, brought thunderstorms across the region. These storms dropped about 0.33 to 0.5 inch of much needed rain. Some areas received up to 1 inch or more. According to Michigan State University Enviro-weather, rainfall totals for the season vary from 8 to 17 inches, with most Enviro-weather stations averaging a little over 10 inches of rain since April 1.
Because of the high humidities, evapotranspiration rates have been between 0.2 and 0.167 inch of water a day. Most soils are dry and growers should be irrigating. Monday's rain was only enough for two to four days of water use by plants. Many fields are showing signs of drought stress by wilting during the mid-day.
Our daily heat accumulations were similar to last week's with 31 growing degree-days (GDD) base 42, 26 GDD base 45 and 23 GDD base 50. The upcoming week will be hot. High temperatures will be in the 80s and rise into the 90s later in the week. The passage of a warm front may bring thunderstorms Wednesday, July 20. Unsettled hot and humid weather with a chance of thunderstorms is on tap for the end of the week.
Station

GDD 42 F

GDD 45 F

GDD 50 F

Benton Harbor (SWMRC)

2,411

2,077

1,582

Lawton (Lawton)

2,403

2,064

1,562

Fennville (TNRC)

2,090

1,777

1,313

Average for the region

2,242

1,916

1,437

Accumulation last week

216

195

160
Tree fruit
Monday morning's rain will reduce drought stress on young orchards. Unless we get some significant rain, dry conditions will continue with this hot weather. Trap catch numbers for oriental fruit moth are still high. This is the third week of the second generation flight of this pest. Second generation codling moth should be emerging soon. Codling moth trap catch numbers are generally low, but some orchards saw an increase last week. Obliquebanded leafroller trap catch numbers are low, but we should see an increase soon as the second flight should begin soon. San Jose scale male trap counts have increased, starting the second generation flight. Scale crawlers are out at 500 GDD base 51 after the start of the flight. That is about two or three weeks from now. Control of the second and third generations of this insect is important in orchards to protect fruit and tree health.
Adult lesser peachtree borer and greater peachtree borer numbers have declined in the last two weeks to low numbers. Potato leafhopper burn is showing up in apples. Yellowing alfalfa fields indicate this pest is common in the area. Scout fruit plantings close to woods and riparian areas periodically for brown marmorated stink bug infestations. We are catching more spotted wing drosophila (SWD) in southwest Michigan; trap numbers are starting to rise and we catching SWD in more traps each week.
Apricot harvest should last another week or two. Weather conditions have been good for red skin color and fruit flavor. The dry conditions have been good for suppressing brown rot and bacterial spot.
In peaches, harvest of Early Redhaven, Garnet Beauty, Risingstar and Summer Serenade has started in some orchards in central Berrien County. See "2016 Michigan peach harvest date prediction" by MSU Extension for more on when peaches are expected to harvest this year. Oriental fruit moth trap catches rose to high numbers for the second generation flight. Oriental fruit moth larvae are in peach fruit in orchards with weak control programs. Look for minor twospotted spider mite damage on the mid-vein areas of undersides of leaves. Leaf drop due to bacterial spot is common for susceptible varieties in sandy sites. Brown rot control programs should rotate among the different classes of fungicides to stave off resistance problems. Save the most effective fungicides for when fruit are coloring and most susceptible to infection.
Cherry trees should be protected from losing their leaves to cherry leaf spot. Chlorothalonil is a good control for cherry leaf spot after harvest. Copper can be used on tart cherries. After harvest is a good time for trunk sprays to control borers. Growers can do modest pruning after harvest as late as early September on mature sweet cherry trees that have filled their space.
Plum harvest is underway with the harvest of the early summer varieties. Bacterial spot symptoms can be found on susceptible varieties. Brown rot spray programs should be intensified as fruit start to color. Fruit left on the tree until soft are probably prone to SWD infestation.
Apple estimated harvest dates are available from MSU Enviro-weather for weather stations across Michigan. Some of these dates include Aug. 30 for McIntosh and Sept. 22 for Red Delicious for central Berrien County and about five to 10 days later in the Allegan County region. Fire blight shoot blight symptoms are generally scarce except where hail has occurred or in orchards where fire blight is well-established. Fruit entry of codling moth or oriental fruit moth has been noted in several area orchards. Second generation codling moth should be emerging soon. Codling moth trap catch numbers are generally low, but some orchards saw an increase last week. Obliquebanded leafroller trap catch numbers are low, but we should see an increase soon as the second flight begins. Green apple aphids are building on the new growth in orchards.
Sooty blotch and flyspeck diseases require about 220 hours of leaf wetness starting 10 days past petal fall to begin infection, which is the approximate timing to start fungicide programs for these two diseases. In checking the Enviro-weather stations for the region, the accumulated hours of leaf wetting due to rain and dew differ greatly from site to site. Growers should adjust their disease management program accordingly. For example, as of July 11, the accumulated wet hours for Southwest Michigan Research Center are 254 hours, the accumulated wet hours for Fennville are 213, the accumulated wet hours for Hartford are 464 and the accumulated wet hours for Berrien Springs are 472. A general rule of thumb is reapplying fungicides for these diseases after an additional 220 hours of leaf wetness, or 2 inches of rain has occurred following application.
Pear fruit are over 1.5 inches in diameter. Removing succulent water sprouts from the inside of the tree helps to reduce sites for pear psylla population growth. Pear scab symptoms can be found on the leaves and fruit of unsprayed trees. Sticky leaves due to pear psylla honeydew can be found in some orchards.
Small fruit
We are catching more spotted wing drosophila (SWD) in southwest Michigan, according to "Michigan spotted wing Drosophila report for July 15, 2016" by MSU Extension. Trap numbers are starting to rise and we are catching SWD in more traps each week. SWD were trapped in greater numbers this week in raspberry and blueberry plantings. Growers with ripe fruit should be protecting against this pest now. We expect SWD numbers to increase through July, surging at the end of the month. Japanese beetles are easier to find. Numbers will increase after Monday's widespread rains.
Juice grapes are at berry touch and approaching bunch closure. Vinifera grapes are also sizing rapidly in the recent heat. The window for protecting against black rot, powdery mildew, downy mildew and phomopsis in the fruit is ending in wine grapes. Due to the dry weather, very little disease has been found scouting area vineyards. Phomopsis is the most common disease due to infections during wet weather during early shoot growth. Growers will now focus on protecting against downy and powdery mildew infections on leaves.
Few grape leafhoppers and potato leafhoppers can be found in area vineyards. Growers will be scouting for these pests now. Japanese beetles should emerge after Monday's rain and growers should check for hotspots in their vineyards. Dates for full bloom in wild grape were May 28 for Berrien County and May 30 for Van Buren County. Growers should use these dates with the Enviro-weather grape berry moth model as the third generation of egglaying approaches. The control window for the third generation flight will probably begin late next week.
Blueberry harvest continues with machine harvest of Bluecrop, Duke and other early season varieties. We are now catching blueberry maggots . Blueberry maggot numbers will rise after rain or irrigation. Blueberry maggots should not be a problem in fields sprayed regularly for SWD. SWD numbers are increasing in the region. The fly reproduces on thin-skinned fruit and can move into fruit plantings. For more information, see the current recommendation for SWD control in blueberries by MSU Extension.
The dry weather has kept diseases down, but we are finding anthracnose fruit rot. In the green fruit stage, most fungicides easily prevent anthracnose fruit rot infections, even if they are applied soon after infection. As the fruit ripens, this back-action is lost. Systemic fungicides should be applied before irrigations to prevent fruit rot rather than after to try and stop the infection of ripe fruit. Use the Enviro-weather anthracnose model. Shoot collapse from phomopsis stem canker continues. Growers should be irrigating to maintain good fruit growth. Growers should pay close attention to soil moisture.
Newly emerging renovated strawberry leaves should be protected from potato leafhoppers and leaf diseases. Growers should maintain good irrigation under these hot and dry conditions. Growers with day-neutral strawberries should consider to monitor or treat for SWD.
Bramble harvest is underway on summer red raspberries and early blackberries. Soils are dry and growers should be irrigating. Raspberries and black berries are shallow rooted and suffer under dry conditions. Ripening fruit is attractive to SWD. Growers should have traps on their farms. Some growers are picking every two days to avoid SWD. For more information, see the current recommendations for SWD control in raspberries and blackberries by MSU Extension.
Upcoming meetings
The 2016 Viticulture Field Day will be July 27, 2016, at Southwest Michigan Research and Extension Center, 1791 Hillandale Road, Benton Harbor, MI 49022.
See also