Southwest Michigan fruit regional report – June 3, 2014
Fruit grew rapidly under last week's summer-like conditions. Fruit load varies a lot for most fruit across the region.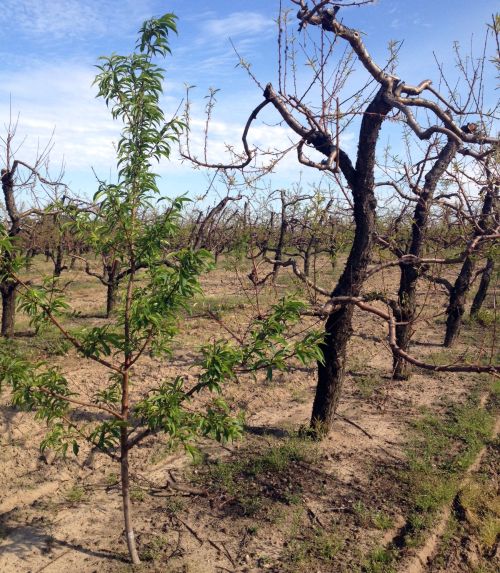 Weather
The weather last week was warm and dry. High temperatures were in the 80s and up to 90, and lows were in the 50s and 60s. Thunderstorms on Monday, May 26 were spotty with a few areas receiving almost an inch, but most areas received no rain at all. A cold front moved across the region Monday, June 2, and heavy rain fell away from Lake Michigan. Rainfall varied from 0.1 inch to over 1 inch. Most sites received less than one-third of an inch. Average rainfall across the region for the last two weeks has mainly been from thunderstorms and varies from one-third of an inch to over 2 inches.
Soils dried out rapidly as plant foliage uses a lot of water under these hot, dry conditions. Active shoot growth is underway and drought stress will stop this growth and stunt leaves. Growers are irrigating sandy soils. Soils were warm with temperatures in the 60s.
This week will be cooler with high temperatures falling into the 70s. Rain is possible Wednesday, June 4, but more likely on the weekend. Last week we picked up about 200 growing degree days (GDD) base 42 and 140 base 50. After the hot week, we are similar to normal fruit development for three of the last five years, but well behind 2010 and 2012. See the GDDs for the last five years at Bainbridge, Michigan, in Northern Berrien County. The long-term forecast for June is cooler than normal.
Southwest Michigan GDD summary from Jan. 1 through June 1, 2014
| | | | |
| --- | --- | --- | --- |
| Station | GDD 42 F | GDD 45 F | GDD 50 F |
| Benton Harbor (SWMREC) | 806 | 658 | 460 |
| Fennville (TNRC) | 685 | 550 | 371 |
| Average for the region | 797 | 652 | 454 |
Tree fruit
Foliage color has improved over the past week with recent warm weather. Winter injury in tree fruit is becoming more and more apparent as the season progresses. Reports of brown marmorated stink bug (BMSB) indicate this pet is leaving overwintering sites. Growers are protecting against direct fruit pests such as plum curculio and codling moth. Strong pheromone trap catches accompanied the beginning of warm weather, signaling a strong flight for many fruit pests.
Apricots are about 20 millimeters in diameter. Apricot foliage generally looks good.
Peach fruit are 14 to 16 millimeters in diameter with some fruit drop. Crop potential varies across the region. We continue to see older trees with poor foliage and whole tree decline in many orchards. This is in stark contrast with younger replant trees in the same block which look fine. Phomopsis (constriction canker) is showing up on some of the shoots that died over the winter. Biofix for oriental fruit moth ranged from May 8 in Southern Berrien County to a week later in the rest of the region. Larvae hatch was predicted to begin last week or this week, depending on whether the first or later biofix was used. No tip dieback due to oriental fruit moth entry has been reported so far.
Lesser peach borer adults are being caught. This pest requires trunk sprays or pheromone disruption. Where peach scab was a problem last year, fungicides such as Captan, sulfur or Ziram can be used to manage the disease. Some minor amounts of bacterial spot are showing up on leaves of susceptible cultivars. Peach fruit with susceptibility to rusty spot disease should be protected from shuck split to pit hardening. Susceptible varieties include Loring, Redskin, Bounty, John Boy, Suncrest and Encore, among others. Copper phytotoxicity symptoms can be seen where growers exceeded the recommended rates for bacterial spot management. Copper application in peaches should cease at bloom.
Plum curculio egglaying scars were found in cherries. Growers also need to protect against cherry leaf spot.
Sweet cherries are 14 millimeters in diameter with some fruit drop. Foliage is relatively free of bacterial canker symptoms. Growers need to protect against cherry leaf spot. Sweet cherry fruit is always susceptible to brown rot and growers are reminded that Michigan State University Extension has found brown rot resistance to FRAC code 11 fungicides (strobilurins) in the area.
Tart cherries are 10 to 12 millimeters in diameter. Growers should be applying sprays to control cherry leaf spot and plum curculio. The crop looks generally good in the region. We are at the end of the window to apply gibberellic acid sprays to promote long lived fruiting spurs by suppressing flowering on one-year-old wood (see "Realize maximum yield potential in tart cherries with gibberellic acid"). These sprays are applied three to four weeks after full bloom, which was about May 11 in Van Buren County and May 7 in Berrien County. American plum borer was detected causing damage to lower trunks in several Southwest Michigan tart cherry orchards. Trees with severe infestations had unthrifty growth and poor leaf color.
In plums, Japanese plums are 16 millimeters in diameter while European plums are 14 millimeters. Black knot and plum curculio are the primary pest concerns.
Apples range from 12 to 17 millimeters in diameter. Crop load potential is generally good with some orchards light due to biennial bearing, resulting from large crops in 2013. Biofixes for oriental fruit moth and codling moth were established over the past 10 days in most area orchards. We had a significant fruit drop over the last week. Many growers applied thinning sprays last week. Other growers doubt they will thin their apples. We are entering the end of the major window for apple thinning. Growers can expect thinning will be more difficult as fruit exceed 15 millimeters in diameter. For a detailed discussion of apple thinning strategies, see "PGR's and Thinning Strategies" by Philip Schwallier from the 2013 Great Lakes EXPO. The effects of thinning sprays applied in the last two weeks should show up quickly under these hot conditions.
Apple scab ascospore catch is declining. This week's rain could be the final primary scab infections of the season. The MSU Enviro-weather apple scab model indicates we are at 100 percent spore maturity and nearing 100 percent discharge. Ascospore release typically continues into early June. Apple scab symptoms are easily found in abandoned orchards and growers should be checking their orchards to determine if they need to continue with a fungicide program to control secondary apple scab spread by conidia spores from these leaf lesions. Apple fruit are susceptible to scab infection until they form a waxy coat when they are about the size of walnuts.
Fire blight symptoms from blossom infections began appearing over the past weekend in many Southwest Michigan orchards. We trace these symptoms to the Sunday, May 11, or Tuesday, May 13, infection episodes. Antibiotics are not used after bloom for fire blight control unless a trauma event such as hail or high wind damages the foliage. Apogee applications can reduce the spread of fire blight damage in orchards with infections, succulent growth and susceptible varieties.
Spotted tentiform leafminer numbers are declining.
Pear fruit are over 16 millimeters in diameter. Pear scab and fire blight are ongoing concerns. Pear psylla can be found in all stages of development.
Small fruit
Fruit moved rapidly with the warm summer-like weather.
Grape shoots are 8 to 16 inches long and flower clusters are elongating and separating. Winter-injured vines have started to show buds on cordons and trunk after a harsh winter caused extensive bud damage.
Southwest Michigan GDD summary for grapes from April 1 to June 1, 2014
| | |
| --- | --- |
| Station | GDD 50 F |
| Benton Harbor (SWMREC) | 460 |
| Lawton | 470 |
| Fennville (TNRC) | 371 |
| Average for the region | 454 |
Sprays to control phomopsis, powdery mildew and downy mildew are applied during prebloom shoot growth. Materials to control black rot are often included in the final pre-bloom spray. Wild grape bloom is used as a biofix to time treatments to control grape berry moth using the MSU Enviro-weather grape berry moth model. Approximately 50 percent wild grape bloom was noted on May 29 in Berrien County and June 2 in Van Buren County. Treatment for the first generation of this pest begins after bloom when egglaying begins and insecticides are sometimes included in post-bloom sprays. MSU Extension recommends growers target the second and third generations of grape berry moth.
Blueberry bloom is ending with only a few open blossoms in late blooming varieties. Post-bloom fungicide applications are focused on preventing anthracnose fruit rot. Cranberry fruitworm and cherry fruitworm treatment window are petal fall and the end of bloom (see "Time to prepare for fruitworm management in blueberries"). Trap catch was strong early last week. The approximate timing for biofix is at 350-400 GDD base 50, an accurate biofix for fields should be set by trapping adult moths.
In winter-injured fields, damage due to winter cold is very apparent with dead canes becoming very noticeable. Some canes collapsed during last week's heat due to cold injury lower down the stem. Initial fruit set looks good, but the death of leaf buds on the shoots leaves the fruit with few, if any, leaves to support the fruit. The crop is very variable around the state and the prospect is for an average-sized crop down from last year's record-high yields.
Strawberry bloom is ending and the most advanced fruit are thimble-sized. Ripe fruit from greenhouses are being harvested. Fungicides to reduce fruit rots and foliar diseases are often applied after bloom.
Brambles bloom continues in red and black raspberries. Damage to floricanes is widespread. Often, just the top or bottom of the cane shows good growth with no growth in the middle of the cane. These canes are likely to collapse when the weather gets hot. Primocane growth from the ground is vigorous. Leafroller and sawfly damage can be found.
Upcoming meetings
The next weekly Monday fruit IPM meeting is June 9 at Fruit Acres Farms, 3452 Friday Rd., Coloma, MI at 5 p.m. Two Michigan restricted use pesticide (RUP) applicator recertification credits will be given for these meetings.
A blueberry meeting is scheduled for the evening of Wednesday, June 11, in Van Buren County. Details will be released soon.