Southwest Michigan fruit regional report – May 31, 2016
Strawberry harvest has begun. Summer-like heat has pushed plant and insect development rapidly on.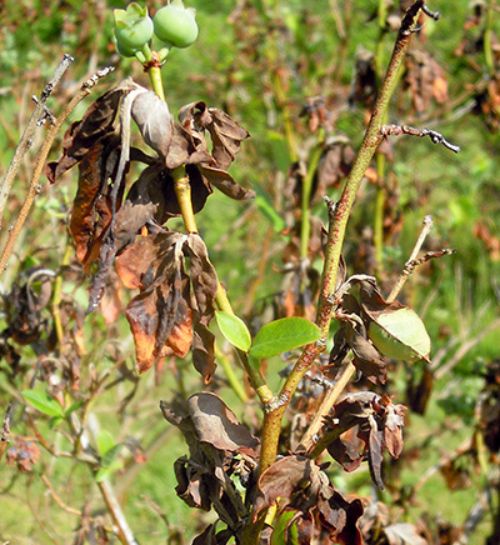 Weather
Last week was hot and humid with high temperatures generally in the 80s. Overnight lows rose through the 50s into the 60s. Storms moved through the region Wednesday, May 25. Rainfall was very spotty with many areas receiving more than an inch and others less than a tenth of an inch. Soils are drying out. Areas that did not receive rain are in need of irrigation.
Growing degree-day (GDD) accumulations really increased with the hot weather and high nighttime lows. Last week's totals were two or three times the previous week's totals. We can expect heat accumulations to be a little lower this week with continued warm weather.
High temperatures will be in the low 80s early in the week. There is again a chance of thunderstorms Wednesday, June 1, with cooler dry air after the front moves through. High temperatures will fall into the 70s with lows in the 50s by the end of the week.
Station

GDD 42 F

GDD 45 F

GDD 50 F

Benton Harbor (SWMRC)

956

769

544

Lawton (Lawton)

998

805

546

Fennville (TNRC)

797

631

409

Average for the region

893

714

475

Accumulation last week

208

188

153
Tree fruit
Wednesday's storms were a significant infection period for apple scab, cherry leaf spot and other diseases. Insect activity increased last week with the warm temperatures. Plum curculio were out last week. Growers need to maintain insecticide protection for fruit as many insect pests are out and active. Trap catch numbers for moth pests were high with the warm weather last week. Leaf-feeding pests are also active. Damaged shoot tips and feeding holes on the leaves from flea beetles, leafrollers and green fruitworms are becoming easier to find.
Apricot fruit are over an inch in diameter. Growers are hand-thinning the crop.
Peaches are over an inch in diameter and are large enough to start hand-thinning. In general, the crop potential looks good. The estimated harvest dates for this season are available at Michigan State University's Enviro-weather. The predicted harvest dates for Red Haven in the southwest Michigan region range from July 29 to Aug. 2.
Oriental fruit moth numbers are high in many sites. Biofix, the first sustained flight of oriental fruit moth, was set as Monday, April 25, based on trap catches at the Trevor Nichols Research Center trap line. The Enviro-weather oriental fruit moth model indicates egg hatch began the week of May 22, approximately 200 GDD 45 following the biofix. Sprays to control this first generation should be in place.
Rains favor bacterial spot infection of young leaves and fruit. Leaf spots that look like bacterial spot are appearing on susceptible varieties. Peach varieties prone to rusty spot should be protected until pit hardening. It is too late to treat peach leaf curl; infected leaves will fall off.
Sweet cherries are 12-14 millimeters in diameter. Pit hardening is complete, signaling the end of stage one growth. In stage one growth, the fruit grows rapidly by cell division, creating more cells. In stage two, the seed develops in the pit. In stage three, the cells of the flesh enlarge and ripen begins. Sweet cherries are susceptible to brown rot at all times, so growers need to protect the fruit during warm, wet periods. Cherry leaf spot infects cherry leaves through the stomates and, once unrolled, the leaves are always susceptible to infection.
Tart cherries are generally 12 millimeters in diameter and the pits are hard. The tart cherry crop is spotty with differences between locations and within the orchard. Leaves are vulnerable to leaf spot. Growers have been applying protectant fungicides for cherry leaf spot. Symptoms of European brown rot and bacterial canker are appearing
Japanese plums are 18 millimeters in diameter. Fruit set varies from variety to variety and between sites. Bacterial spot symptoms can be found on more susceptible varieties.
European plums are 20 millimeters in diameter. Plums need to be protected against black knot from first bloom until second cover. See "Controlling black knot in Michigan" by MSU Extension for more information. Plum curculio will lay their eggs in exposed fruit when temperatures are in the 70s.
Apple fruit sizes vary from 15 to 22 millimeters in diameter. There has been significant drop due to the hot weather conditions the past two weeks. We are in the end of the apple thinning window. Growers need to assess their crops and apply thinning sprays if they need to thin more fruit.
Below is Carbohydrate Demand Balance Model for southwest Michigan. Conditions are moving toward little or no stress on the trees due to cooler temperatures and more sun (fewer clouds). Tree carbohydrate supplies are predicted to be in the positive range. Thinning will be less effective due to good carbohydrate supplies and large fruit sizes. Use standard or higher thinning rates to remove fruit under these conditions.
The collapse of flower clusters due blossom blight of fire blight is apparent in some orchards. These symptoms are from an April 25 fire blight infection period. This past week was extremely favorable for fire blight infection in orchards, especially newly planted orchards with new bloom. Shoot blight symptoms are just getting started. Apogee treatment may be an important strategy for orchards with a new or ongoing fire blight disease problem.
Apple scab ascospores numbers continue to decline from the peak releases in late April. The Enviro-weather apple scab model indicated all apple scab spores have matured in most areas. Not all the spores have been discharged. There will be more spores discharged with the upcoming rains. Coverage to prevent primary scab generally continues into early June. Leaf and fruit primary scab lesions are easy to find on unsprayed trees and infected leaves are turning yellow and falling off the tree. Growers need to scout their orchards for scab lesions on the leaves as these will be a more significant source of conidia than overwintering ascospores from the orchard floor.
Codling moths were caught at the Trevor Nichols Research Center starting May 23, the date we traditionally use as a regional biofix. High temperatures in the 80s pushed along codling moth development. The target date for insect growth regulator insecticides such at Rimon aimed at egglaying (100 GDD50 after biofix) was approximately May 28, and the approximate target day for insecticides aimed at larvae (250 GDD50 after biofix) is approximately June 4.
Petal fall is the time to scout for spotted tentiform leafminer larvae and mines to determine the need to spray for spotted tentiform leafminer. Leafroller larvae are feeding on the shoot tips and leaves in blocks that did not receive pre-bloom insecticide sprays.
Pear fruit are 15 to 18 millimeters in diameter. Pear psylla adults are flying. Pear scab symptoms on the fruit can be found in unsprayed trees.
Small fruit
Juice grape shoot growth is rapid, and shoots are 12 to 18 inches. Hybrid wine grapes vary, but the most advanced have similar development with leaves unfolding, exposing the flower clusters. Vinifera grapes are at 5- to 10-inch shoots. Early Phomopsis and downy mildew infections are beginning to show. Shoot and leaf tissue are vulnerable to new infections by powdery mildew, downy mildew, black rot, and Phomopsis.
Bloom in juice grapes will begin soon, probably at the end of this week. All growers should plan to apply pre-bloom fungicides active against all major diseases at this time. Grape berry moth flight is approaching the peak phase. Dates for full bloom in wild grape, used in the Enviroweather grape berry moth model, are May 28 for Berrien County and May 30 for Van Buren County.
Blueberry bloom is ending. Most fields are in petal fall with lots of green fruit. Many fields still have some bloom. This would suggest an extended harvest for most varieties. Bloom was very heavy throughout the region and it looks like there will be a heavy crop. The largest fruit are about 8 millimeters in diameter.
Mummy berry control failures were reported last week in several locations. Often, a single variety was affected severely while varieties in adjacent rows were only lightly affected. In the green fruit stage, growers need to treat for anthracnose and Phomopsis as well as fruitworms. Cherry fruitworm trap catch increased last week in many sites. Biofix for cherry fruitworm was about May 16. Cranberry fruitworm has been spottier and biofix for different fields was May 20 or May 26. Some growers report no flight of cranberry fruitworm this weekend and others report a strong flight. Grower can use the Enviro-weather cranberry fruitworm model to focus their sprays for these pests. See "Fruitworm control in blueberries" for more information.
Bee-safe materials should be used during bloom. Under these warm conditions, B.t. materials are very effective. Growers need to pay close attention to soil moisture. Many growers received rain last week, but the heat, sun and windy conditions have really dried out the soil. Water is especially important after bloom when the berries are growing rapidly. Slight water deficits early cannot be made up later after the time of rapid fruit growth has passed.
Strawberry harvest has begun in some locations and should become widespread this week. Local strawberries will be available across southern Michigan by this weekend. Some strawberry fields or specific varieties have poorer than normal leave growth. Be sure to maintain good irrigation now to maximize leaf function and fruit growth. The heat has moved fruit ripeness quickly and the size of later developing fruit has suffered.
Brambles are blooming. Primocanes of fall bearing raspberries are growing well. Black raspberries (black caps) were in full bloom last week and bloom is ending. Blackberry bloom is just beginning. In summer bearing red raspberries, bloom is beginning.
Cranberry uprights are about 3 inches long. Flower buds have not yet opened. On some beds, most of the uprights are vegetative with no flowers.
Upcoming Meetings
Wine grape mealybug and virus meeting with MSU's Rufus Isaacs and Annemiek Schilder will be June 2, 3 p.m. at Lemon Creek Winery, 533 E. Lemon Creek Rd., Berrien Springs, MI 49103. We'll show how to identify mealybug infestation and discuss prevention and treatment. There is no charge for this meeting, but those attending are encouraged to call or email Brad Baughman at 269-927-5674, ext. 4012 or baughm30@anr.msu.edu.
Our next Monday fruit IPM meeting in southwest Michigan is June 6 at Fruit Acres Farms, located at 2559 Friday Road, on the northeast corner of Friday and Carmody Roads, south of Coloma, Michigan, at 5 p.m. Two Michigan pesticide applicator recertification credits are available at these meetings.
See also: