Southwest Michigan fruit update — April 24, 2018
Fruit crops are still waiting for warm weather to move toward bloom. Fruit crop potential is generally very good.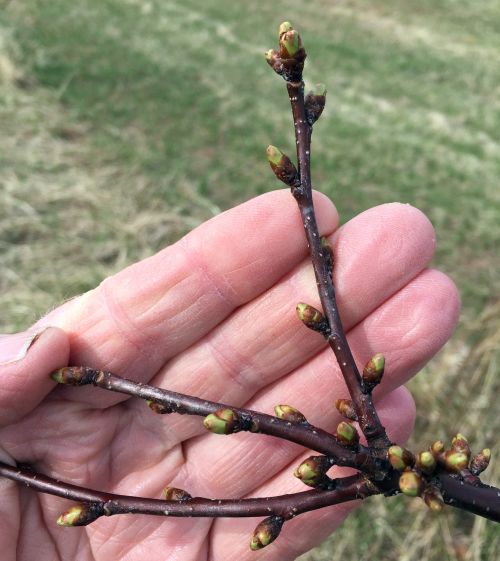 Weather
Conditions for the second week of April continued with nighttime lows in the mid- to high- 20s, and high temperatures reaching the mid-60s by Sunday, April 22. In spite of several light rains, temperatures were generally too cool for significant insect or pathogen activity. The forecast for this week calls for highs in the 40s and 50s with lows in the mid- to upper- 30s, with rain.
Southwest Michigan GDD Summary from Jan. 1 - April 15, 2018

Station

GDD 42 F

GDD 45 F

GDD 50 F

Benton Harbor (SWMRC)

111

73

28

Lawton (Lawton)

109

76

30

Fennville (TNRC)

82

50

18

Average for the SW region

111

71

18
Southwest Michigan GDD Summary from March 1 - April 15, 2018

Station

GDD 42 F

GDD 45 F

GDD 50 F

Benton Harbor (SWMRC)

48

30

11

Lawton (Lawton)

46

29

11

Fennville (TNRC)

29

15

4

Average for the SW region

49

30

11

Accumulation last week

28

20

10
The warmer temperatures this past weekend pushed plant development somewhat. It is getting easier to see where limbs and whole trees are struggling due to scale, vole damage, and winter damage from several years ago. In general, fruit bud health looks good in the area. The Allegan County region (Fennville weather station) is noticeably behind the southern and eastern parts of the region.
Tree fruit
Continued cool temperatures are holding tree fruit development back, increasing the chances that bloom will be later than normal. See "Freeze damage depends on tree fruit stage of development." Oil sprays for scale and mites are being applied in the area. Growers should check blocks for evidence of San Jose scale on branches to determine the need for oil sprays. Tarnished plant bug adults have been detected in trees on warm days.
Apricots are in red calyx and will show blossom tissue with the next significant warm temperatures.
Peach and nectarine fruit buds are swollen to green calyx. It appears that bloom may be delayed to the first part of May. Fruit bud density is relatively heavy in good orchard sites. To date, temperatures have been generally too cool or wetting periods too short for peach leaf curl infections. However, fungicide coverage is still needed for future infection events. Temperatures have generally been too low for bacterial spot multiplication on twigs. Long episodes of wetting and temperatures above 50 degrees Farenheit favor bacterial spot. Low levels of copper help to suppress bacterial populations. As more green opens up, the copper application rate should drop to avoid chances for phytotoxicity.
In cherries, sweet and tart cherry buds are at side green to green tip. We are still in the window when copper sprays can be applied to sweet cherries. Copper applications may help to reduce bacterial canker in cherries.
In plums, Japanese plum varieties are at early bud burst. European plum fruit buds are at side green to green tip. Thorough pruning out of black knot and disposal of the knots by burning is an important step in managing this disease.
Apple fruit buds range from green tip to ¼" green (Zestar, Idared, Macs) in the southern end of the region. Scab ascospore catches are still relatively low. In general, we have had little or no scab infection events due to low temperatures and relatively short wetting periods. Copper sprays at delayed dormant stage (up to ¼" green) are useful for early scab control and fire blight suppression.
In pears, fruit buds are at bud burst.
Small fruit
Grapes still have shown little to no growth. There is plenty of time to apply dormant sprays to reduce powdery mildew and other diseases.
Blueberry flower buds are noticeably swollen. Leaf buds are showing some swelling. Warmer weather next week will bring growth, making them susceptible to mummy berry infections. Many growers have already applied dormant sprays of copper, Sulforix or lime sulfur products to suppress early season diseases.
Strawberries have greened up, but new leaves are not emerging from the crown. Over- wintering mulches should be removed and raked between the rows. Growers are looking at early season herbicides to control overwintering weeds.
Brambles still show little movement. Dormant pruning should be completed. In summer bearing raspberries, last year's primocanes should be headed (cut back) to the desired height and any floricanes removed. Fall-bearing raspberries should be cut or mowed to the ground. Lime sulfur treatments for anthracnose can still be applied.
Upcoming meetings
Our regular Monday fruit IPM meetings have started. We will meet every week from now to the end of June, except for Memorial Day Monday. The location is Fruit Acres Farms, 3452 Friday Rd, Coloma, Michigan at 5 p.m. Two Michigan RUP applicator recertification credits are available at these meetings.
Related Articles: