Southwest Michigan fruit update — Aug. 15, 2017
Warm, dry weather continues pushing fruit along. Growers are harvesting peaches, plums, pears and early apples. Blueberry harvest is ending.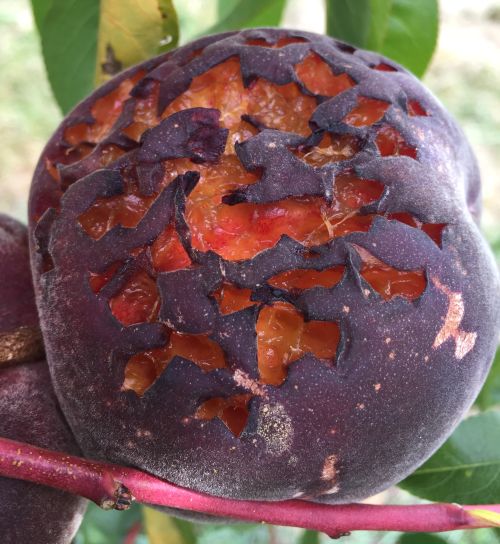 Weather
Last week cool and dry. High temperatures were near 80 degrees Fahrenheit and lows in the 50s. No significant rain fell in the region and the dry conditions are becoming more noticeable. Field crops are wilting in the fields especially on unirrigated sandy sites. Woodland and landscape trees are wilting and shedding older leaves.
Comparing this season's rain across southwest Michigan shows an average of just over 13 inches. Last week's potential evapotranspiration was about 1 inch of water and for a season total of almost 22.5 inches since April 1.
This week will be warmer with highs rising into the 80s early in the week and then falling towards the end of the week. There is a chance of showers Wednesday and Thursday, Aug. 16 and 17. We continue to be about a week ahead of normal, but crop harvests seem to be about two weeks ahead of normal. I have included in the table below the 17-year GDD average for Southwest Michigan Research and Extension Center and the Trevor Nichols Research Center to compare.
Southwest Michigan GDD summary from Jan. 1 – Aug. 13, 2017

Station

GDD 42 F

GDD 45 F

GDD 50 F

Benton Harbor (SWMRC)

3,152

2,704

2,013

Lawton (Lawton)

3,001

2,580

1,949

Fennville (TNRC)

2,831

2,420

1,803

Average for the SW region

3,017

2,590

1,950

Ave from March 1

2,921

2,524

197

Accumulation last week

163

152

117
Historic 17-year GDD average from Jan. 1 – Aug. 13

Station

GDD 42 F

GDD 45 F

GDD 50 F

Benton Harbor (SWMRC)

3,001

2,603

1,996

Fennville (TNRC)

2,777

2,392

1,806
Tree fruit
Japanese beetle numbers appear to be declining, but a good rain may allow more beetles to emerge. Brown marmorated stink bug trap catch numbers have generally been low except in a few sites in southwest where catches have been ongoing since mid-July. We expect an upsurge in feeding damage due to brown marmorated stink bug in orchards starting in mid- to late August. Review the insect trap catches at Trevor Nichols Research Center.
Peach harvest continues to move rapidly, with harvests of PF23, Allstar and Coralstar in some sandy sites. Fruit color and quality continues to be good, with good size where thinning was done early. Fruit speckles due to bacterial spot can be seen where infected leaves are nearby.
Peaches continue to shed older leaves, some are the basal leaves with no discernable disease symptoms. To increase fruit color, do some light summer pruning one to two weeks before harvest on varieties needing more color. Oriental fruit moth trap catch continues to be significant in some orchards.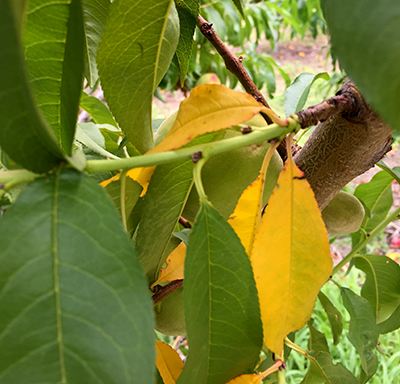 We are in the third generation oriental fruit moth flight. Stink bug and tarnished plant bug damage can increase fruit susceptibility to brown rot. As fruit colors, the need for brown rot protection increases. Rotate fungicide classes used for brown rot control to avoid resistance problems.
In cherries, yellow leaves are common. Cherry leaf spot is a serious problem in some orchards. Other stresses such as drought can cause yellowing and leaf drop. Chlorothalonil is used after harvest to help suppress cherry leaf spot with low risk of resistance buildup by the fungus.
Plum harvest continues with Castleton and Fortune. Thicker-skinned European plums are a less favorable host for spotted wing Drosophila than thin-skinned Japanese plums, but protect fruit from SWD, especially where fruit is picked relatively soft for direct sales. Protect ripening plums from brown rot. Apple maggot also attacks plums; however, SWD sprays should also control this pest.
Apple maturation is continuing with Zestar testing 4 and Rubymac testing 3.6 (5 is considered mature) for Irrigating is necessary in Michigan blueberries