Southwest Michigan fruit update – June 13, 2017
Hot conditions and dry soils are stressing plants. Growers are irrigating on sandy soils.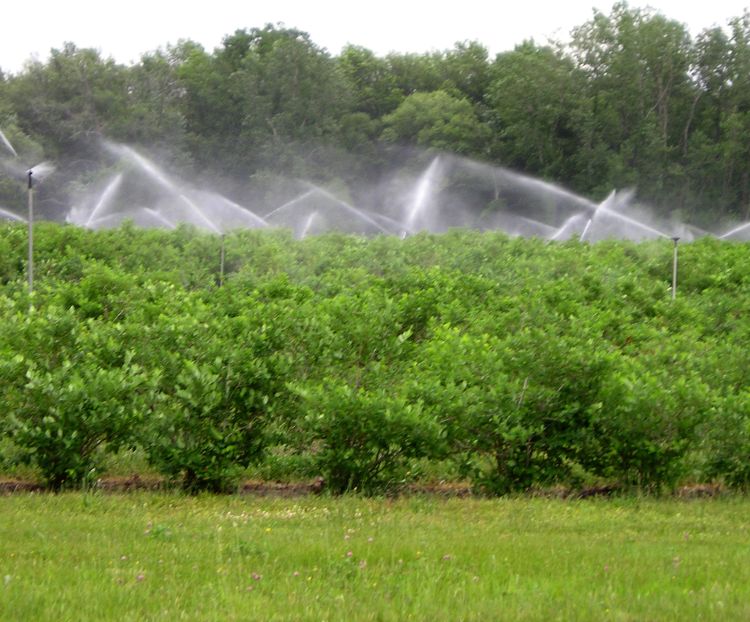 Weather
Last week warm with highs in the 70s and rising into the 80s. Lows were in the upper 40s and 50s. No significant rain fell at most sites. High temperatures rose into the upper 80s and lower 90s over the weekend and this warm weather is forecast to continue. No significant rain fell last week and soils are dry.
Rainfall totals across the region in the last two weeks ranged from nothing to over 0.1 inch. Rainfall since April 1 has been about 6 inches. Most of that rain fell in April, which had about 4 inches of rain. May had only about 2-3 inches of rain. The last two weeks have been hot and dry with little if any rain.
Potential evapotranspiration is over 0.25 of an inch of water a day and we are short about two inches of water since March. This lack of water is readily apparent. Shallow rooted plants are shutting down. The demand for water is high with these hot, windy and dry conditions. Growing shoots are wilting at midday. Growers with irrigation should be using it. This week will be hot with highs near 90 degree Fahrenheit and lows in the 70s.
There is a chance for showers and thunderstorms this week, so rainfall will be spotty. For the week, we accumulated 27 GDD base 42 every day and 18.6 base 50. Over the weekend, accumulations were close to 40 base 42 and 30 base 50. We are a week or more ahead of normal for heat accumulation for this date.
Southwest Michigan GDD Summary from January 1 through June 11, 2017

Station

GDD 42 F

GDD 45 F

GDD 50 F

Benton Harbor (SWMRC)

1379

1121

762

Lawton (Lawton)

1237

1005

684

Fennville (TNRC)

1121

899

598

Average for the SW region

1260

1022

696

Ave from March 1

1163

956

663

Accumulation last week

186

165

80
Tree fruit
Fruit are sizing well despite the dry conditions.
We expect new plum curculio egg laying scars should be on the decline in orchards with decent spray programs.
Tarnished plant bug still present risks to young developing fruit and tend to be more common in orchards with broadleaf weeds flowering or forming seed.
San Jose scale crawlers are expected 375 DD51 after males are trapped. Treatments are focused on crawler stage. Treatments with systemic materials need to be applied well before June 22, when crawlers are expected. Brown marmorated stink bugs are very common in many areas of southwest Michigan, but reported damage to crops is still very low. Growers can review the insect trap catch at Trevor Nichols Research Center.
Peaches and nectarines are growing rapidly. Hand thinning is ongoing. The first generation of oriental fruit moth is declining. We expect to see flagging of peach terminals due to burrowing oriental fruit moth larvae. Protection from tarnished plant bug and plum curculio is still needed. Rusty spot and peach scab susceptibility is low now that fruit has reached pit hardening. Bacterial spot symptoms on peach are showing up on fruit and leaves of susceptible varieties. Blowing sand last week favors infection by the bacterial spot pathogen, but generally dry conditions are unfavorable. Susceptibility to this disease decreases past pit hardening. According to the Michigan State University Enviroweather peach maturity model, the estimated start of Redhaven peach harvest in central Berrien County is July 30 and August 4 for the more northern Fennville region.
In cherries, sweet cherries are coloring and red is easy to see in orchards. Harvest of early ripening sweet varieties is expected to start in about 10 days. Montmorency tart cherries are beginning to color and range from hard green to straw colored to red. Leaf drop due to cherry leaf spot is occurring in some orchards. The tart cherry crop looks pretty average for southwest Michigan and some orchards are heavily loaded.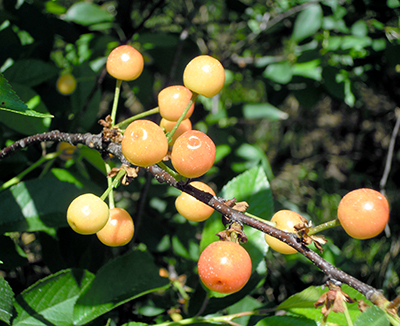 Plums are sizing rapidly after pit hardening. Shiro are approximately 23 millimeters in diameter, Stanley are 18 millimeters and Castleton are 20 millimeters. The plum crop is spotty. Maintain protection against black knot until rapid shoot growth stops. Some bacterial spot symptoms have started showing up on fruit.
Apple fruit size ranges from 22 to 30+ millimeters in diameter. Hand thinning is ongoing. We are finishing primary apple scab season. Continued treatment for scab is needed when infections are evident on leaves. Protect susceptible varieties from powdery mildew until rapid leaf growth ceases. There seems to be very little fire blight, this year.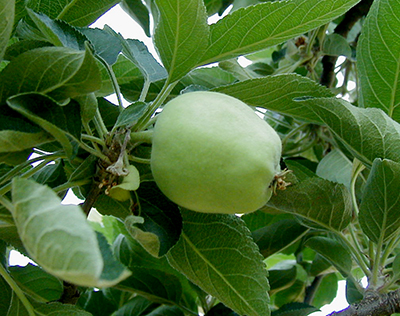 The regional codling moth biofix for southwest Michigan was May 16 and the codling moth model has egg hatch beginning June 4 in Berrien County. Biofix for obliquebanded leafroller based on Trevor Nichols trap data was June 5. Control is recommended at 350 to 450 DD (depending on product) from biofix. Egg hatch begins 400-450 DD (Base 42) after biofix, approximately June 20 for central Berrien County. Growers can use the Enviroweather obliquebanded leafroller model to fine-tune their spray timing. Scout for spotted tentiform leafminer, aphids, white apple leafhopper and European red mites. Wooly apple aphid has become a problem in many Michigan apple orchard in recent years.
Pear (Bartlett and Harrow Sweet) fruit are approximately 20 millimeters in diameter. The first generation of codling moth is not a problem in pears, because the hard fruit. Fungicide treatment for pear scab can stop in orchards with no leaf symptoms. Pear psylla levels seem low.
Small fruit
Grapes are in bloom. Concord, Niagara and many hybrid varieties are at or past full bloom. Later hybrids and vinifera grapes are in the immediate pre-bloom stage.
Rachises, flowers, and young fruit are vulnerable to infections of black rot, downy mildew, powdery mildew and phomopsis. Botrytis infections can also form during bloom in vulnerable varieties. Growers need to protect against all of these diseases now. Rose chafers are feeding in some vineyards. Growers should be scouting for this pest, as well as grape leafhopper and potato leafhopper,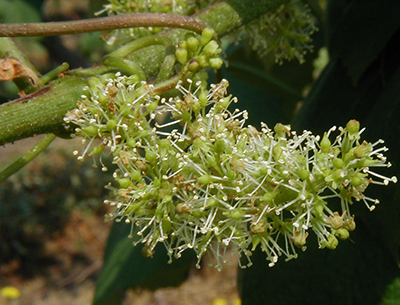 Growers who recorded the date of wild grape bloom can use it in the grape berry moth model to determine correct application of insecticides in late June / early July. Wild grape bloom opened May 26-29 in Van Buren County and May 23-26 in Berrien County.
For vineyards with significant secondary fruit emerging after the May 8 freeze, secondary shoots are now in the pre-bloom period. In areas where a major part of the cropping potential is lost, consult insurance and consider your opportunity cost. If appropriate, consider a reduced fungicide program to protect only from leaf and shoot infections.
Blueberries are in the green fruit stage and growers are irrigating. Experienced growers have been irrigation for two to three weeks. In unirrigated fields, shoot tips are dying indicating the end of shoot growth while growth continues in irrigated fields. See the MSU Extension article "Irrigating Michigan Blueberries".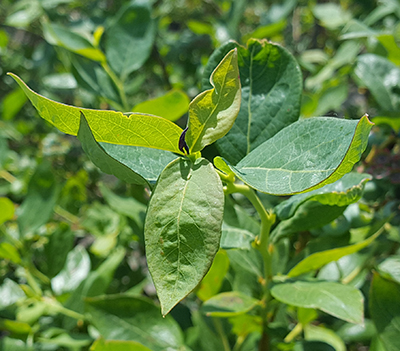 The crop is spotty in some areas. Some sites have a heavy fruit set, with few leaves on the bushes. This appears to be mainly in Bluecrop and Elliott. Jersey seems to have a good set.
We are at the end cherry fruitworm and cranberry fruitworm flight.
The focus of disease control should be on anthracnose and phomopsis, especially if growers are irrigating heavily. Growers can use the MSU Enviroweather anthracnose fruit rot prediction model to assess their risk of infection.
Strawberry harvest continues. Growers report better strawberry fruit size in the later picking and varieties. Fruit will ripen quickly with this heat. Bloom in day-neutral strawberries has stopped as the warmer days promote leaf growth and runnering.
In brambles, bloom is ending and the small fruit are growing. We are seeing color in black raspberries and early summer red raspberries.
Upcoming meetings
See also: