Southwest Michigan grape scouting report – June 28, 2016
Grape berries are beginning to size, disease incidence remains relatively low and treatment date for grape berry moth approaches.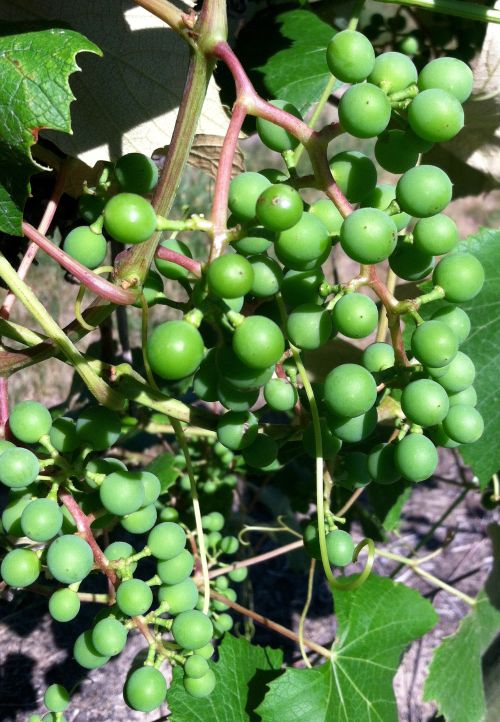 Weather and development
Concord and Niagara berries in Berrien County are sizing rapidly, and are above 1 centimeter in diameter. Bloom has ended in vinifera wine grapes.
Growing degree-day base 50 accumulations for 2016

Location

June 27

July 3 (projected)

1,084

1,174

1,192

1,294
Diseases
Low incidence of fungal diseases has continued. Low percentages of Phomopsis shoot lesions and leaf lesions and black rot on leaves are present in many vineyards. The first black rot infections have begun to appear on clusters. Recent rains resulted in infection periods for numerous diseases, but we still have not observed downy mildew or powdery mildew infections in commercial vineyards.
Though we are two weeks post-bloom in juice grapes, primary inoculum for black rot are likely still being produced from overwintering sites – dry weather often delays release of primary inoculum. In wine grapes, fruit are still in the most vulnerable period of disease infection. Wine grape clusters should remain covered in protectant materials for all major diseases at this time.
Insects
First generation flight of grape berry moth is ending and second-generation flight is beginning. Some berry moth damage has begun to appear in the clusters, but at very low levels at all of our scouting sites (see picture below). In vineyards with historically high levels of first generation pressure, the 10-day, post-bloom spray was found to be effective at eliminating this damage.
Growers wishing to check their own dates for upcoming applications can use Michigan State University's Enviro-weather grape berry moth model. Enter either the wild grape bloom dates from your farm or the county averages of May 28 for Berrien County and May 30 for Van Buren County. Our prediction for second generation egglaying (810 GDD47 past wild grape bloom) is to begin June 30 for Benton Harbor, July 3 for Berrien Springs and July 4 for Lawton. These dates should be used to time applications of Intrepid, Altacor, Belt or other ingestions poisons. For broad-spectrum insecticides such as Imidan, Sevin or the pyrethroids, wait an additional 100 GDD47 (approximately five days) after these dates to apply.
Date of wild grape bloom, current GDD for grape berry moth and grape berry moth treatment date for ingestion poisons (e.g., Altacor, Belt, or Intrepid) for 2016

Location

Wild grape bloom (approximate)

Current GDD47

810 GDD (treatment date)

May 28

731

Jul 3

May 28

786

Jun 30

May 30

711

Jul 4
Risk of feeding from rose chafer is now past, with light or no feeding observed in most locations. Potato leafhoppers have been spotted in low numbers in some scouting vineyards, but no grape leafhoppers have been detected yet in our scouting effort. False Japanese beetles have emerged, but they do not feed on grapes. True Japanese beetles, which do feed on grapes, have also been seen in a few locations (see pictures below). Japanese beetle feeding will begin soon. MSU Extension advises growers and scouts to watch for these leaf pests in vineyards, and be prepared to spot-treat if necessary.