Southwest Michigan regional fruit report – June 9, 2015
Strawberry harvest is underway in southwest Michigan.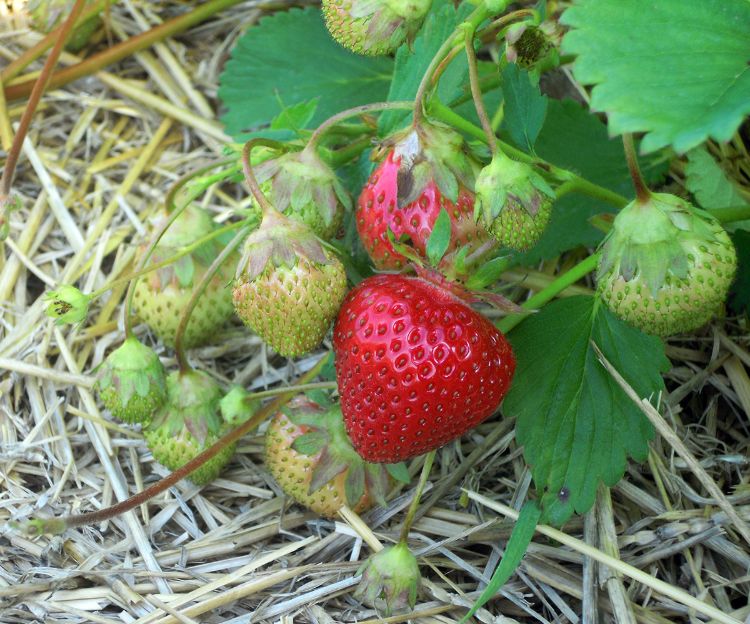 Weather
Last week started cool with highs near 70, warming to the upper 70s, and lows rising from the 30s to 40s and 50s. Rain showers crossed the region Sunday evening and Monday morning, June 7-8. Heavy thunderstorms stayed generally south to the Indiana border. Most of the rain was in the southern two tiers of counties and little rain fell in Allegan County and to the north. Rainfall totals ranged from 0.2 to 1 inch and averaged about 0.5 inches. Hail was reported in several areas from Sunday night's storm. Monday afternoon thunderstorms moved through the area, dropping up to an inch of rain in a few areas. Many soils were beginning to dry and now the topsoil has been recharged, but subsoil moistures are still low. Growers who can irrigate should be ready to do so.
This week will be warmer with highs in the 80s and lows in the 60s. Thunderstorms and showers will alternate with sunny days this upcoming week. Rain is likely on Wednesday, June 10, Friday, June 12, and again at the end of the weekend. Precipitation totals for the year are only about 8 inches – the long-range rainfall average from January to the end of June is approximately 18 inches. We are close to normal in terms of crop development and growing degree day (GDD) accumulations.
Station

GDD 42 F

GDD 45 F

GDD 50 F

Benton Harbor (SWMRC)

1,000

819

566

Lawton (Lawton)

1,037

854

596

Fennville (TNRC)

874

708

479

Average for the region

1,009

827

574

Accumulation last week

144

123

91
Tree fruit
Recent rains were welcomed for orchards planted this year. Rose chafer emerged Monday. Obliquebanded leafroller flight has begun. Trap catch has been sufficient to establish a biofix for this insect. Egg hatch begins 400-450 GDD (base 42) after biofix, or about two weeks later. Fruit growers who suffered plant loss due to severe winter cold the past two winters should contact the Farm Service Agency (FSA) to document the loss. See "Relief may be available for fruit, nut and ornamental growers with winter injury" from Michigan State University Extension for more information.
The largest apricot fruit are over 1.5 inches in diameter and growers are thinning the fruit. Crop potentials are fair to good, depending on variety and site.
Peaches are out of shuck split and size ranges up to 1.25 inches in diameter. Redhaven harvest is predicted for Aug. 3 in central Berrien County. Foliage of winter-damaged twigs looks weak on some varieties. Fungicide treatments for rusty spot should continue until pit hardening for varieties such as Loring, Bellaire and other peaches with showy bloom that tend to be more susceptible to this disease. Bacterial spot symptoms are generally light, but should be building due to recent rains with wind. Mycoshield applications keep this disease from building up on foliage.
Oriental fruit moth adult catch for first generation flight is declining. No shoot end flagging due to burrowing Oriental fruit moth larvae have been reported. Plum curculio and tarnished plant bugs continue to be a concern.
Sweet cherries are 16-18 millimeters in diameter. Some trees have more than 40 percent early coloring fruit that are not dropping yet. This colored fruit is attracting birds and bird feeding on red fruit is starting to be a problem. Cherry leaf spot is the primary concern now. Cherry leaves are always susceptible to cherry leaf spot; apply protectant fungicides before rain events. Warm rains are good infection periods for brown rot and sweet cherries are susceptible to brown rot at all stages of development.
Tart cherries are 11-12 millimeters in diameter. Crop potential generally still looks good. Growers should continue to protect against cherry leaf spot. Growers can use the MSU Enviro-weather forecast model for cherry leaf spot to help guide their sprays and track infection periods. Cherry leaves are always susceptible of this disease and protection needs to be maintained throughout the season. Tart cherries are moderately tolerant to copper applications that can help reduce bacterial canker and cherry leaf spot in cherries.
Japanese plums are 0.875 inches in diameter. European plums are 0.75 inches in diameter. Fruit and leaf russet due to chemical phytotoxicity are common, including Captan-induced russet. Plum fruit and leaves are susceptible to bacterial leaf spot, but Mycoshield is not labeled for use on plums. Growers need to protect the current season's growth against black knot until shoot growth ceases later in the season. Plum curculio egglaying activity should be decreasing.
Apple fruits are 1.25 inches in diameter for main season varieties and 1.5 inches in diameter for summer apple varieties. Hand-thinning has begun. We are at the end of primary apple scab season with recent rains discharging most of the remaining ascospores. Secondary scab is common in some orchards and unsprayed trees are shedding infected leaves. Bright yellow cedar apple rust symptoms are also common in some orchards. Powdery mildew symptoms are scarce. New fire blight symptoms are still showing up in area orchards, but are still relatively rare.
Codling moth adults were trapped as early as May 8 in some locations. Some areas had a later moth flight and biofixed during the warmer weather on May 16 and we are about 250 GDD base 50 from that biofix and in the late treatment window. MSU Extension recommends growers use the MSU Enviro-weather codling moth model to time your insecticide applications.
Pear crop potential is generally good. Bartlett average 1.0125 inches in diameter and Harrow Sweet are 0.75-0.875 inches in diameter.
Small fruit
Grape bloom is underway in juice grapes, but not yet in wine grapes. Bloom in Concord began last Friday and Saturday. Growers who didn't apply fungicide before Sunday's rain will be applying materials with back action this week. During bloom, grape flower clusters are vulnerable to infection from powdery mildew, downy mildew, black rot, Phomopsis and latent infections of Botrytis, so now is the time to apply fungicides with activity against all of these diseases. See "Protect grape clusters from all major grape diseases during early fruit development" for more information. The risk increases when there is rain during bloom, especially if it is followed by a period of low evaporation from cloud cover.
Rose chafers were reported Monday in Berrien County. Grape berry moths are laying eggs now and hatched larvae are feeding in grape clusters. This early in the season, the loss of berries is compensated by later berry growth. MSU Extension recommends most growers do not need to spray for grape berry moths until second generation egglaying. Wild grape bloom was around May 26 in Berrien County and June 1 in Van Buren County, varying somewhat from farm to farm. This date is used in the grape berry moth model to time insecticide applications for second and third generation egglaying.
Rose chafers began to emerge with grape bloom. In wine grapes, scout in the coming weeks for potato leafhoppers, which arrive on storms and winds from the south. Usually, only severe outbreaks of these insects require treatment.
Blueberry fruit are sizing well. The crop varies quite a bit from field to field. Some fields have a light crop due to winter injury to canes and flower buds. There is vigorous shoot growth from crowns of winter-injured bushes. Phomopsis cane blight symptoms are appearing. This is earlier than normal and young shoots that grew vigorously last year are hard-hit.
Cherry fruitworms and cranberry fruit worms have been flying for several weeks and laying eggs on green fruit. There was a large cranberry fruitworm flight last week. Most growers have applied insecticides to control these insects and fungicides to protect green fruit from anthracnose fruit rots and stem blights such as Phomopsis.
Some growers have received rain and other growers have not. With the bushes full leafed out, the demand for water on warm, sunny days will be high and growers should be irrigating. A good indicator of the water status of the bush is the amount of wilting during the day on vigorously growing shoots.
Strawberry harvest is underway. Fruit size and quality is excellent.
Raspberry bloom continues and blackberry bloom has begun. Avoid using insecticides during bloom. Apply fungicides when bees are not foraging on the bloom. Scout black raspberries and blackberries for signs of orange rust and remove infected plants. For growers concerned about raspberry viruses, MSU Extension has received a grant to survey for viruses. See "Assistance in raspberry virus diagnosis offered" for more information.
Upcoming meetings
Our next Monday fruit IPM meeting is June 15 at Fruit Acres Farms, 3452 Friday Rd, south of Coloma, MI 49038 at 5 p.m. Two Michigan pesticide applicator recertification credits will be given for these meetings.
Blueberry pre-harvest meetings are scheduled in Van Buren and Ottawa counties on Tuesday, June 16. The Van Buren County meeting is in the afternoon at Beeches Golf Club, 9601 68th Street, South Haven, MI 49090, from 1:30- 3:30 p.m. The Ottawa County meeting is at Ottawa County Fillmore Complex from 6-8 p.m. These meetings will focus on managing winter-injured fields as well as insect and disease control before and during harvest and an update on food safety. Two Michigan pesticide applicator recertification credits will be given for these meetings.
See also