Sparty's Cabin tiny house ribbon cutting slated
The MSU School of Planning, Design and Construction (SPDC) is hosting a Ribbon-Cutting event to celebrate the completion of Sparty's Cabin, a tiny home build project.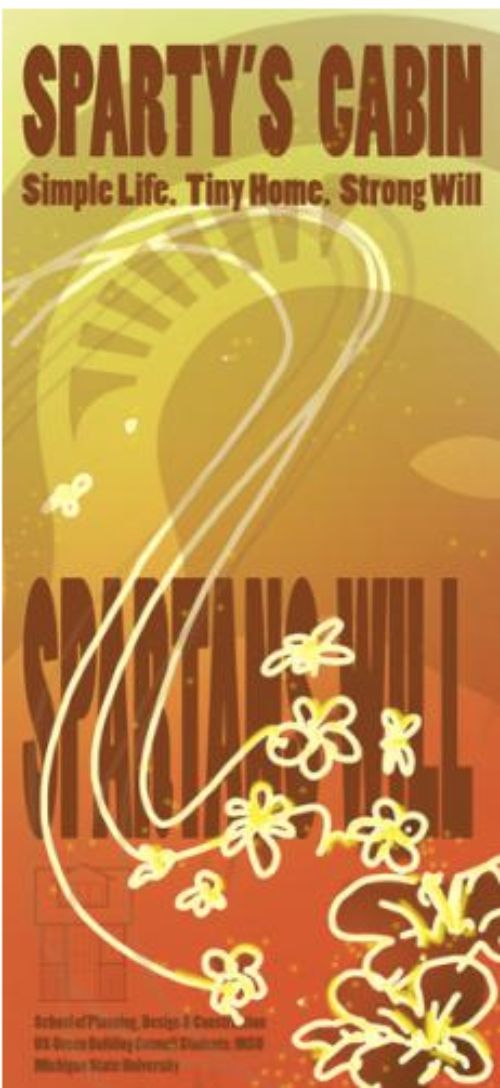 The MSU School of Planning, Design and Construction (SPDC) is hosting a Ribbon-Cutting event, where volunteers, supporters, sponsors, family and friends, and students will gather to celebrate the completion of Sparty's Cabin, a Tiny Home build project.
Remarks about this real-world project begin at 9:40 a.m.
Speakers will include President Lou Anna K. Simon, MSU president; Kelly Millenbah, associate dean for the College of Agriculture and Natural Resources; Scott Witter, director of the School of Planning, Design and Construction; Richard Kobe, chair of the Department of Forestry; and Tiffany Pupa, interior design senior and president of the student group USGBC Students MSU, who spear-headed the project.
Tours of Sparty's Cabin will take place at 10:30 a.m.
ABOUT SPARTY'S CABIN:
Students from the United States Green Building Coalition (USGBC) Students MSU, SPDC (including Construction Management, Interior Design and Landscape Architecture Programs) and the Department of Forestry gained valuable hands-on experience working alongside faculty and volunteer industry experts on the planning, design and construction processes for this project.
Sparty's Cabin was built over six weeks, with the help of 100+ people from across campus and the community. This sustainable project includes materials from the MSU Sustainable Wood Recovery Program and MSU Shadows Collection. Sparty's Cabin features MSU-made custom countertops, shelving and a ladder. In addition to MSU lumber, other materials have been selected for their sustainable qualities, including double-pane windows and recycled denim insulation.
The structure was built on a trailer, allowing it to be easily transported from place to place. Sparty's Cabin includes traditional hook ups for sewer, water and electricity; however, it can be retrofitted in the future to go off the grid. This would be accomplished by capturing rainwater, using 100% solar power energy and adding a composting toilet.
This Tiny House encompasses 177 square feet of space that sleeps three, and features both an upstairs (sleeping loft and storage) and a downstairs (great room/kitchen, bathroom and bedroom).
Sparty's Cabin will be used as an educational tool to spread awareness to the local community about this type of alternative sustainable lifestyle known as the Tiny House Movement. These types of houses offer the practicality of living in a space less than 1,000 square feet, allowing for a pared down minimalist lifestyle with the added advantage of being on wheels and, thus, mobile. The spirit of the Tiny House Movement is about filling life with experience, not collecting things. It is about the stories that can be told and experiences that can be shared with friends and family.
After the Tiny House is used as an educational tool, it will be put up for auction at the through the MSU Surplus Store with proceeds going to address housing concerns in the Greater Lansing area, such as homelessness and low-income family services.