SPDC CM Program Re-accredited
The MSU SPDC Construction Management Program has been re-accredited for a 6 year period, ending in 2028.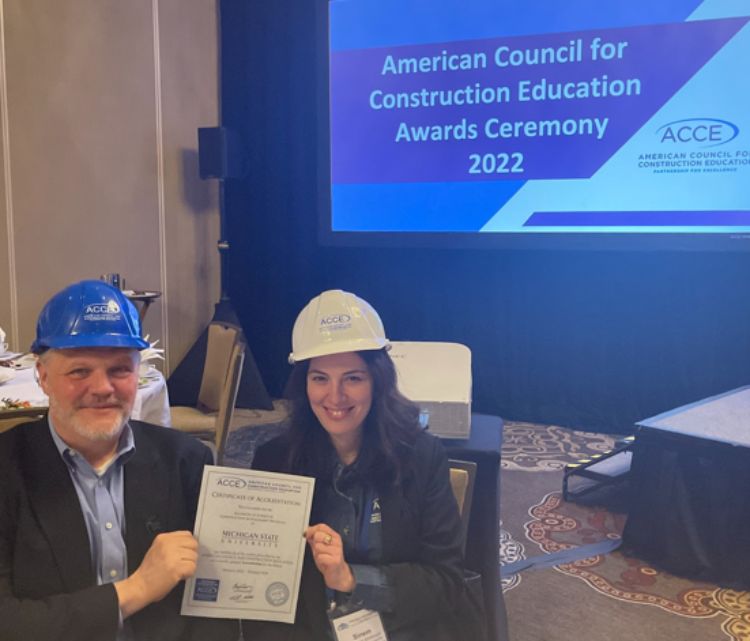 The Construction Management program within the Michigan State University School of Planning, Design, and Construction has officially been re-accredited by the American Council for Construction Education (ACCE) for a six-year period through 2028.
The re-accreditation was announced on February 28, 2022 at the ACCE Awards Ceremony, with CM Program Director Dr. Sinem Mollaoglu and CM Professor Robert Aydukovic on hand to receive the recognition.
The ACCE Board of Trustees shared the Visiting Team's final report with the program, which featured glowing reviews, indicating that there were no weaknesses and no concerns with the CM program, and provided a favorable recommendation from the ACCE accreditation committee.
One of the visiting team members who had done six other accreditation visits rated our MSU visit 9 out of 10, stating that this is an "excellent, excellent visit." The visiting team also articulated our strengths that include our exemplary leadership at the degree program and school; our motivated, committed faculty and staff; our highly capable, motivated students; our passionate alumni advisory board; and our facility/technology that continues to improve.
While Dr. Mollaoglu's leadership played a significant role in the program's re-accreditation, all of the CM faculty and staff deserve credit for their role in the realization of this goal.
"Any program re-accreditation is a significant undertaking. Having our CM Program re-accredited by ACCE shows the topnotch quality of our CM faculty, staff, students and alumni. I am grateful for the efforts devoted by our faculty and staff in going through the preparation, documentation and site visit. CM Industry Advisory Board's support is also noteworthy. Particularly Dr. Mollaoglu's leadership in this yearlong process is admirable," said School Director Dr. Ming-Han Li.