SPDC hosted two Grandparents University Courses in June
Grandparents University at Michigan State University is a three-day educational experience that takes place at the end of June, where grandparents and grandchildren (ages 8-12) can live the college life of wondering on the MSU campus.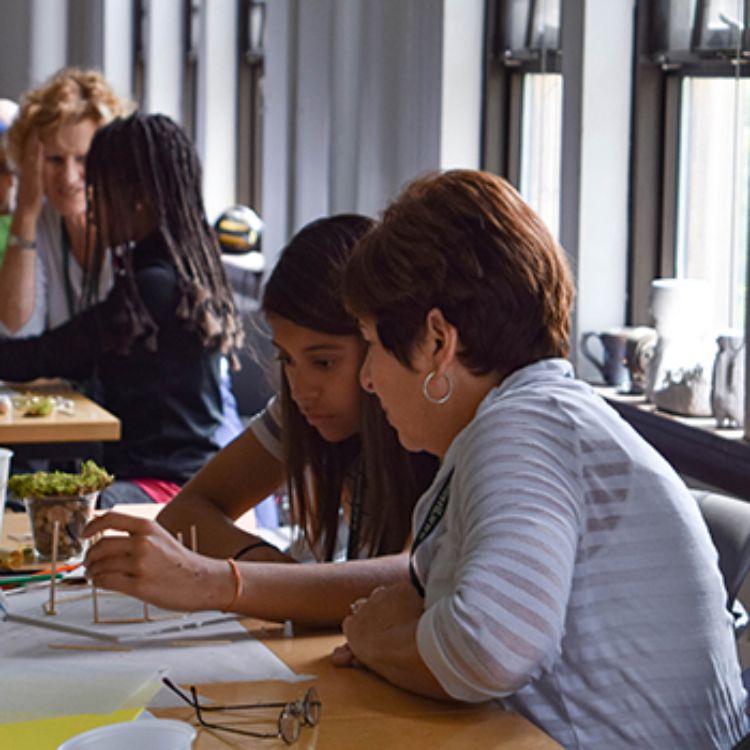 Grandparents University at Michigan State University is a three-day educational experience that takes place at the end of June, where grandparents and grandchildren (ages 8–12) can live the college life of wondering on the MSU campus.
Grandparents University gives alumni a chance to relive their college days, while exploring campus and creating lifelong memories with their grandchildren. Families are immersed in campus life--looking for their next class, sleeping in the residence halls, and even eating in dining halls.
The goal of the program is to let families experience the beauty and science within design, while creating memories together on MSU campus. Faculty, students and alumni from the School of Planning, Design and Construction hosted two courses: 1) Extreme Makeover: Dorm Room Edition, and 2) Secrets of the Olympics.
Extreme Makeover: Dorm Room Edition
On Jun. 27-29, 2017, Patti Higdon, Interior Design assistant instructor, taught the popular Extreme Makeover: Dorm Room Edition course where families learn about the interior design field, including principles and elements of design. They also learn how to give a top-to-bottom remodel to the MSU dorm room that they are staying in.
"It is important to highlight the multifaceted career paths that are available to the next generation," said Higdon.
Four MSU ID alumna collaborated with Higdon to create this fun-filled three-day course, including Amanda Doerr ('10) and Katie Winters ('10), Shannon Lizotte ('12) and Marianne Martz ('12). The ID alumna also volunteered their time to help guide families through the design processes.
Higdon said, "The presence of the alumna and the sharing of their expertise help to give families a sense of this exciting and viable career path."
On the first day of class, before the children begin selecting finishes, they begin with programming and space planning. Their homework assignment: To measure their dorm room (measuring tapes were donated by DTN Management) and choose an inspiration photo of a room or space. Then, they bring them back to class the next day.
"This activity helps to begin to 'train their brain' of room dimensions," said Higdon. It assists the students to better understand the furniture components with which they are planning into their room.
As part of the design process, families work together to create a color board to help visualize how the small design elements work together to create their space. The children were asked review their inspiration photo, and analyze the elements they liked, while designing their dorm rooms.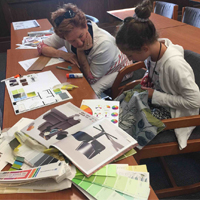 Then, the students move around and glue down small-scaled furniture symbols cut-outs on the floor plan of their project board. They also include images of their furniture selections, such as lofted beds, a comfy lounge chair, desk, etc.
"As most of the students completed their furniture plans, we moved on to learning about the Science of Design," said Higdon.
During the interactive lecture, examples were shared of how to apply this science to produce "Good Design," such as mixing both textures and patterns, balancing elements and using an established scheme for the dorm room's color palette.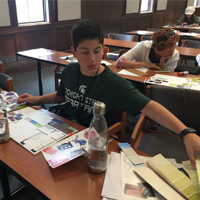 "Once they have this understanding, we turn them loose to select flooring, wall coverings and paint colors, fabrics and accessories to complete their overall designs," said Higdon.
Families experienced many aspects of an Interior Designer's design process, while going through planning, applying inspiration, making interior finish selections, and creating a color board that included a floor plan.
"Most of the students used the entire class time to complete their boards, and each one of them is uniquely design and inspired" added Higdon.


Secrets of the Olympics Course
On Jun. 28, 2017, Mark Wilson, Urban & Regional Planning professor and program leader, taught the course called Secrets of the Olympics--a two-part one-day course where families can learn how cities and athletes prepare for mega events like the Olympics and World Cup.
This course is a partnership between the URP and Landscape Architecture Programs.
"The first part is a lecture with the main goals being to show that we should always look beneath the surface to find out more about the things that interest us," Wilson said. "And also that a fun pastime like sports has a lot of serious careers and research associated with it."
One of the fun aspects of this course is that Wilson covers some of the history and facts of the Olympics like the symbols, torch relay and past sports. He also provides some background for how some sports equipment is made. For example, World Cup soccer balls are made in several Islamic countries by young women who can't play the sport.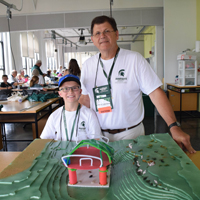 The second part of the course took place in the Human Ecology Building's Landscape Architecture design studio where families worked together to design their own model stadium.
"They are shown a site and their stadium has to fit it," Wilson said. "The models can be for any sport and are creative examples of the imaginations of the participants."
The emphasis is on creativity and having an activity that the children and their grandparents can share. Usually the children build a stadium for a sporty they play and can identify with.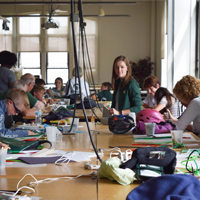 Thanks to the support of LA faculty member Paul Nieratko and three volunteer LA students, families received hand-on guidance and assistance in the creation of their structures. Volunteer students included Stephanie Onwenu, Rachel Wilke and Abbie Zultowski.
"There is always energy from the participants that makes it worthwhile," Wilson said.
Many of the grandparents who participated in these two SPDC courses were MSU alums themselves, which allowed Spartan memories to be shared throughout the experience. Grandparents University is a program completely supported through registration fees, sponsors and donors.