SPDC's Dr. Korkmaz receives award from the National Association of Home Builders
In February, Dr. Sinem Mollaoglu (Korkmaz) was presented with the Outstanding Junior Faculty Award.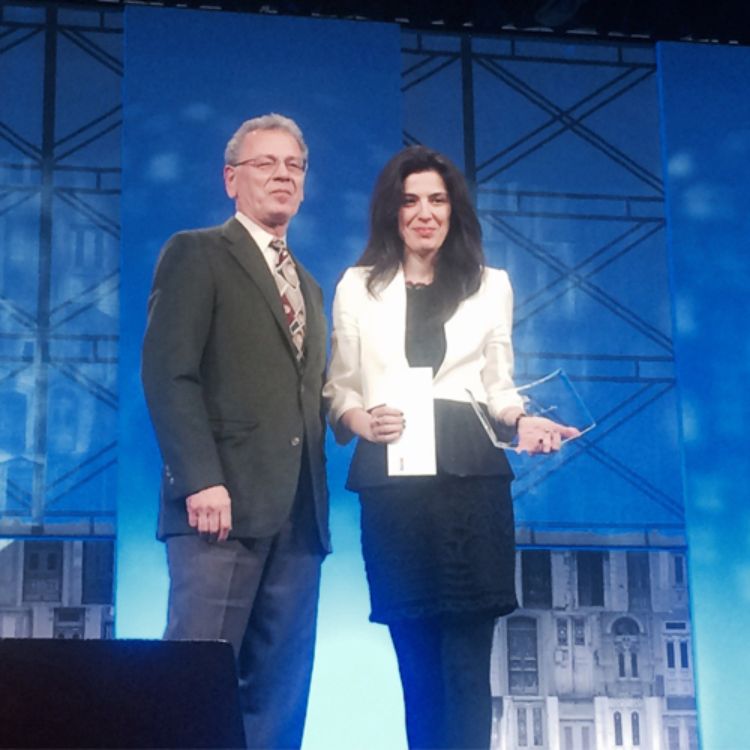 In February, Dr. Sinem Mollaoglu (Korkmaz) was presented with the Outstanding Junior Faculty Award at the 2014 International Builders' Show hosted by the National Association of Home Builders (NAHB) in Las Vegas, NV. This prestigious award is presented to educators with high-quality standards in teaching construction education, recognizing voluntary extracurricular activities, as well as construction experience and professional initiatives.
Dr. Sinem is an Assistant Professor in the Construction Management (CM) Program at the MSU School of Planning, Design and Construction (SPDC). She generally teaches Construction Project Scheduling, Integrated Approaches to Sustainable Planning Design and Construction, and Research Methods. Her experiences in construction management goes beyond teaching in the classroom, as her work includes a multitude of publications, such as a collection of journal articles and reports, involvement in student mentoring and participation in a variety of presentations, lectures and workshops.
Since her start at Michigan State University in January 2008, Dr. Mollaoglu (Korkmaz) has been working on variety of industry and government-funded projects that focus on green buildings, energy efficient services and improved indoor environments. She also started serving as the Faculty Advisor for the Student Builders and Contractors Association at SPDC in Fall 2013. Since then, she has been actively working to improve student industry relations via commercial/residential construction field trips for students and networking with local building association members at local meetings, events and gatherings. Additionally, she led the offering of a new green and energy efficient residential construction course for both graduate and undergraduate students for the CM Program in Spring 2014. In partnership with NAHB, the course enables students to become certified green professionals.
Dr. Mollaoglu (Korkmaz) has a unique background in architecture and engineering, which has proved to be a great asset in her journey to teaching scholarly and innovative academics. As she earned her PhD from Penn State University (she also has a Master's of Science degree), Dr. Mollaoglu-Korkmaz worked under the American Indian Housing Initiative. This experience exposed her to sustainable, energy efficient housing design and construction, which led her to create her dissertation on high-performance green building delivery. Sustainable building is an extremely important development in today's society, and Dr. Mollaoglu-Korkmaz further proves her dedication to this idea as the Head of the advisory board at the Society of Environmentally Responsible Facilities here in Lansing. Her influence reaches past the boundaries of East Lansing, to an international level as she has developed partnerships to aid in the progress of green building assessment systems in developing countries around the world.
Please join us in congratulating Dr. Sinem Mollaoglu (Korkmaz) on winning this prestigious award! For more information about Dr. Mollaoglu (Korkmaz) and her accomplishments, check out her web page online.
You Might Also Be Interested In