Specialty crop and minor-use pesticide prioritization at the 2021 Virtual IR-4 Food Use Workshop
Participants at the 2021 IR-4 Food Use Workshop identified the most important research projects for the 2022 IR-4 food-use research program.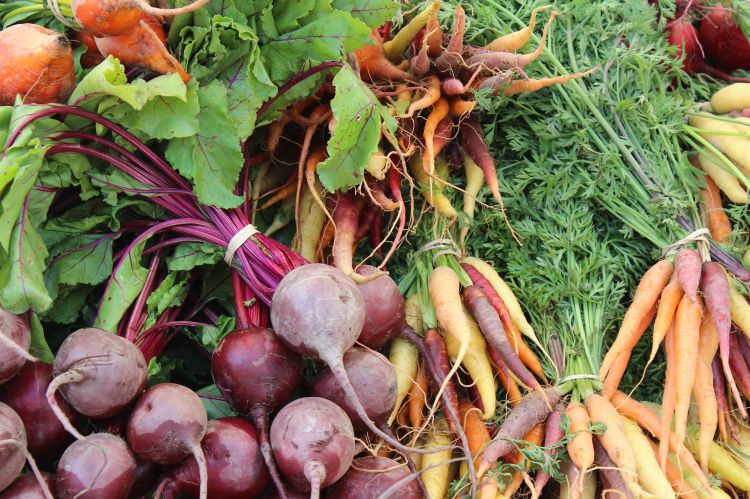 The IR-4 Project (Interregional Research Project No. 4) has been facilitating registration of sustainable pest management technology for specialty crops and minor uses. Since 1963, the IR-4 Project has been the major resource for supplying pest management tools for specialty crop growers by developing research data to support new EPA tolerances and labeled product uses. Specialty crop research needs are prioritized each year during a national workshop since resources are limited, according to IR-4.
Research priority A's for the year 2021 field program for fruits, vegetables, nuts, field and oil crops, herbs and other miscellaneous crops in the United States and Canada were selected at the Virtual Food Use Workshop held Sept. 13-16, 2021. About 150 people attended the three-day meeting: specialty crop researchers, extension specialists, representatives of commodity and industry groups across the country, and personnel from EPA, USDA, IR-4 plus the AAFC (Agriculture and Agri-Food Canada that conducts Canadian counterpart of minor use program), and PMRA (Pest Management Regulatory Agency, i.e., Canadian counterpart of U.S. EPA).
For Michigan's fruit and vegetable interest, the workshop was attended by Michigan State University's Bernard Zandstra, Sushila Chaudhari, Anthony VanWoerkom, John Wise, Mary Hausbeck, Debalina Saha and Lynnae Jess. Representing Michigan grower's group was Dave Trinka (blueberry) and representing a large portion of Michigan greenhouses was Karin Tifft (Mastronardi Produce).
The prioritization process focused on the most critical pest management needs from all disciplines for each commodity. Participants were provided with a list of 203 pesticides "nominated" with desired priority of A prior to the food-use workshop. As a group, they ranked products based on availability and efficacy of alternative pest management tools (including ongoing projects for the same need and resistance management), damage potential of target pest(s), performance and crop safety of the chemical in managing the target pest(s), compatibility of the proposed chemical candidate with integrated pest management, uses currently covered by Section 18 emergency exemptions, and harmonization implications due to lack of international MRLs (Maximum Residue Limits).
Based on projected budget appropriations for IR-4 in 2021, only 38 A priority projects throughout the disciplines were selected by consensus. One hundred sixty-five projects were downgraded to B priority. An A priority guarantees IR-4 to begin the field residue program during the following season and complete it within 30 months. The timeline will be shortened when IR-4 joins the company's petition submission schedule with the expectation that a complete data package be submitted to the EPA in 16-24 months.
In addition to the above projects that require pesticide residue analysis under GLP, 10 H+ (high priority plus) efficacy/crop safety projects will be selected because potential registrants want to see the data first before IR-4 conducts full residue studies, or IR-4 needs to screen pest control products for new pests, the PPWS (pest problems without solution) projects.
Twenty-four priority projects important for Michigan were selected and one B priorities have already been upgraded to A priority status through the priority upgrade process (PUP). In addition, five candidate H+ projects for Michigan growers were identified (see Table 2). Any more B priority projects must be upgraded to A priority either by a PUP with good justification or by regional upgrade, i.e., the crops or the pests are limited to a particular region. At present, IR-4 may consider five upgrades should the budgetary situation become more favorable.
The following new candidate priority A and H+ projects listed are preliminary until affirmed at the IR-4 national research planning meeting on Oct. 25-28, 2021. A complete listing can be found on the IR-4 website.
Table 1. Priority A projects for Michigan fruits and vegetables

Group

Commodity

Chemical

Reasons for Need

01ab

Beet (garden)

Quinclorac

Alternatives are needed for beet weed control; could help with resistance management; needed for resistance management

01ab

Radish

Thiophanate methyl

Mycosphaerella capsellae (white leaf spot)

01ab

Turnip (roots)

Cyazofamid

Club root; this use is needed as labeled materials are for turnip greens only; need options for turnip root production; use needed for direct seeded fields; e/cs data need generated for this project

01ab

Parsnip

Cyazofamid

Cavity spot (pythium spp); no labeled options for parsnip; e/cs data need to be generated for this project

03-07a

Onion (dry bulb)

Linuron

Prostrate pigweed, common purslane, hairy galinsoga; weed control in onion is costly requiring labor to complete control; few herbicide options are available

04-16a

Lettuce (head and leaf)

Mefenoxam

Pythium uncinulatum; to control pythium wilt

08-10a

Tomato (greenhouse)

Difenoconazole + azoxystrobin

Anthracnose, grey leaf spot, powdery mildew

09b

Cucumber (greenhouse)

Fludioxonil + pydiflumetofen

Fusarium; very limited number of fungicides registered for fusarium control on greenhouse cucumbers; per me-too request from me: need more disease control tools in the greenhouse, and this looks like a good fit

09b

Squash

Inpyrfluxam

Powdery mildew. Causes leaves to die prematurely reducing fruit quality primarily and yield. The pathogen has developed full resistance to several chemistries (1, 11, 13, U6) limiting options for achieving control and putting selection pressure on the pathogen to develop additional resistance.

12-12a

Cherry

Fludioxonil + pydiflumetofen

Brown rot, gray mold, powdery mildew; rotational product with unique mode of action to prevent the selection of resistance. Pydiflumetofen has a preharvest MRL established and fludioxonil has a postharvest MRL. Fludioxonil needs a preharvest MRL.

13-07g

Strawberry (greenhouse)

Pydiflumetofen (FTH 545)

Botrytis gray mold, powdery mildew, fusarium; need additional control options for the greenhouse industry

13-07g

Strawberry

Cymoxanil

To reduce selection resistance to mefenoxam

13-07g

Strawberry

2,4-d choline

Winter annuals, no selective postemergence herbicides are registered for broadleaf weed control in strawberry row middles that do not kill the ryegrass.

13-07h

Cranberry

Pydiflumetofen (FTH 545)

Cranberry fruit rot complex, disease management, tools for resistance management

20a

Gold-of-pleasure (camelina)

Lactofen

Broadleaf weeds; when grown in a relay system with soybeans, broadleaf weeds that may interfere with camelina harvest can be controlled without damaging the soybeans growing underneath the camelina; this might be a good fit for soybeans without herbicide resistant traits (i.e. non-GMO soybeans); in addition, this product may desiccate the camelina crop to allow for an earlier harvest

22a

Asparagus

Pyroxasulfone

Weeds; grasses, Amaranthus species; suppress resistant weeds

25ab

Mint (greenhouse transplant)

Fenhexamid

Botrytis blight; plants can be killed; currently no effective products are labeled for botrytis control on mint and other greenhouse herbs grown for retail sale

25ab

Basil

Dimethomorph + ametoctradin

Downey mildew; we need more good option to maintain pesticide rotation;

25ab

Mint

Tiafenacil

Winter and summer annuals; for improved post-emergent broadleaf weed control

99

Hemp

Abamectin

Twospotted spider mite; hemp currently does not have any miticides registered

99

Hemp

Cyazofamid

Pythium; pythium is a problem in both field and greenhouse hemp programs; this material is potentially very important to the industry; per KY me-too request: pythium root rot affects field and greenhouse-grown hemp in KY; a broad spectrum fungicide is critical for this crop; per VA me-too request: without ranman help, growers have no effective oomyceticide to control pythium in the greenhouse and field; per NY me-too request: NY has had significant problems with root rot and damping off, as well as total mature plant collapse in hemp; pythium has been isolated from many of those plants; there is a lack of registered and effective products to control this pathogen; per al me-too request: pythium was a significant problem for hemp growers in al in 2020; there are no effective products currently available for control of this disease; this ai would target pythium in both field and greenhouse production; per TX me-too request: there are no pythium control products for hemp, especially in the greenhouse; per la me-too request: need this use due to disease losses, acreage increases and lack of registered/effective products; per md me-too request: hemp production in the mid-Atlantic will not be feasible without products available to manage disease pests

99

Field pennycress (oil seed)

Lactofen

Broadleaf weeds; when grown in a relay system with soybeans, broadleaf weeds that may interfere with pennycress harvest can be controlled without damaging the soybeans growing underneath the pennycress; this might be a good fit for soybeans without herbicide resistant traits (i.e. non-GMO soybeans); in addition, this product may desiccate the pennycress crop to allow for an earlier harvest

99

Hops

Tiafenacil

Canada thistle, Italian ryegrass, kochia other annual dicots, and monocots; potential replacement for paraquat in hops activities in grasses will improve weed control compared to carfentrazone

99

Hops

Spidoxamat

Hop aphids, two-spotted spider mite, leafhoppers; spidoxamine is highly selective on piercing sucking insects and spider mites spidoxamine is very soft on beneficial insects and mites.
Table 2. High priority needs for efficacy/crop safety projects for Michigan fruits and vegetables.

Group

Commodity

Chemical

Reasons for need

01cd

Sweet potato

Broflanilide

Conoderus spp. Melanotus communis diabrotica undecimpunctata chaetocnema confinis; currently, chlorpyrifos (Lorsban) will be losing import tolerances in the EU; sweet potato growers depend on Lorsban to manage a complex of soil-borne insect pests that cause direct damage to marketable roots; in the absence of Lorsban, growers have transitioned to a pyrethroid + neonicotinoid management program for these pests; given the potential non-target impacts and cost of both of these mode of action groups, safe alternative insecticides are very important to continue progress toward a more sustainable pest management program for sweet potato in the southeastern us; per FL me-too request: there are no efficacious alternative insecticides

03-07ab

Onion

Broflanilide

Onion maggot, dalia antiqua, seedcorn maggot, delia platura; chlorpyrifos will be banned for use in most states; trigard seed treatment may no longer be available; sepresto seed treatment is ineffective; only one viable option exists - Farmore FI500; per co me-too request, there are issues with these pests on the western slope of co; per AR me-too request, onion transplant growers support this request; per ca me-too request, seed treatments are the only alternatives now, as chlorpyrifos uses are canceled; per WA me-too request, would replace post-seeding pre-emergent broadcast sprays of chlorpyrifos in the Columbia basin onion growing areas of Washington state and Oregon and in the treasure valley of Oregon and Idaho; per FL me-too request, onion maggot has been a growing problem for onion and chive growers, and this provides a reasonable option as a seed treatment

12-12b

Peach

Quinclorac

Field bindweed, hedge bindweed; Canada thistle; barnyardgrass; crabgrass; other herbicides are not as effective as quinclorac for bindweed control

13-07a

Caneberry (blackberry)

2,4-d Choline

Weeds, limited herbicides available to control problematic broadleaf weeds.

13-07g

Strawberry (greenhouse)

Cyantraniliprole (HGW86)

Aphids, thrips; resistance management; for greenhouse fruit production; need additional control options for the greenhouse industry