Spice up spring salads with Michigan grown greens
Add variety, flavor and texture to your plate.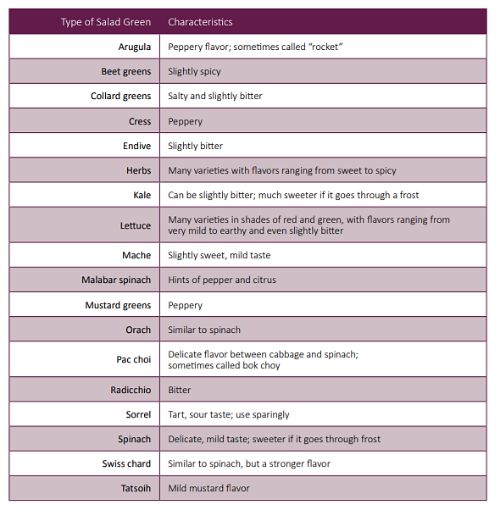 Adding seasonal greens, especially dark leafy varieties, to your salads provides an abundance of nutrients and flavor (see chart for flavor characteristics). Salad greens are vegetables harvested for their leaf and petiole, the stem portion of the leaf. The greens may be harvested at different stages of development: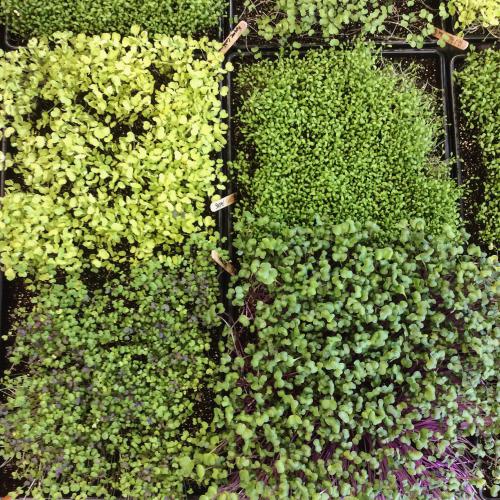 Microgreens: Seeds are planted at high density and microgreens are harvested once the cotyledons, the first leaves to emerge when a plant germinates, have fully developed or when the first true leaves have emerged, usually when the plant is half to two inches in height.

Baby leaf: Seeds are planted at high density, and leaves are harvested when the plants have four true leaves and are two to five inches tall, still young and tender. Mixtures of various baby leaf salad greens are often marketed as mesclun, spring mix or field greens.

Leaf: Harvesting leaves beyond the baby leaf stage requires the greens to be cut into smaller pieces for use in salads. Many greens become less tender after the baby leaf stage, but lettuce and fresh herbs work well for salads in leaf form. Leaf-stage kale and Swiss chard can be chopped into bite-sized pieces for salad. Often leaves, such as mustard greens and collard greens, are cooked once they reach this stage.

Head: This growing pattern is found in lettuce and some Asian greens such as pac choi. Typically, only lettuce heads are used as salad greens, as mature Asian greens are less tender and better suited for cooking.
Popular salad greens available in the springtime in Michigan include lettuces, mesclun mix, spinach, kale, arugula and chard. Asian leafy vegetables such as pac choi and tatsoi are also gaining popularity in the United States as salad greens in their baby leaf and microgreen forms. To reduce the risk of pathogen growth, store leafy greens in the refrigerator at 41 degrees Fahrenheit or lower and wash salad greens under cool running water prior to use. It does not hurt to give them a quick rinse, even if they are labeled pre-washed.
Michigan State University Extension's Community Food Systems Work Team supports the development of local food systems in Michigan. The Michigan Fresh program has tips on growing, handling and preserving as well as healthful recipes to take advantage of the delicious Michigan-grown bounty from your back yard or your local farmer's market. For more information, connect with your local community food systems educator by visiting http://msue.anr.msu.edu/or calling 1-888-678-3464.