Spring fishery workshops offer current research and information related to Lake Huron
In the recent decade, the Lake Huron ecosystem and fishery has undergone dramatic changes related to ecosystem and food web shifts resulting from impacts of aquatic invasive species.
Largely due to a result of invasive species introductions, the Lake Huron fishery has witnessed dramatic ecosystem changes1,2, including a loss in forage or food production. This has resulted in a greatly diminished mass of forage (small food) fish3 and declines in some important (even smaller) animals that make the lower food web, such as Diporeia (an benthic or bottom feeding amphipod)4. These changes have altered how food energy flows through the ecosystem, negatively impacting some offshore open-water species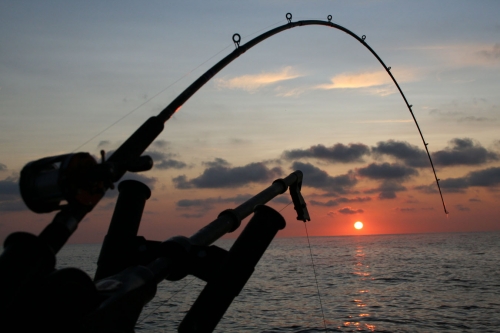 like Chinook salmon. In positive contrast, Lake Huron has benefited from a resurgence in native species populations, such as lake trout, and a near shore fishery that is thriving, including walleye5 and smallmouth bass. Some offshore species such as steelhead seem to be doing well and contribute to Lake Huron river fisheries.
In all, the Lake Huron fishery now reflects different, but maybe even more, diverse fishing opportunities than in the past. Even in change, the Lake Huron fishery continues to offer a diverse and valuable fishery, providing ecological and economic benefits for recreational anglers, fisheries-dependent businesses, and Lake Huron coastal communities through tourism. Fostering opportunities for fisheries research and management agencies to work more closely with local communities and fisheries stakeholders offers an opportunity to better understand and respond, adapt and capitalize on these changes6.
2012 Lake Huron Fisheries Workshops: A chance to learn more, you are invited to participate!
This spring the Michigan Sea Grant and Michigan State University Extension, in partnership with the Michigan Department of Natural Resources Fisheries Division, USGS Great Lakes Science Center, and local fishery organizations will be hosting three evening regional workshops across Lake Huron's coastline. Workshops will provide valuable information for anglers, charter captains, resource professionals and other community members. Attendees will hear about status updates on Lake Huron fish populations and angler catch data, resurgence of native species such as Lake Huron walleye, forage fish surveys and results from the ongoing Lake Huron predator diet study, as well as updates of fisheries management activities and other Lake Huron related topics of local interest.
2012 Lake Huron fishery workshop dates and locations include:
Cedarville
April 23, 2012 (Monday, 6–9 p.m.)
Les Cheneaux Sportsman's Club
M-134, Cedarville, MI 49719
Alpena
April 24, 2012 (Tuesday, 6–9 p.m.)
NOAA Great Lakes Maritime Heritage Center
500 W. Fletcher St., Alpena, MI 49707
Port Huron
May 9, 2012 (Wednesday, 6–9 p.m.)
Charles A. Hammond American Legion Hall
1026 Sixth Street, Port Huron, MI 48060
Workshops are free and open to the public; however, pre-registration is requested. To register for any of these no-cost workshops, contact Cindy Anderson, Michigan Sea Grant/MSU Extension Iosco County (989-984-1060, ande1172@msu.edu). For program information or questions, contact: Brandon Schroeder, Michigan Sea Grant (989-984-1056 or schroe45@msu.edu).
Workshop registration and details are available online on the Michigan Sea Grant website.
A Wealth of Opportunity for All Involved!
These educational spring Lake Huron fisheries education workshops provide annual informational updates and status reports regarding our Lake Huron fisheries resources. In addition, workshops serve as an invaluable networking opportunity for all involved.
Fishery businesses – sportfishing charters, commercial fishing, and bait shops – gain valuable information and insights relating to Lake Huron fisheries resources around which their business depends. This information may prove useful in adapting business strategies, ranging from fishing practices to business marketing to information that might be passed along in educating customers about the resource.
Recreational anglers gain value in becoming more educated anglers – learning about feeding trends of predator fish species may prove valuable in deciding where to fish or what lures to put into play while fishing this year.
Tourism and community leaders may value learning about ecological and economic values of our coastal Lake Huron fish resources and gain insights about critical and emerging issues, such as invasive species introductions that cause risk, uncertainty, and concern toward the future of these resources.
In trade for the informational updates they share, governmental research and management agencies gain valuable insights and input from direct interaction and dialogue with anglers and citizen stakeholders on such topics like the reduction of Chinook salmon stocking in 2011.

In all, these workshops serve as a valuable networking and educational opportunity for all involved. The effectiveness of fisheries research and management, and community values gained from the Lake Huron fishery are enhanced through these collaborations.
---
1 Johnson, J. (2010). Changes in Lake Huron's ecosystem and foodweb lead to collapse of Chinook salmon. Online http://www.michigan.gov/documents/LakeHuronNewEcosystem-foodweb_122463_7.pdf
2 Schmit, J. (2009). Lake Invaders: The Fight for Lake Huron (video documentary). Produced by Grand Valley State University, Distributed by Green Planet Films. Online http://www.lakeinvaders.com/Lake_Invaders.html
3 USGS Great Lakes Science Center. (2012). "Fish Community of Lake Huron" web page and supporting reports, online http://www.glsc.usgs.gov/main.php?content=research_DWS_huron_community&title=Lake%20Huron0&menu=research_DWS_huron. Retrieved 4/12/2012.
4 SOLEC. (2009). Abundance of Benthic Amphipod Diporeia spp., State of Great Lakes Ecoystem Conference (SOLEC) 2009, Report produced jointly by the U.S. Environmental Protection Agency and Environment Canada. Online: http://www.epa.gov/solec/sogl2009/0123diporeia.pdf. Retrieved 4/12/12.
5 Michigan Department of Natural Resources, Fisheries Division. (2007 April). Status of the Saginaw Bay Walleye Population and Progress Towards Recovery.
Online: http://www.michigan.gov/documents/SB_Recovery_Plan_Update_Whitepaper_153929_7.pdf
6 Johnson, L. (2011). Defending Lake Huron's fishery, The Alpena News http://www.thealpenanews.com/page/content.detail/id/519108/Defending-Lake-Huron-s-fishery.html?nav=5004. Retrieved 10/16/2011.