STEM & Place-based learning at Life of Lake Superior – Grand Island
Community learns more about STEM during Placed-based Life of Lake Superior – Grand Island program.
Life of Lake Superior (LOLS) is an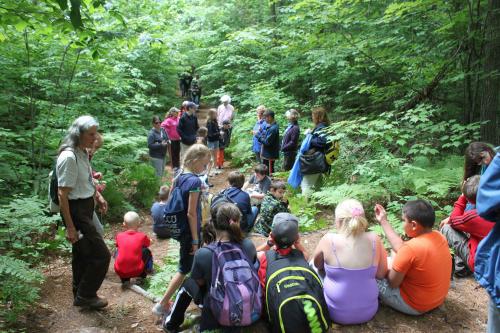 Michigan State University Extension outdoor education program that is a science-based environmental and outdoor education day camp. It takes place in Munising (Michigan's Upper Peninsula) on the shores of Lake Superior in Alger County. The program offers local youth opportunities to experience different ways Lake Superior impacts their lives.
LOLS was developed through the vision of Joan Vinette, MSU Extension educator. Vinette acknowledges that the program would not be possible without the help of hundreds of local science specialist, resource people, community mentors and volunteers, explaining, "Over the years, hundreds of community businesses, organizations, collaborators, volunteers, teen leaders, parents, and grandparents have assured the continued support and success of Life of Lake Superior."
There is no fee for children to attend LOLS. Funds to support program activities are raised locally and regionally, so that any interested child has access to the program without financial hardship. In order to assure that transportation is not a barrier to participating in LOLS, free bus transportation is provided. The local public transit system offers their vehicles free of charge, and drivers donate their time. To insure all participants have adequate nutrition during the program, LOLS provides the noon meal and two daily snacks.
"Captain Nutrition," developed by MSU Extension education Vicki Ballas leads youth and adult participants in preparation of their noon meal, with emphasis on healthy food choices.
On Grand Island Day, participants visit the historical Grand Island – a National Recreation Area (purchased by the United States Forest Service from Cleveland Cliffs Iron County in 1990). Grand Island has a nearly 5,000 year history as a Native American fishing and hunting ground. Native Americans also came to the island to get quartzite – a hard, shiny rock that can be chipped to make cutting and scraping tools. In the early 1800's, American Fur Company traders (employed by John Jacob Astor) and their competitors built small log cabins in, or close to Indian settlements on Grand Island and the mainland. In 1840, not long after American Fur left the island, Abraham (a blacksmith and trader) and Anna Williams, with their large family arrived on Grand Island. The Williams moved into the company's log buildings, next to the birch-bark lodges of the island's Ojibwe band. Today, only direct descendants of the Williams can own property on Grand Island.
An innovative and fun educational format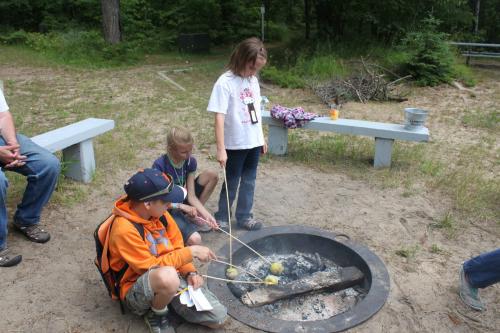 is offered to participants and volunteers who participate in LOLS. Participants are rotated through learning stations, which on Grand Island day that includes:
Archeology and flint mapping (led by Eric Drake, USFS)
Nutrition education (with Captain Nutrition)
Grand Island animals (led by Tim Burke, USFS)
Wind energy engineering and design challenge (Melanie Chiodini, MSU Extension educator)
At a farm field, participants learn more about pollinators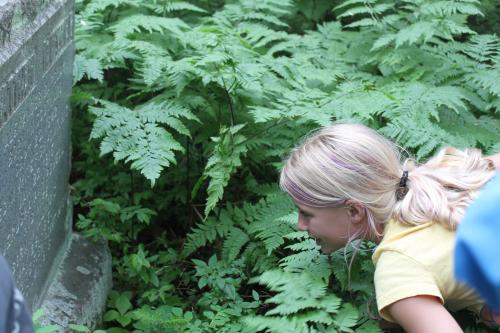 from Deb LeBlanc, USFS and also carry out two experiments with Hiawatha Interpretive Center and USFS interns. Captain Nutrition will plan a Whitefish lunch at Murray Bay, followed by participants preparing their own desserts by roasting apples over a bon fire. During LOLS, nutrition education typically centers around Michigan-fresh fruits, vegetables and meats. After this participants take a historical cemetery tour. During this activity youth are encouraged to use math skills (and information from the grave headstones), to help piece together a historical timeline of the Williams family and Grand Island.

The out-of-school activities that youth participated in meet current Next Generation Science Standards (NGSS), and are evaluated by MSU Extension staff. If you are interested in helping to develop a program similar to LOLS in your community, please e-mail myself at chiodin1@anr.msu.edu or call the Cheboygan County MSU Extension office at 231.627.8815.

For more information on getting involved as a youth or volunteer, contact your county MSU Extension office.