Stepping Stones program – Part 1
Through the Stepping Stones program, Detroit youth participated in outdoor educational activities they are not accustomed to.
December 13, 2013 - Author: Gary Williams, Michigan State University Extension
This summer a group of youth from Healthy Kidz Incorporate, a youth development organization located in the city of Detroit, participated in the Michigan Department of Natural Resources and Michigan State University Extension's outdoor education program Stepping Stones. The Stepping Stones program was created to introduce nontraditional and urban audiences to multiple outdoor educational experiences. The program provides a step-by-step educational approach by exposure to progressive techniques in outdoor skill development in activities such as archery, fishing, camping, nature exploration and water studies. The program is also designed to provide a pathway of outdoor experiences to build confidence and create statewide natural resources users in youth who would not ordinarily be in this situation.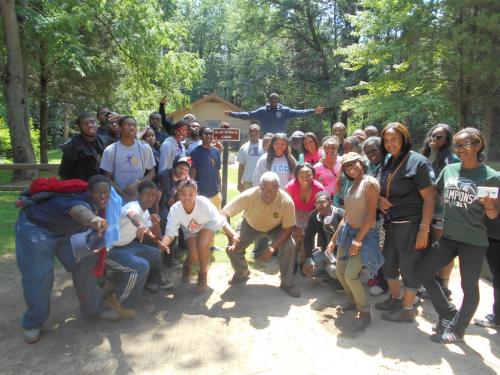 One of the groups from Healthy Kidz that participated in this year's Stepping Stones program was made up of all teenagers. The Stepping Stones program provided these youth with a unique experience; they extended a traditional one day experience to an overnight camping trip at Island Lake Recreation Area, a Michigan State Park, located in Brighton Michigan. A majority of these youth had never been camping overnight and admittedly were nervous about what to expect when embarking on their first experience. After assurance that it was a safe environment, the teens were able to developed and ended up possessing the skills to have an enjoyable experience. The group leaders and the Island Lake staff were also on hand to make the experience a fun-filled, educational and enjoyable camping experience.
While preparing for the camping trip, the group discussed the importance of packing proper food, cooking utensils, equipment, supplies and sleeping bags to use in the rustic cabins and tents. The group divided up into smaller groups with specific assignments that included cooking, food preparation, grounds maintenance, and equipment and supplies.
Not only did the group of teens have an enjoyable first camping trip, they were able to learn necessary skills they can apply while in natural settings. As a result, camper's expressed their desire to return to Island Lake Recreation Area in the future.
---