Student studying water sustainability receives NASA fellowship
On Twitter, Jill Deines took up the challenge to explain her doctoral thesis to an 8 year old. She came up with "I try to figure out if there's enough water underground to continue growing our food."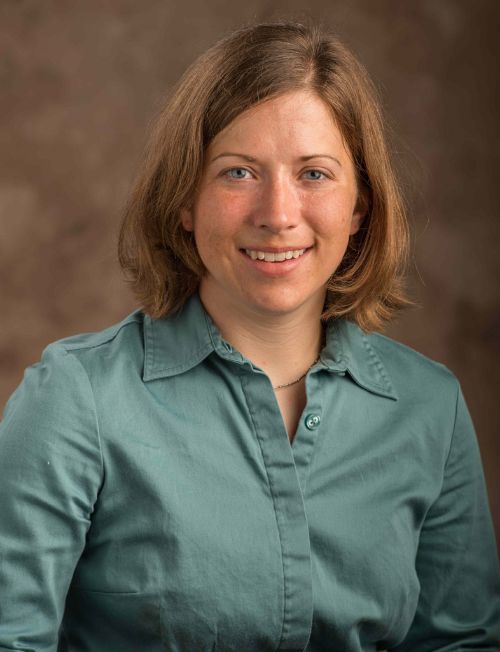 On Twitter, Jill Deines took up the challenge to explain her doctoral thesis to an 8 year old. She came up with "I try to figure out if there's enough water underground to continue growing our food."
A more expansive explanation -- "Groundwater and Economic Sustainability in Agricultural Systems Under Climate Change: A Coupled Human-Natural Systems Approach" -- met with NASA's approval and Deines has been awarded the NASA Earth and Space Science Fellowship. The fellowship offers $30,000 per year in stipend and research support for up to three years to ensure continued training of a highly qualified workforce in disciplines needed to achieve NASA's scientific goals.
Deines, who studies in the Center for Systems Integration and Sustainability, the Department of Fisheries and Wildlife, and the Department of Geological Sciences at Michigan State University, received one of 54 such fellowships awarded this year nationally, chosen from a pool of 410 applicants.
Deines plans to evaluate market-based groundwater management scenarios using a set of integrated models that capture regional hydrology, crop production, and economic indicators in a changing climate. The goal is to find solutions that maximize both economic and water resources in agricultural systems with limited irrigation water. She'll apply these models to the Republican River Basin in the central United States, which overlies the High Plains or Ogallalla Aquifer, one of the largest and most stressed groundwater aquifers in the world.
"The NASA Earth and Space Science Fellowship will allow me to focus my research on a complex coupled-human natural systems problem vital to meeting global food demand, while leveraging the rich archive of satellite data produced through NASA's space program," Deines said. "I can't wait to get started."
NASA reviewers noted her work "addresses an important topic – groundwater sustainability in a changing climate with the addition of economic and transboundary resource-sharing pressures."
"The NASA Fellowship is a well-deserved recognition of Jill's innovation and drive to seek understanding of some of our world's most challenging problems," says Jianguo "Jack" Liu, Deines' advisor and an internationally known human-environment scientist and sustainability scholar who holds the Rachel Carson Chair in Sustainability and is the center's director.
She is the fourth of the center's recent doctoral students to become a NASA fellow. Among other recent awardees are Vanessa Hull, who studies panda habitat and how their needs intersect with humans in southwestern China. Neil Carter studied the complex interactions between tigers and human populations in and around the Chitwan National Park in Nepal. Mao-Ning Tuanmu worked to model understory vegetation under different climate change scenarios in China.
The work of all four scholars share an underpinning focus on the study of coupled human and natural systems – the complex interactions between people and the environment.
Deines received her master's degree in biological sciences from the University of Notre Dame and her bachelor's degree in ecology and evolutionary biology from St. Louis University in Missouri. While at the center, she has served as MSU University Distinguished Fellow.