Student Profile: Q&A with Timothy Leblanc
Q&A with Timothy Leblanc, Freshman, Turfgrass Management & Golf, Institute of Agricultural Technology, Internship: Meadowbrook Country Club; Northville, MI
July 27, 2016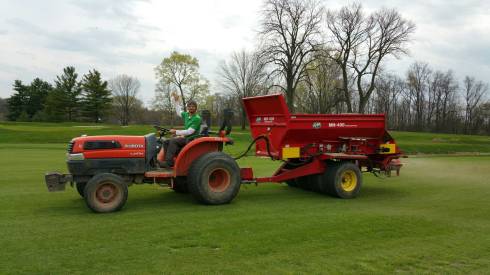 Q&A with Timothy Leblanc
Freshman, Turfgrass Management – Golf, Institute of Agricultural Technology
Internship: Meadowbrook Country Club; Northville, MI
Q: Summarize what you are doing this summer at your internship.
A: This summer I've been part of the grow-in team, responsible for the seeding, fertilizing, and maintaining new turf, as well as learning the in-and-outs of the management side of the golf course maintenance industry.
Q: How did you choose or pick your internship?
A: The renovation project at Meadowbrook Country Club is an extensive one and allows an up-close look at the applications of the latest research specifications, as well as the opportunity to see a course being built from the ground up. Once I realized that, it was a pretty easy decision for me.
Q: What is the most important thing that you have learned from your internship?
A: The impact that a positive attitude can have, whether it be on others or yourself, can really change a tough situation or task for the better.
Q: What will you miss the most when your internship ends?
A: The experience has been incredible this summer, whether it be the work, people, or the satisfaction of seeing the progress made in a daily basis here, I'll miss it all. I'll be sure to stay in contact to hear about the project while I'm back at school.
Q: What was the biggest hardship, adjustment, or challenge of this internship?
A: Definitely the hours worked. I'm in the midst of over 50 days without a day off. 80 hours a week is no joke!