Students find winter is a perfect time to prepare for spring pollinator garden project
Alcona first-grade students spend day learning and preparing for their part in creating library garden.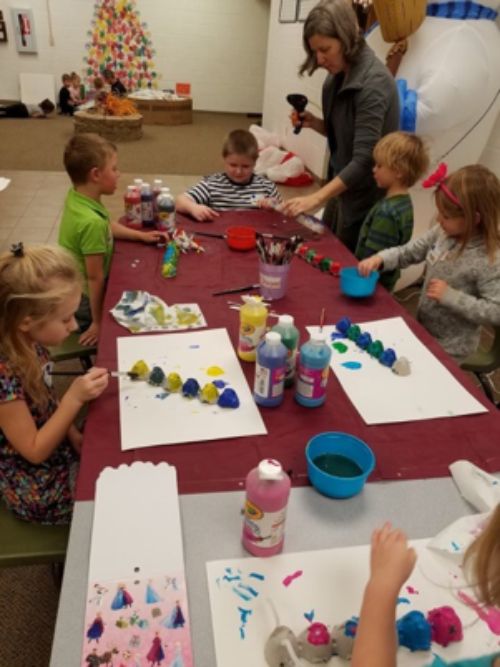 Bees and butterflies, exploring native wildflowers, planting seed balls, and a painted caterpillar art project – all this adds up to a fun-filled morning learning about pollinators and native wildflowers with Alcona Community Schools. Students were not only applying their science and math, reading and art skills but also were preparing for a pollinator garden project they are creating in spring with their local library.
The Alcona County Library recently received a grant from the Laura Jane Musser Fund to create a community reading garden and book trail at their main branch in Harrisville, Mich. The library team has been planning the design with Alcona Community School educators, Michigan State University Extension staff, and other community partners – and at the center will be local students helping to accomplish this exciting project.
Alcona students from pre-school to high school will eventually contribute to the reading garden and trail. First-graders will begin by planting a pollinator garden in the shape of a colorful caterpillar to inspire an educational connection between native wildflowers and pollinators such as bees and butterflies. This shape was strategically chosen to complement the existing pollinator garden, which is in the shape of a butterfly. The original garden also was developed by teachers and students several years ago as a schoolyard habitat demonstration project at Alcona Elementary.
While planting the library garden won't happen until spring, there are plenty of tasks to be accomplished in preparation. Recently student exploration included five simple yet purposeful (and fun) learning stations.
Part of a year-long place-based education effort, this fun-filled day represented was just one educational step toward creating their caterpillar-shaped pollinator garden. At the start of the school year, students launched their pollinator studies by raising, tagging, and releasing monarch butterflies as part of a Monarch Watch project. They also explored biodiversity of schoolyard habitats using tablets and the online iNaturalist citizen science project to document life found in their schoolyard pollinator garden and milkweed habitats. They also visited coastal Lake Huron habitats (important migratory habitats for monarchs) at DNR Harrisville State Park where they helped pick up litter and pull invasive spotted knapweed plants. Finally they made a quick visit to the library to see the site where their project would develop.
These native wildflower and pollinator habitat projects – both at the elementary school and soon to be at the library – are the result of place-based education learning effort led by Alcona educators with community partners supported through the Northeast Michigan Great Lakes Stewardship Initiative (NEMIGLSI). This project represents a fantastic school-community partnership where students and their stewardship project are relevant and valued by their community. Of equal value, lead educator Gail Gombos notes this project offers multiple learning values and hands-on experiences and gives her students an opportunity to expand learning in connection to the stewardship project throughout the entire school year.
Michigan Sea Grant and Michigan State University Extension help provide leadership for the NEMIGLSI network, which is part of the Great Lakes Stewardship Initiative (GLSI), a larger, statewide partnership. Professional development and project support for this project was also provided through the regional Sea Grant Center for Great Lakes Literacy.
Michigan Sea Grant helps to foster economic growth and protect Michigan's coastal, Great Lakes resources through education, research and outreach. A collaborative effort of the University of Michigan and Michigan State University and its MSU Extension, Michigan Sea Grant is part of the NOAA-National Sea Grant network of 33 university-based programs.