Summer 2014 in the Great Lakes – Shiver, sizzle or pretty average?
The winter of 2013-2014 set records for cold and snow in the Great Lakes, with Michigan in the middle of it all. What's the forecast for summer 2014 temperatures?
It's May, and we're coming out of a particularly long, cold and snowy winter, so it's only natural for our thoughts to turn to summer fun. In Michigan, summer often means fun on the water, including our Great Lakes waters, so with the extreme winter we had, how do our temperatures look for this summer? We looked at the projected Great Lakes water level projections last month in the Michigan State University Extension article "Great Lakes water levels for the summer of 2014 - what's up (or not)?", but what about our temperatures this year?
Looking back at this past winter, we saw in January that Great Lakes ice cover had set a 20-year record at more than 92 percent (Great Lakes ice cover: Setting records during the Winter of 2013-2014). You might be surprised to know that as of May 19, we still have 2.4 percent of the Great Lakes covered by ice. You would probably not be surprised to learn that the remaining ice cover is on Lake Superior. Ice is cold and we had a lot of it, so will all the ice from last winter keep our lakes colder longer and, in turn, keep Michigan cooler this summer? The Great Lakes do influence Michigan's weather and climate (particularly micro-climates – think snow belts and fruit belts), but our weather is also influenced by large weather systems on the national or larger scale.
For answers, we can turn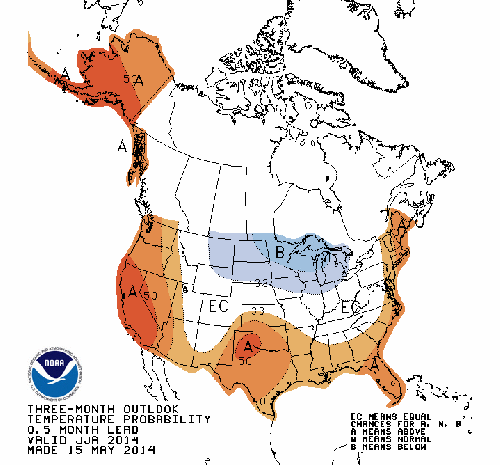 to the NOAA Climate Prediction Center. The Climate Prediction Center develops "Three Month Outlooks" at the national scale for both temperatures and precipitation. These projections use a probabilistic approach using historical data from 1981 through 2010. What are we most likely to see this June, July and August?
On the temperature side, the upper Great Lakes (Superior, Michigan and Huron), including the entire state of Michigan, can expect temperatures slightly below the 1981-2010 median 3-month values. These differences will range from 0.2 degrees Fahrenheit in southern Michigan to 0.6 degrees F in the Upper Penin
sula below the median, with precipitation not significantly different than the median. So the good news is that even with all the ice cover this past winter, we probably won't notice a significantly colder summer than the median we experienced during the 1981-2010 period.
If you'd like to learn more about our weather and climate, particularly as it relates to the Great Lakes, consider joining us this summer on Lake St. Clair or Lake Erie for one of our "Wind, Waves and Weather" Summer Discovery Cruises. National Weather Service meteorologists will be on board to explain how weather both influences, and is influenced by, the Great Lakes. Don't miss the boat!