SwissLane Farms family named 2018 Dairy Farmers of the Year
The Oesch family is recognized for their accomplishments and passion for the dairy industry.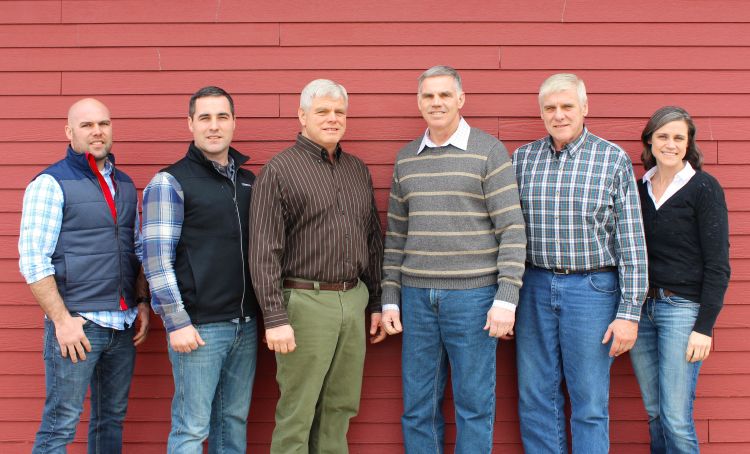 Six members of the Oesch family, which owns and operates SwissLane Farms, will receive the 2018 Dairy Farmer of the Year Award. Fred, Jeff, Tom, Tom Jr., and Matt Oesch, and Annie Oesch-Link manage the fourth-generation dairy farm in Alto, Michigan. The award is given by the Department of Animal Science at Michigan State University and will be presented during the Dairy Industry Banquet on Friday Feb. 9, 2018 at the Great Lakes Regional Dairy Conference in Mt. Pleasant, Mich.
SwissLane Farms was founded in 1915 by Fredrick Oesch, who milked 22 cows and farmed 91 acres. Today, the operation has 52 employees, grows 5,000 acres of corn, soybeans, hay, wheat and cover crops, milks 2,200 Holsteins, and has 1,900 replacements and 90 Angus-cross beef cattle. In 2011, SwissLane added eight robotic milking units that milk an additional 500 cows.
In 1981 Fredrick's son, Joe, and his grandsons, Fred, Tom, and Jeff, formed a partnership to ensure the family's legacy continued on at the farm, which is southeast of Grand Rapids. Since then, the partners have been joined by Tom's sons, Tom Jr. and Matt, and Fred's daughter, Annie.
"Carrying on the tradition that our family has been a part of for 103 years legacy is important to us," Annie Oesch-Link said.
Each family member has a role in keeping the farm running smoothly and on schedule. Fred manages crops and new technology adoption, Jeff oversees farm operations, Tom handles the upkeep of the farm's machines and buildings, Annie manages the farm's human resources and public relations needs, Tom Jr. manages the dairy operation and supervises herd managers, and CEO Matt provides strategic leadership and establishes long-term goals for the farm.
The management team's goals are to expand production, increase profitability, and be good environmental stewards. SwissLane was first MAEAP-verified in 2007. In 2017, the farm became animal welfare verified by Validus and received a national Outstanding Dairy Farm Sustainability Award from the Innovation Center for U.S. Dairy. SwissLane recently partnered with Trans Ova Genetics on an on-farm in vitro fertilization laboratory that also provides services to other producers.
SwissLane Farms is committed to helping Michigan residents learn about where their food comes from. As part of the farm's Dairy Discovery farm tours and events, visitors bottle-feed newborn calves, learn about dairy nutrition, watch cows being milked and meet a variety of farm animals.
"Dairy has such a powerful story and this program shows and tells that story through a variety of hands on activities," Oesch-Link said. "It is so fun to watch as kids and parents make the connection that the practices and technology we're using on the farm creates the nutritious and delicious food on their plates."
Individual Oesch family members find ways to support their community, too, from Apostolic Christian Church services to Kent County FSA to the Alto Livestock 4-H Club.
"Rather than as a farm, we each try to participate as individuals and help out in the community," Oesch-Link said. "It just makes it more personal that we're all doing our own things for the community."
"SwissLane Farms is a well-respected farm that leads by example," Ted Ferris said. "It is with great pleasure that the MSU Department of Animal Science recognizes the members of SwissLane Farms as the 2018 Dairy Farmers of the Year."