Teen leaders educate fourth graders about agriculture
Teens grow as they share their knowledge and experience about agriculture with students.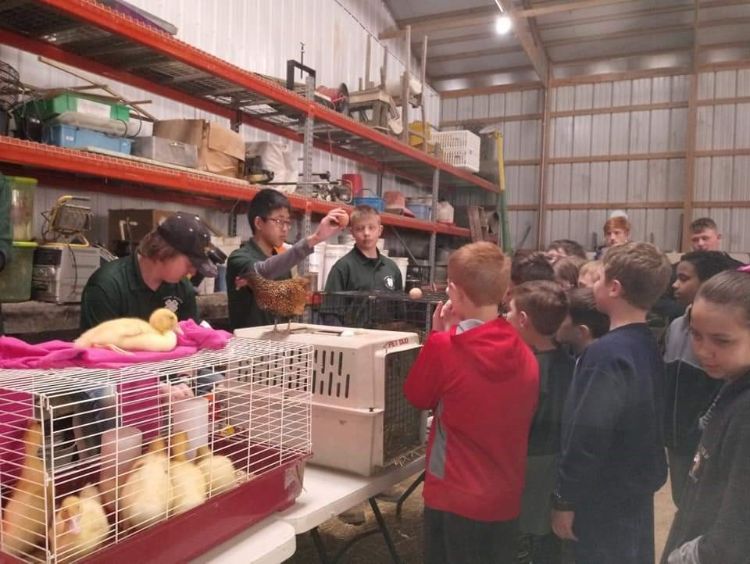 Teen leaders from the Michigan State University Extension 4-H Youth Development program in Lenawee County demonstrated their leadership skills to educate fourth grade students from six local elementary schools about agriculture. The teen leaders are members of the Lenawee County 4-H Small Animal Board. The teens designed the presentations, learned presentation skills, practiced their material during monthly board meetings and then presented the information to the fourth grade students during the two-day Project RED program.
Over 500 fourth graders from around Lenawee County attended one or two days of the Project RED program. The members of the 4-H Small Animal Board provided education to the students about how to raise, care for and feed goats, poultry and rabbits. The teens also taught students about different breeds or varieties and how different breeds impact the purpose for the animal to the agriculture industry.
Evaluations from the teachers after the event rated the session the teen leaders provided as a 5 out of 5 (superior). Teacher comments included:
"Very knowledgeable information shared."
"The students love hearing from the teens."
"Great information shared as well as fun to have hands-on experiences."
Teen leaders from the 4-H Small Animal Board said it was the most fun they have had on the board. Another teen leader said it was fun to look up all the information and then share it with younger students. When asked what they have learned from the experience, a board member said, "To be confident and able to talk in a large group."
Utilizing teens as teachers and giving them the responsibility to be leaders is a great way to increase their knowledge, confidence and boost their level of involvement. MSU Extension's Leadership and Civic Engagement work team members can assist you with developing teens as teachers. As we continue to develop today's teen leaders to be adult leaders in the future, experiences that allow them to try on different roles is crucial for their growth and development.