The 2019 potato variety trial results from northeast Michigan are now available
A russet and tablestock potato variety trial in Presque Isle County showcased performance of 48 different varieties across multiple tuber types.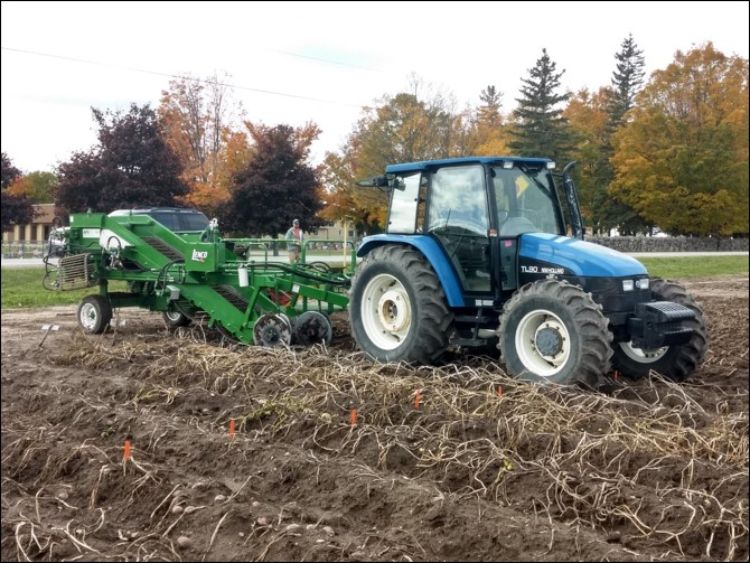 The Michigan State University Potato Outreach Program, MSU Extension and Styma Potato Farms of Posen, Michigan, continued russet and tablestock variety trails in Presque Isle County in 2019. This year's trial, hosted by the Styma Potato Farm, included 48 different varieties consisting of russet, red, yellow, round white and novelty type tubers. Varieties were planted in single, unreplicated rows on June 5, 2019, on an Omena fine sandy loam soil. The previous crop was alfalfa and the field was not fumigated. Tubers were planted 10 inches apart on standard 34-inch rows. Starter and sidedress fertilizer were applied by the grower at recommended rates according to soil analysis and best practices for the adjacent commercial field.
The 2019 growing season overall was cold and wet. May and June featured below average temperatures with above average rainfall. Summer finally arrived in July, brining above normal temperatures with adequate rainfall. With August, however, temperatures fell back below normal and rainfall was scarce. By the end of August, the area was approaching drought conditions. September brought normal temperatures, as well as excessive rainfall, which persisted into October. The plot was irrigated, so dry weather in August was not a yield-limiting factor. Only 2,510 base 40 growing degree days (GDD) were accumulated at this plot from planting to vine kill, roughly 200 GDD lower than the five-year average of 2,700 GDD for Presque Isle County potato trials.
Vines were desiccated Sept. 20, and the plot was harvested Oct. 18. Overall, disease incidence was low across the plot. Raw tuber quality was also good across most varieties. Common scab ratings averaged 0.5, on a scale of 0.0-5.0, across the plot.
Of the russet types, Silverton was the top performing variety, producing 439 cwt/acre of US No. 1 tubers out of a total 480 cwt/acre harvested. After grading was completed, 58% of tubers were As, 3% Bs, 35% oversize and 4% were pick-outs. Tuber quality was good overall, the only issue being vascular discoloration on 10% of tubers. No common scab was present.
Reveille russet was a close runner-up, producing 431 cwt/acre of US No. 1 tubers out of a harvested total of 507 cwt/acre. Quality was excellent in this variety, and it would have been the highest yielding had it not been for 10% of tubers grading as pick-outs due to knobs causing misshaped tubers. There was also some skinning experienced in this variety.
Of the red skin varieties, the experimental line NDAF113484B-1, a selection from the University of Maine potato breeding program, was the top yielding variety, producing 667 cwt/acre of US No. 1 tubers out of a harvested total of 699 cwt/acre. This variety was very uniform, as the total breakdown of this variety after grading was 95% As, 3% Bs, 1% oversize and 1% pick-outs. There was no incidence of common scab, but there was a moderate presence of silver scurf. Ten percent of tubers did have some vascular discoloration, but that was the only tuber quality issue.
Of the yellow types, Arizona was the top yielding variety. Approximately 587 cwt/acre of US No. 1 tubers were harvested out of the total 708 cwt/acre. Total breakdown after grading was 78% As, 11% Bs, 5% oversize and 6% pick-outs. Tuber quality was not as good in this variety compared to other yellow types, as 20% of tubers had hollow heart and another 10% had brown center. Some pitted lesions were present, leading to a common scab rating of 2.0 on this variety. Fioretta, Picobello and NY149 all yielded over 500 cwt/acre of US No. 1 tubers as well, however NY149 had the most uniformity and highest tuber quality of all the top yielding yellow types.
White Beauty was best performing round white type variety this year, producing 613 cwt/acre of US No. 1 tubers out of the total 673 cwt/acre harvested. The total breakdown after grading this variety was 91% As, 6% Bs and 3% were pick-outs. Tuber quality was excellent, as well as scab rating. MSV179-1 was the first runner up, producing 529 cwt/acre of US No. 1 tubers out of 550 cwt/acre harvested. This variety was very uniform with excellent tuber quality and scab rating.
Complete variety trail results for russet lines can be viewed here: Potato Outreach Program 2019 On-Farm Russet Variety Trials.
Complete tablestock variety trial results can be viewed here: Potato Outreach Program 2019 On-Farm Tablestock Variety Trials.