The history of MSU Extension
Dig deeper to understand how MSU Extension started and how the program has grown since the beginning.
The Michigan State University Extension mission states that "MSU Extension helps people improve their lives through an educational process that applies knowledge to critical issues, needs and opportunities." The agricultural leaders of this state were ahead of the game and already following these guidelines before MSU Extension was even founded. Beginning in 1907, many agricultural demonstrators from land-grant universities would travel around the state to assist farmers and their families with their businesses. These universities were constantly researching new products or techniques to help farmers produce more while increasing the quality of their products. Land-grant universities offered this new information to farmers, home management to wives, and corn and tomato classes for children. The pure desire to help was significant within these agricultural demonstrators and was the drive behind the start of Extension programs.
In 1914, Senator Hoke Smith of Georgia and Representative A.F. Lever of South Carolina created the Smith-Lever Act, which took the vocational education from universities to the homes of those in rural areas not receiving education. This act officially started Extension programs in essentially every county across the nation with land-grant universities overseeing the programs. By starting Extension programs across the nation, the public was able to receive more information from research being conducted within the universities. Many county agents that had the skill and knowledge traveled the state and provided helpful tips and guidelines for local farmers and their families.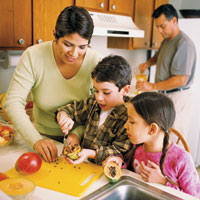 Because of the Smith-Lever Act, MSU Extension has been able to grow into what it encompasses today. The act fostered 4-H programs and home economic lessons to children and youth, allowing them to not only learn about agriculture but to physically experience it through their own projects in their counties. The program we have today is a direct result of two great minds coming together 100 years ago to form a system of furthering agriculture education.