The many faces of know your farmer, know your food
A local/regional food systems conference hosted by the United States Department of Agriculture (USDA) – Rural Development & Food and Nutrition Service at the Federal Reserve Bank in Chicago on February 3. Large corporations, non-profits, small businesses,
Nearly 20 people from Michigan climbed aboard a bus very early one recent February morning headed for Chicago to attend this one-day conference with stops in Battle Creek, Mich. and Kalamazoo, Mich. to pick up folks from the Michigan Department of Agriculture & Rural Development (MDARD), the MI Food Policy Council (MFPC), the MSU Extension Community Food Systems workgroup and interested individuals.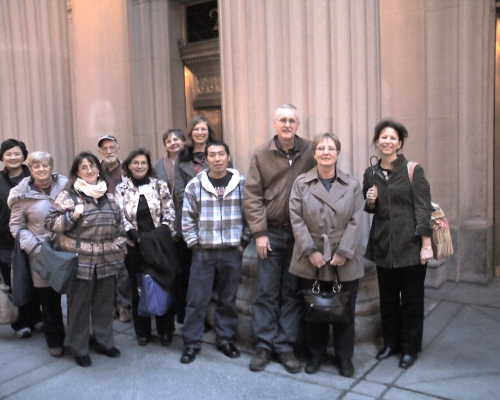 The conference goals were to identify and share best practices and successful strategies from the wide range of organizations, governmental agencies and businesses involved in local foods in order to grow local/regional food systems throughout the Midwest. Keynote speaker, USDA Deputy Secretary Kathleen Merrigan, said "The money spent on food is a powerful investment tool," in her opening comments. Increased opportunity for entrepreneurship, job growth, consumer access and local/regional agriculture production were points made. According the USDA's own research, local food sales made through direct marketing sales like farmers markets, CSAs and farm stands and via supermarkets, restaurants and institutional buyers were close to $5 billion. An interesting fact Merrigan noted was that 13 jobs are created in regional food systems versus three jobs in mainstream production (per 1 million in revenue earned), with increased diversity, value added and job creation possible in regional systems.
Know Your Farmer Know Your Food (KYF2) is a USDA wide effort that connects local consumption with local production, spearheaded by Deputy Secretary Merrigan in May 2009. From the Know Your Farmer Know Your Food website:
The number of farmers markets has more than tripled in the past 15 years and there are now more than 7,175 around the country.
In 1986, there were two community supported agriculture operations, today there are over 4,000.
There are farm to school programs in 48 states, totaling more than 2,200 and up from two in 1996.
All 50 states in the U.S. have agricultural branding programs, such as "Jersey Fresh" or "Simply Kansas."
The National Restaurant Association declared, "Locally sourced meats and seafood" and "locally grown produce" as the top two trends for 2011.
Focus areas of KYF2 that Deputy Secretary Merrigan mentioned are:
Food Hubs/distribution nodes – terminal markets where smaller producers can band together to supply institutions.
Stewardship – season extension hoophouses (and agriforestry as an emerging area).
Local Meat and Poultry – local processing/mobile slaughter units, Farm to Institution – addressing access issues, nutrition and ag marketing.
Healthy Food Access – myplate.gov with Michelle Obama as the spokeswoman and her Let's Move initiative and expanding EBT machines at farmer's markets (and programs like Double Up Food Bucks).
An interesting presentation from Dan Walter, general manager of General Electric Food & Beverage Solutions titled 'GE Lights Up Local Food Systems' was intriguing, describing the interactions between energy, water, waste, farming and how it is all tied together, and what GE is working on in terms of technology solutions. The lunch opening session began with a great conversation with Senator Dick Durbin, the US Senate's Assistant Majority Leader/Majority Whip, and a well-versed advocate of local/regional foods. Additional topics throughout the day included:
USDA Rural Business Grants; Financing Local Food
Farm to School, Best Practices & Successful Strategies
Local Food Approaches from the Big Guys
To Market, To Market
Local Food System Fundamentals Urban Opportunities.
The Michigan contingent found the day to be educational, inspirational, and thought provoking!