The Proud Equestrians Program makes a difference in Huron and other counties throughout Michigan
Did you know that on weekdays during the summer a group of horse owners and volunteers work together to provide a therapeutic horseback riding program for those with disabilities in counties all over Michigan?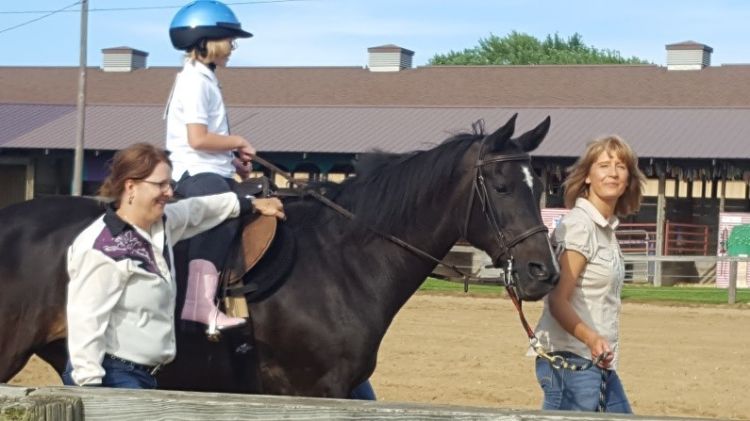 The Proud Equestrians Program or PEP was founded in the state of Michigan in 1974. This program requires great amounts of coordination and community support to get even greater rewards. This program has five main parts. The riders, volunteers, instructors, horse owners and of course horses.
Instructors who teach each riding class must have a certification to be able to teach those with disabilities. These instructors must go through a rigorous certification process with the Professional Association of Therapeutic Horsemanship. They must take a series of classes followed by a 3 month internship and an evaluation of both their riding skills and instruction abilities. This makes the instructors capable of running a beneficial and safe program for all involved.
Volunteers have special training to know how to handle the rider's cognitive and physical challenges. These volunteers walk next to the horse and rider for safety and they also lead the horses during class.
The horses and horse owners are the backbone of this program. The horse owners trailer their horses to the fairgrounds from all over the county. These horses are quiet and gentle. The horses are all special souls and safe for riders when they move suddenly or make unexpected noises.
Eight-year-old Asher Battel of Cass City participated in the Huron County program last year and will ride again this year. "The 4-H Proud Equestrian Program is wonderful for Asher," explained his mother, Sue Stuever Battel. "Asher has autism, he speaks very few words and he has a hard time connecting with people. Things that come easy for other children are difficult for Asher. But when he gets around the horses, he can just be himself. The horses don't judge him, they don't stare at him and they are patient."
Like many with autism, Asher struggles with anxiety. "Asher is scared of his own shadow sometimes," Stuever Battel said. "As much as he loves animals, he was scared to ride or even touch the horses at first. He was scared to even put the riding helmet on his head! It was amazing how patient the volunteers were with him. They never forced him and they very slowly helped him get used to his horse." After some weeks of leading a horse by the halter and lead rope, eventually Asher felt comfortable touching the horse and finally riding it.
"Whether or not a child ever rides a horse might not seem all that important in the grand scheme of things," Stuever Battel said, "but working through this process with kind and gentle volunteers taught Asher that he can get through other things in life, too. I'm very thankful for the volunteers who lend their horses for the program and those who work alongside the kids. They have made a huge impact on Asher's life. There are many things kids with special needs might not be able to do, but 4-H is for everybody and they've welcomed and valued him."
One benefit of equestrian or equine therapy is the chance of a disabled child to experience the environment that provides an interesting set-up more fitted for the child rather than a clinical setting. The goal of horse or equine therapy is to improve a child with a disability's social, emotional or cognitive functioning. Animals such as horses can be useful for educational and motivational effectiveness for participants. It provides a less threatening environment and increases rapport between volunteers and individuals involved in the program.
Muscle tone is one physical aspect of a disabled child that needs to be corrected and learning to ride a horse can provide the needed healing for this physical defect. This is because riding a horse would teach the child to balance his or her body while enjoying the experience of riding a horse. The lack of coordination such as hand-eye of the child can be corrected while learning how to ride the horse. These positive results can be achieved through standard physical therapy, but riding a horse can be a more pleasant learning experience to the child.
Equine therapy for disabled also trains a child to care for a horse which teaches the child comprehension and care for all animals. It will also increase self-confidence of the child while improving his or her decision-making and problem solving capabilities. At the end of the day there are many benefits for the people of this community that happens on Wednesdays all summer long. We hope to see the continued growth and strength of the PEP program across the state.
This program is always looking for support in the forms of monetary or equipment gifts. For more information about the PEP program, including how to be a participant or how to volunteer you or your horse please contact the Michigan State University Extension Office at 989-269-9949.