Thesis Project: Studio Coalesce
Thesis Project: Studio Coalesce by Alyssa Puryear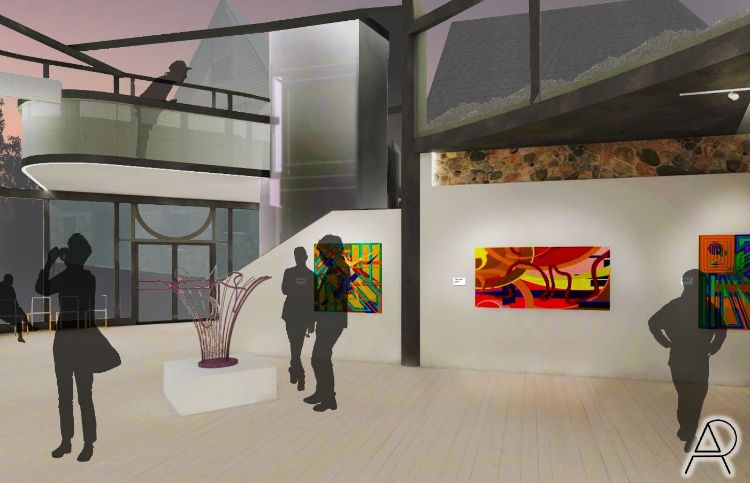 Author
Alyssa Puryear
Class
IDES 452 Interior Design Synthesis III
Concept
The Belle Isle Police Radio Dispatch building will be redesigned and updated to be an art gallery, community center and event venue facility called Studio Coalesce. This design will create unique spaces that lend visitors and users inspiration, flexibility and control, while also enhancing general accessibility. Considerations for reducing this site's ecological footprint will be taken to ensure sustainable efforts. The retention of historic value, integrity and character of this Michigan registered historic site will be central in this project.
Philosophy
Studio Coalesce is a nonprofit 501c organization that aims to bridge the community of the greater Detroit area and the local arts by closing the gaps that hinder engagement in the arts. This facility will be accessible to people of all ages and abilities to provide a place where interests in the arts can bring people together to make connections and create bridges. Studio Coalesce will enhance the sense of community in Belle Isle and Detroit by supporting local arts and artists, providing opportunities to experience art, and encouraging public participation and involvement.
Site
Located at 9300 Inselruhe Avenue on Belle Isle in Detroit, the Police Radio Dispatch building is surrounded by fields with views of the Detroit River. The building was completed in 1893, and designed by Mason and Rice Architects in the Richardsonian Romanesque style.
Wayfinding
Throughout the design, a color system has been applied to enhance wayfinding within the structure. Any areas on the project boards highlighted in red indicate a service that guests can utilize. Areas that are highlighted blue-green suggest public use spaces. These colors can be seen on the exterior view of Board 2, representing the original structure (red) and the addition of the new glass structure (blue-green). Use of LED light tape and graphics throughout will further improve spatial navigation.