Third Annual Michigan Chinook Cup
Michigan growers vie for coveted prize.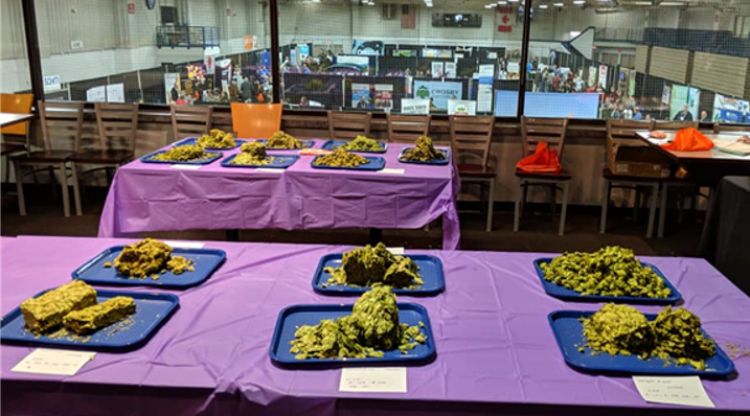 The Hop Growers of Michigan is now accepting entries for the 2019 HGM Chinook Cup and Wild Card Division Championship. Modeled after the national Cascade Cup, the Michigan Chinook Cup is awarded to the Great Beer State's best Chinook hop grower as determined by a panel of expert craft brewers and hop producers through a series of "blind" tests. The samples are judged based on aroma, appearance, and analytical test results. The 2018 Michigan champion was Top Hops Farm of Goodrich. Second place went to the 2017 champion, MI Local Hops of Williamsburg and third place was awarded to Green Heron Hops of Kingsley. The 2018 Wild Card Division winners were: first place Dogstar Hops (Charlotte) for their Crystal; second place was Cedar Hop Farm (Cedar) for Sorachi Ace; and third place was High Five Hop Farm (Marshall) for their Challenger Mix).
This year's competition will be held and observed at the 2020 Great Lakes Hop and Barley Conference in Ann Arbor, MI. Please look forward to more details regarding the competition.
Instructions for sample submission:
Please remember to include-
A brewers cut (whole cone bale sample) or 1/2 pound in vacuum sealed packaging of your Chinook or another variety (except Cascade)
Certificate of Analysis/COA
Payment of $20 entry fee
Mail to : Hop Growers of Michigan
C/O Rose Stahl
2646 W Albain Rd.
For more information on the Chinook Cup including last year's results.
Why Michigan Chinook Hops?

Although there are more than 100 different varieties of hops used by craft brewers across the U.S., the top three hops have consistently been Cascade, Centennial, and Chinook. The Chinook hop, released in 1985, is the result of a cross between Petham Golding and a USDA male plant. Chinook are a "dual purpose" hop, used for both bittering and aroma. In contrast to Chinook grown in the Pacific northwest that is generally known for its piney, spicy, dank attributes, Michigan Chinook is a cultivar that is increasingly recognized for its citrusy, clean profile.
If you would like to learn more about Michigan hop or barley production, mark your calendars for the Great Lakes Hop and Barley Conference, which will take place Mar. 5-7, 2020 at the Ann Arbor Marriott Ypsilanti at Eagle Crest Hotel. Registration is currently OPEN. Also, please continue to visit Michigan State University Extension's hop webpage or the MSU Hops News Facebook site for up to date information.