Second annual Chinook Cup awarded
Michigan growers vie for coveted prize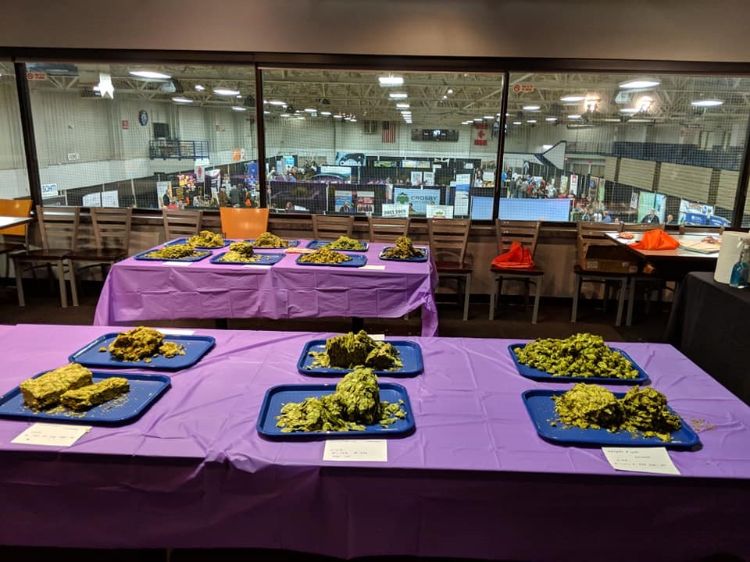 The Hop Growers of Michigan recently awarded the second Annual Chinook Cup. Modeled after the national Cascade Cup, the Michigan Chinook Cup is awarded to the Great Beer State's best Chinook hop grower as determined by a panel of expert craft brewers through a series of blind sensory tests. The 2018 Chinook Cup and Wild Card Contests were held at the Michigan Brewers Guild Winter Conference and Trade Show in January. Judges evaluated twelve Chinook entries and seven Wild Card entries; scoring was provided for: Appearance/Color, Aroma and Brewing Values. The expert judges included: John Mallet, Director of Operations at Bell's Brewery; Alec Mull, Vice President of Brewing Operations at Founders Brewing Company; Jeremy Kosmicki, Head Brewer at Founders Brewing Company; Bryan Wiggs, Head of Brewery Operations at Dark Horse Brewery; Andy Farrell, Brewing Innovation Manager at Bell's Brewery; Brian Confer, Head brewer at Storm Cloud Brewing and Brandt Austin, Brewer at Austin Brothers Beer Company and also special guest judge Jason Perkins, Brewmaster at Allagash Brewing, who has also judged the HGA Cascade Cup.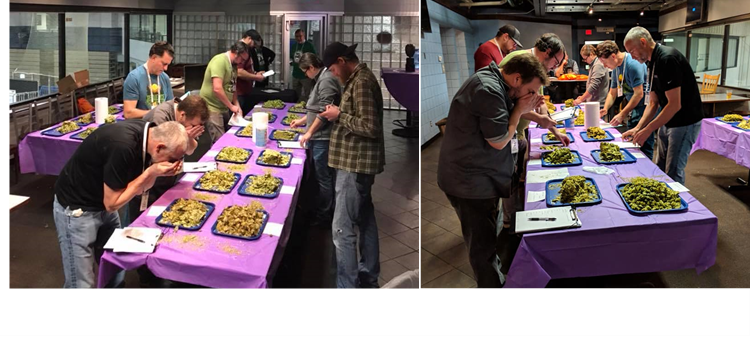 The 2018 Champion is Top Hops Farm of Goodrich, MI! Second place went to the 2017 champion, MI Local Hops (Williamsburg, MI) and third place was awarded to Green Heron Hops (Kingsley, MI).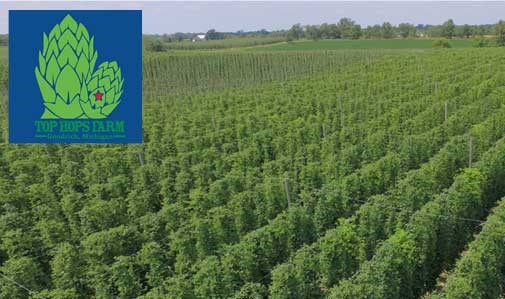 As the 2018 champion, Top Hops Farm will have their farm name engraved on the Chinook Cup and receive a Keepsake Cup to proudly display. The 2017 Champions, MI Local Hops, recently received the 1st Keepsake Cup for their 2017 win.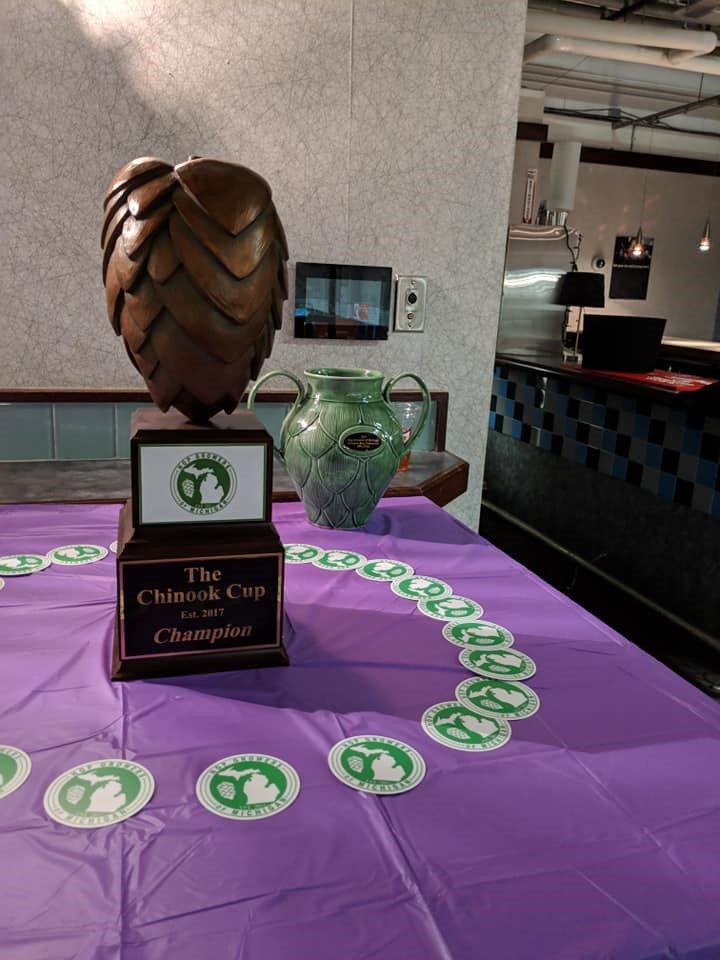 Hop Growers of Michigan also hosts a Wild Card Division for other hop cultivars. The 2018 Wild Card Division winners were: 1st place Dogstar Hops (Charlotte, MI) for their Crystal; 2nd Cedar Hop Farm (Cedar, MI) for Sorachi Ace; and 3rd High Five Hop Farm (Marshall, MI for their Challenger M.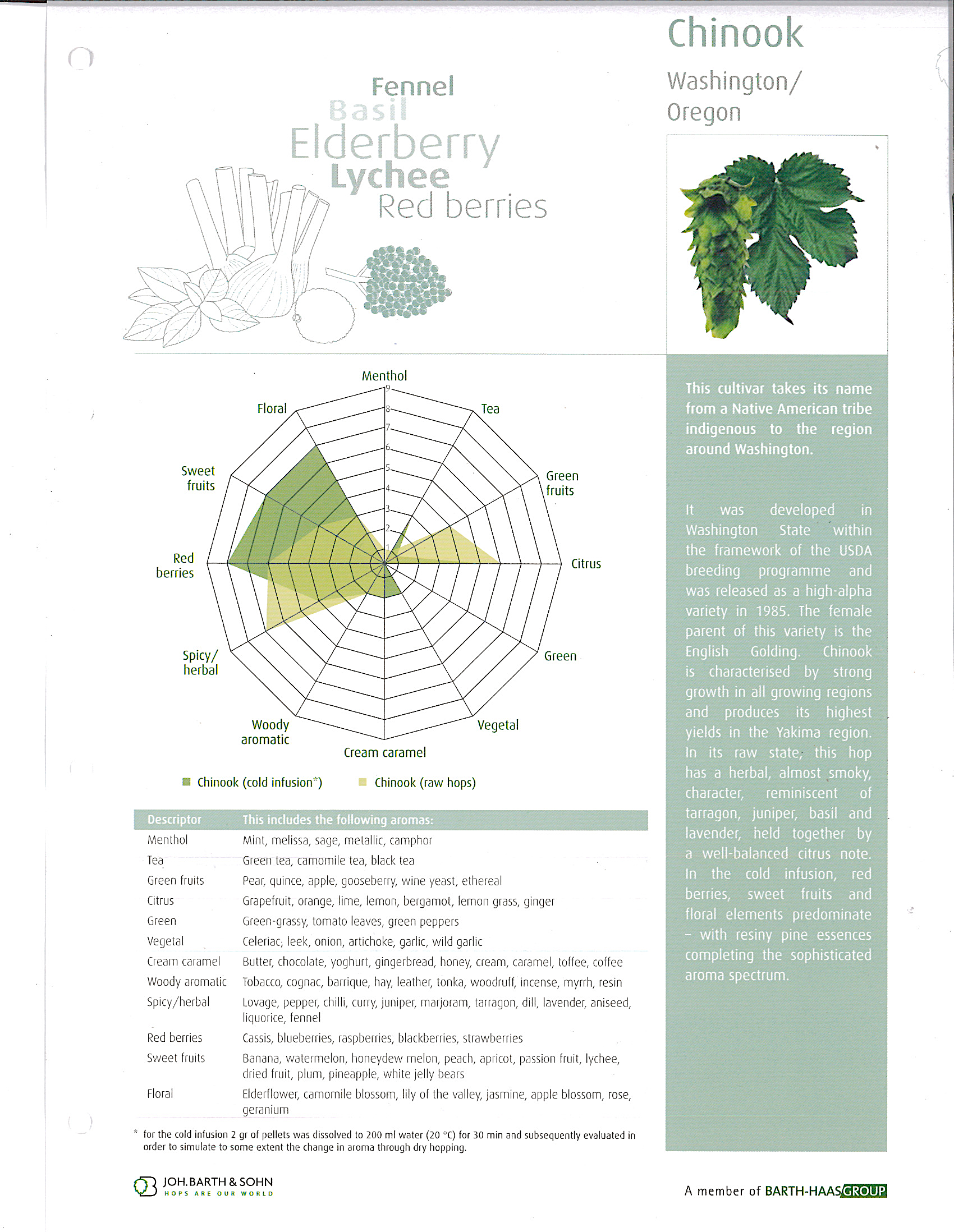 Why Michigan Chinook Hops?
Although there are over 100 different varieties of hops used by craft brewers across the U.S., the top three hops have consistently been Cascade, Centennial, and Chinook. The Chinook hop, released in 1985, is the result of a cross between Petham Golding and a USDA male plant. Chinook are a "dual purpose" hop used for both bittering and aroma (See figure below). In their quest to brew "standout" flavorful beers, many craft brewers have become increasingly interested in newer proprietary varieties such as Simcoe and Citra. However, a small but growing number of brewers have begun to recognize that hops of the same variety, when grown in different locations with distinct soils and climate, impart different flavor profiles. In contrast to Chinook grown in the Pacific northwest that is generally known for its piney, spicy, dank attributes, Michigan Chinook is a cultivar that is increasingly recognized for its citrusy, clean profile.
If you are interested in trying a Michigan-made craft beer featuring Top Hop's award winning Chinook hops, then register now for the 5th annual Great Lakes Hop and Barley Conference, where you may get a sneak preview of Top Hop's Chinook hops in liquid form!
Also, please continue to visit Michigan State University Extension's hop webpage or the MSU Hops News Facebook site for up to date information.