Thunder Bay Jr. High youth Adopt-a-Beach, enhancing their coastal Lake Huron shoreline and community
Kicking off their school year, more than 150 youth from Thunder Bay Jr. High take their classwork to the shorelines of coastal Lake Huron, adopting local beaches to explore and enhance Great Lakes habitats and their local community.
More than 150 students from Thunder Bay Jr. High (Alpena Public Schools) hit the beach, launching into studies and projects focusing on Lake Huron shoreline habitats. Through their learning, this student effort is fostering valuable school and community partnerships benefiting their school and learning, Alpena area communities, and healthy Lake Huron ecosystems.
Coordinated with theGreat Lakes Adopt-a-Beach Program, an Alliance for the Great Lakes-supported program, these students have adopted several public beaches and coastal wetland areas in Alpena, along a one and one-half mile stretch of the U.S. 23 Heritage Route, including Bay View Park, Thompson Park, Blair Street Park and Pier, Starlite Beach and Mich-e-ke-wis Park. Supported by NOAA B-WET and 4-H20 programs, their research project will gather valuable water quality data, monitor water habitats and populations of aquatic invasive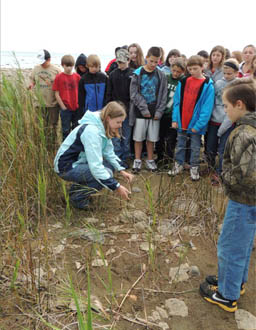 species impacting local coastal wetlands, and generally improve these publicly accessed shorelines within the City of Alpena.
This student research is a perfect example of place-based education principles in practice as these students prove that when schools and communities work together, they produce powerful partnerships that are beneficial to all. This school-community partnership was facilitated through the Northeast Michigan Great Lakes Stewardship Initiative, a regional network supporting place-based education opportunities. Students are collaborating directly with local partners like Michigan Sea Grant, NOAA Thunder Bay National Marine Sanctuary, Huron Pines, Alpena-Montmorency-Alcona/Iosco Math & Science Center, the City of Alpena, and others to develop this project as more than just a beach clean-up.
On September 21, the students embarked on their first of several field trips, aimed at monitoring their selected Lake Huron sampling sites. Students split into five groups with each group adopting a beach location. On this day, they conducted water quality assessments and shoreline habitat and wildlife observations, finishing with a beach clean-up. Following protocol outlined by the Great Lakes Adopt-a-Beach program, "teams conduct litter removal and monitoring, and also complete a beach health assessment form that includes science-based observation and testing." Learning with Huron Pines and Michigan Sea Grant, students focused on the growing issue of one aquatic invasive species, Phragmites, currently affecting coastal wetlands in Thunder Bay Lake Huron. Huron Pines and the Michigan Natural Features Inventory identify Phragmites as an invasive plant expanding into and negatively affecting northeast Michigan coastal wetlands, and the target of local management and control efforts.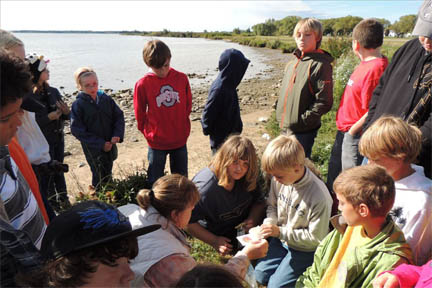 A follow-up trip found students learning at the NOAA Great Lakes Maritime Heritage Center, out on Lake Huron, aboard the Glass bottom boat Lady Michigan, connecting their study of shore side ecosystems with Lake Huron water quality, fisheries, and maritime heritage. This boat trip gave students a view of their shoreline from the lake, while exploring the value of the Great Lakes waters to people – from our maritime heritage to fisheries and clean drinking water. Onshore, students learned about aquatic organisms found in the Thunder Bay River, from the smaller macro-invertebrates to the largest fish swimming in Lake Huron waters. They also learned that Great Lakes ecology is not only socially, economically, and ecologically important to us, but it also serves as an indicator of water health. Through a Department of Natural Resources Lake Huron Research Station documentary, Lake Invaders: the Fight for Lake Huron, students continued their exploration of aquatic invasive species and issues plaguing Great Lakes ecosystems.
These two amazing community supported research trips with Alpena area youth set the stage for student-led Great Lakes studies continuing throughout the year. This project enhances student learning through a yearlong, real-world connection with both their natural environment and community, alike. Students learn applied science – biology, chemistry, and physics – math, social studies and more, while having fun in the process. The school, Thunder Bay Jr. High, gains a portfolio of dedicated community and resource stewardship partners in support of their school improvement efforts, including funding, curriculum, and technical expertise that these partners bring to this project. The community gains valuable water quality data, cleaner beaches, and a greater public awareness about the importance of protecting these valuable coastal Lake Huron resources.
For more information about the Northeast Michigan Great Lakes Stewardship Initiative (NE MI GLSI) and place-based, community-based education programming partnerships with Alpena Schools, visit the NE MI GLSI website and Thunder Bay Jr. High's project page. Stay tuned to learn about another environmental stewardship project led by a second student team from Thunder Bay Junior High, managing another wetland invasive species affecting Bagley Creek, which runs through their schoolyard.