Timing crabgrass pre-emergence applications
When is the correct time to apply crabgrass pre-emergence herbicides?
Spring has been very slow to arrive and turf managers from professionals to do-it-yourself homeowners are eager to get going. I have received many questions in the last couple of weeks regarding the optimum timing for applying crabgrass pre-emergence herbicides. There are several different methods used for determining the optimum application timing from tracking growing degree-days (GDD) to looking for forsythia bush flower bloom. One system used by many professional turfgrass managers to determine application timing is to track GDDs using the website GDDTracker.
GDDTracker starts counting GDDs on Feb. 15. The crabgrass pre-emergence model uses GDD (base 32 degrees Fahrenheit) to indirectly measure soil temperatures in a turf situation (enter your zip code under the map and then click on "Crabgrass PR"). The GDD model attempts to predict the optimum application timing for when the 0-2 inch depth soil temperatures consistently reach 50-55 F. Applications made at this time provide adequate time for the pre-emergence herbicide to be applied and watered in before crabgrass germination occurs.
Summer annual grasses such as crabgrass require proper soil temperature and moisture to germinate and establish. Eighty percent of germination will occur when soil temperatures at the 0-2 inch depth are consistently between 60 and 70 F. For pre-emergence herbicides to be effective, they need to be applied before the soils reach this optimum temperature range. At the Hancock Turfgrass Research Center on Michigan State University's campus, we have yet to record a soil temperature of 50 F at a 2-inch depth. The most recent soil temperature on April 2 was 44 F, well below the range of 50-55 F we're targeting.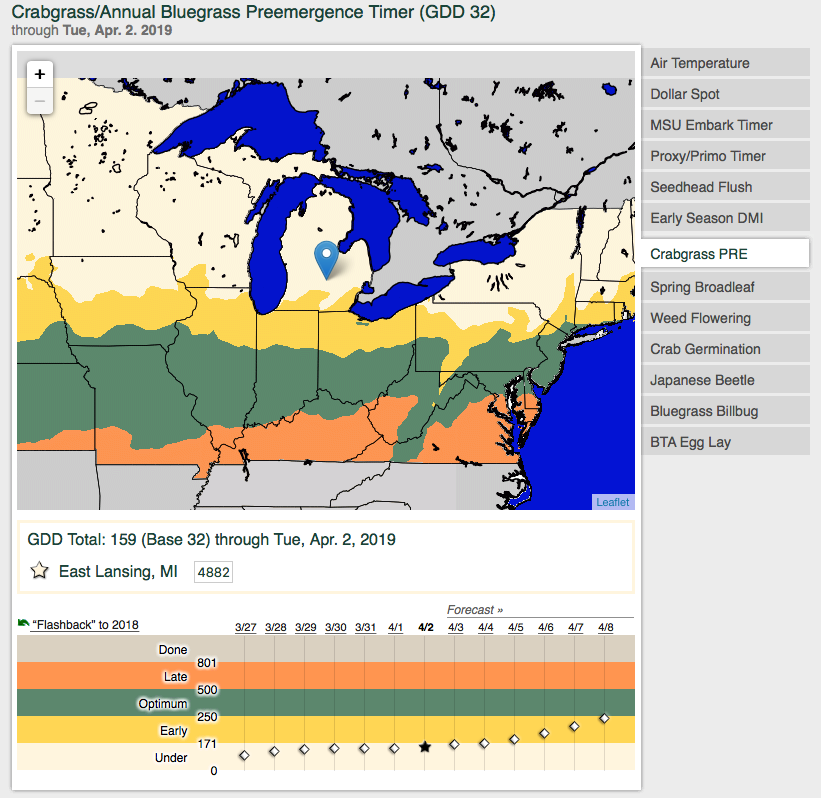 GDDTracker has the entire state of Michigan still progressing towards the optimum application window. Remember, these models are meant to serve as guides, not absolutes, and keep in mind the range of the optimum application window extends from 250-500 GDD. You don't have to apply the first day the model indicates optimum. Based on the weather forecast, it looks like southern areas of the state will be in the optimum application window starting on approximately April 8 and should remain in the optimum zone for approximately 10-14 days.
In addition to using soil temperatures and GDDTracker, a good environmental indicator for pre-emergence timing is when forsythia bushes are blooming with their bright yellow flowers. Every year I watch a forsythia bush near my office that happens to be located on the south side of a building, so it's a warm site and usually blooms a little early. Currently, there is just a hint of yellow as flowers are starting to open. Compared to 2018, GDD accumulation is lagging slightly behind this year. On April 3, 2018, East Lansing, Michigan, had accumulated 211 GDD (32 base); this year we're at 159GDD.
If you have already applied a pre-emergence application, the applications will still be effective but you'll want to be on the lookout for any late spring or summer crabgrass germination escapes that would require post-emergence control. Another strategy for dealing with an early application is to follow-up with a "booster shot" second pre-emergence application at half the label rate in approximately 30-45 days after the first application.
Remember, the practices that encourage a healthy, dense turf stand, such as mowing high, returning clippings and adequate fertilization, are all part of an effective crabgrass prevention strategy.
Dr. Frank's work is funded in part by MSU's AgBioResearch.
Did you find this article useful?
---