Toyota 4-H20 Project educates youth in water quality
Youth from six Michigan counties are learning water quality education with the Toyota 4-H2O Community Project.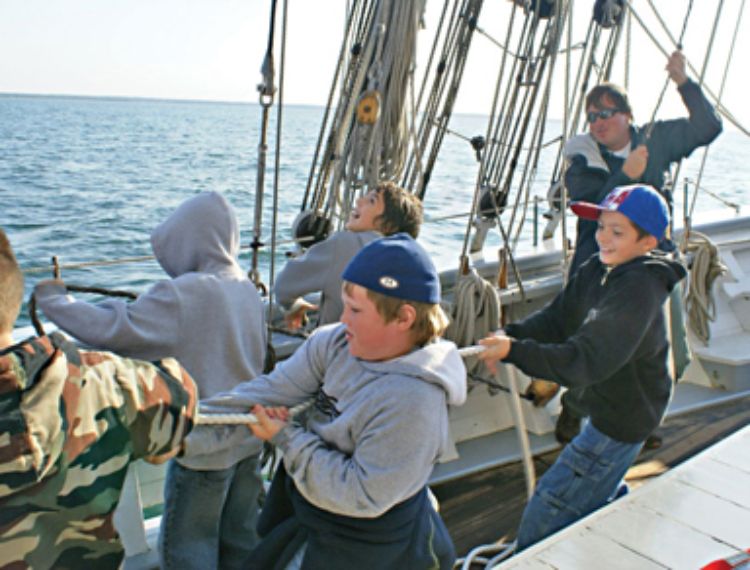 Youth from six Michigan counties are learning water quality education with the Toyota 4-H2O Community Project.
Michigan, one of five states participating in the project, received $105,000 in grants from National 4-H Council from Toyota USA. Now in its second year, the Toyota 4-H20 project focuses on water quality, water conservation and watershed issues, a part of the national 4-H science, engineering and technology (SET) mission mandate.
Toyota 4-H20 involves youth from three county clusters in Michigan: Wayne County; Oakland and Washtenaw counties; and Alcona, Cheboygan and Presque Isle counties. In addition to their individual goals, each program creates a community sharing opportunity for youth to share knowledge and the stewardship activities they carry out to address critical water quality and environmental issues that they discover as part of their learning.
Cluster 1: Wayne County
In Wayne County, scholarships are offered to the 40 school districts to participate in Michigan's Great Lakes Education Program (GLEP), a joint Michigan 4-H Youth Development and Michigan Sea Grant educational initiative. GLEP introduces fourth-grade youth to the history, health and purpose of Lake Erie and its tributary, the Detroit River.
"The program develops stewards for our environment," said Gary Williams, Wayne County MSU Extension 4-H natural resources educator and GLEP co-director.
GLEP participants experience the water firsthand in a two-and-a-half-hour school ship cruise on the Detroit River and Lake Erie where they examine plankton samples, test water clarity, practice marine knot tying, take temperature readings and engage in other learning activities.
"It gives youth knowledge of our greatest resource on our planet, which happens to be our aquatic resources, the Detroit River and Lake Erie," Williams said.
Dyan Wardwell, science teacher at Bates Academy in Detroit, has participated in GLEP for the past seven years. "It's the best field trip my children have ever been on. The thing that gets them first is going out on the boat," Wardwell said. "The kids are engaged from the minute they get off the bus."
When the students arrive at the marina, they review boating safety and are divided into four groups, usually named after the Great Lakes. "As soon as the boat pulls away, we go to the four stations on the boat," she said.
The four stations focus on benthic studies of sediments at the bottom, navigation skills and mapping, water clarity and oxidation testing and seamanship skills including tying knots and measuring wind speed.
"At the first station, the teacher gets a bag to take back to the classroom and a videotape of everything under the water," Wardwell said. "We can see animal and plant life from the bottom using a really neat video microscope so everyone can see what we've found."
The day doesn't end when the students leave the boat. For the second half of the day, the students go to the metro park to learn about the Great Lakes ecosystem, including food chains, animals, fish and wetlands.
"This is just a wonderful program. There are so many topics and lessons that are covered in third and fourth grade. This just ties it all together for them," Wardwell said. "They learn about wind and weather, water quality, measurements, food chains, wetlands and ecosystems, and how to manipulate microscopes. The kids are so engaged the entire day, it's fantastic!"
Cluster 2: Oakland and Washtenaw counties
Through the Toyota 4-H20 project, Oakland and Washtenaw counties have continued current school-based programming and encourage 4-H clubs to participate in "I pledge my hands to larger service" with a primary focus on water issues and water-related cleanup efforts.
The youth in the program learn how actions we take every day impact the water resources around us.
Oakland County's program engages elementary through middle school-aged youth, with a concentration on fifth graders, in a variety of educational experiences that feature water quality sampling and education focused on each of the county's five major watersheds: the Rogue River, Clinton River, Huron River, Shiawassee River and Flint River.
Washtenaw County involves elementary and middle school classrooms in programs that remind youth and adults about the importance of protecting the community's and the world's limited water resources. The programs provide opportunity for youth, both school groups and 4-H clubs, to use water quality testing kits to test the county's watersheds.
Cluster 3: Alcona, Cheboygan and Presque Isle counties
The northeast Michigan 4-H20 cluster provides water quality education in Alcona, Cheboygan and Presque Isle counties, including hands-on exploration aboard a tall ship, onshore water quality education programs and watershed studies.
In Sept. 2008, the S/V Denis Sullivan, a 137-foot re-creation of a three-masted, 19th century Great Lakes schooner, came to northeast Michigan in celebration of World Water Quality Monitoring Month. It hosted water-quality-themed educational sails out of Cheboygan and Alpena ports in conjunction with schools from Alcona, Cheboygan and Presque Isle counties.
Six youth educational sails with approximately 300 fourth-grade and high school environmental science students and teachers from four school districts provided an introduction to the importance of water quality and water quality monitoring practices. Two public water-quality-focused sails were also offered to the community and garnered an additional 50 participants.
Youth participated in on-board programming, including determining water quality through chemical analysis, measuring turbidity (how much sediment is in the flowing water) and exploring benthic samples (a sediment sample from the bottom of the lake). Students also learned about water conservation and knot making and helped the Sullivan crew raise the main sails.
"It was really cool, putting the sails up and learning about zebra mussels...we could see which ones were alive and which ones were dead. When we were looking through the (benthos) pile, we even found a back bone of a fish," said fourth-grader Brendan Nelson.
While sailing on this Great Lakes schooner, students experienced Lake Huron and learned about the importance of water quality. They will now apply their learning experience toward various other water studies projects planned through their schools during the school year.
To compliment the schooner program, on-shore activities engaged students at the NOAA Thunder Bay National Marine Sanctuary (TBNMS). Youth participated in breakout sessions that included a walking tour of the museum given by the TBNMS staff, as well as an interactive presentation by Michigan DNR and U.S. Fish and Wildlife staff about non-native, aquatic invasive species and their impact on sport and commercial fishing.
Alcona Elementary fourth-grade educator Dorene Schick was delighted with the opportunity for her students. "The 4-H2O experience on the Denis Sullivan and on shore was a fantastic hands-on learning opportunity for our fourth graders," Schick said. "Being on the schooner and sailing out into Thunder Bay was a thrill for them. They were able to participate in raising the sails, measuring water depth, testing oxygen levels in the water, tying a variety of knots, and many other activities. This field trip has provided a great reference for later learning in science and social studies. Students have even been writing about their sail on the Denis Sullivan…we appreciate the experience our students were given, and we hope it will become an annual event."
The S/V Denis Sullivan is owned and operated by Pier Wisconsin as an educational platform and scientific research vessel. She began in 1991 as a dream – the quiet project of a small group from Milwaukee, Wisconsin, who hoped to build a tall ship for Great Lakes education. By the time she was launched in fall 2000, the Denis Sullivan was a labor of love for hundreds of people from all walks of life. Nearly one million volunteer hours went into her construction, an unprecedented display of grass-roots spirit and community dedication. Today, the Denis Sullivan is Pier Wisconsin's ambassador for freshwater exploration. Used for both science education and nautical training, she sails each year to ports-of-call throughout the Great Lakes, the Atlantic Ocean and the tropical waters of the Caribbean Sea.
The 4-H20 project has also made school-based, water quality place-based education possible through a community service program in the northeast region cluster. In Alcona County, the high school environmental science class completed a semester-long study of the Negwegon State Park located along Lake Huron. The students are also completing the Black River watershed study. In Cheboygan County, the high school environmental science class completed a multi-week study of the Sturgeon River.
Presque Isle County is engaging teen mentors for fifth graders at Onway Schools participating in the Ocqueoc River Study each spring. Alpena Schools is looking to initiate a long-term study and monitoring program on Thunder Bay River incorporating an initial exploration and pilot field water quality study with teachers, students and community partners.