Training for in-demand jobs planned for 44 northern Michigan employees
Skilled trades training funds received to provide training for in-demand jobs for two northeast Michigan employers.
Ryba Marine Construction, of Cheboygan, Mich. and Moran Iron Works, of Onaway, Mich. have received Skilled Trades Training Fund (STTF) grants, which is intended to provide needed training for in-demand jobs. The STTF is 2014's $10 million employer-driven training funds to be obligated by September 30, 2014. The grant programs are administered by the Michigan Works! Northeast Consortium.

The $10,600 training grant awarded to Moran Iron Works was to train employees on reading blueprints and practical geometric solutions for the layout and fabrication of metal components. Marilyn Kapp of Moran Iron Works said 12 employees have benefited from the training which finished up in mid to late December 2013.
Moran Iron Works is a dynamic fabrication facility that has been designing, developing, and installing custom metal work projects for over 30 years. Since their beginning they have grown to a robust company of over 100 employees. They excel at projects where precision and quality is as important as timely delivery. Moran Iron Works continues to expand throughout northern Michigan, including work on a deep water port project.
The STTF grant to Ryba Marine of $42,000 will provide training through ATS Specialized, LLC in Wisconsin for certified crane operators, Great Lakes Maritime Academy in Traverse City for able seaman and radar observer course and New Environment Inc. in Ohio for hazardous waste operations. Kristi Bailey, of Ryba Marine, said 32 employees will receive training.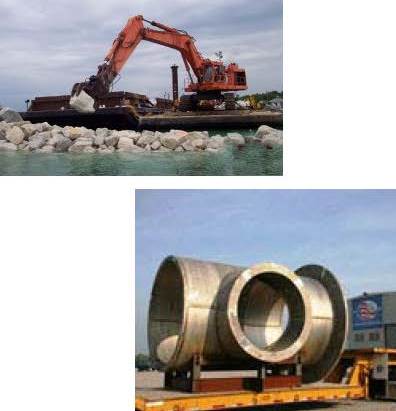 Photo: Ryba Marine Construction (Cheboygan) & Moran Iron Works (Onaway) Receive Skilled Trades Training Funds (STTF) to provide training to 44 northern Michigan employees.
Ryba Marine Construction operates and maintains a large fleet of heavy equipment including general construction equipment, many specialized marine vessels, numerous cranes and excavator mounted spud barges. Headquartered on Lake Huron in Cheboygan, Michigan, Ryba has access to all of the Great Lakes. With a history spanning over 30 years, Ryba Marine Construction Co. and its team of highly trained marine specialists continues to excel in high quality marine construction services and continues to expand its geographical footprint across the United States.

Michigan State University Extension partner, Northern Lakes Economic Alliance (NLEA), has worked in partnership with the Michigan Works Northeast Consortium to identify companies that would be in a position to qualify for the program, educate the companies as to the availability of funding to support this specialized training and to work through the application process to get their project approved.
Michigan State University Extension has had a unique partnership relationship with the regional economic development organization Northern Lakes Economic Alliance (NLEA) for more than 20 years. Recognizing the strength of combining resources, this partnership focuses on economic development, entrepreneurship growth and community infrastructure throughout a four-county region in the northwest Lower Peninsula, specifically Antrim, Charlevoix, Cheboygan and Emmet counties. As a result, the NLEA utilizes resources offered through MSU Extension as it provides leadership to state-wide programs sponsored by MSU Extension.