Tribal stewards: Changing the narrative—fire as a friend
The Sault Ste. Marie Tribe of Chippewa Indians Inland Fish and Wildlife Department has begun work on a new and ambitious project involving fire, or better described as Ishkode, in the Anishinaabe language of Anishinaabemowin.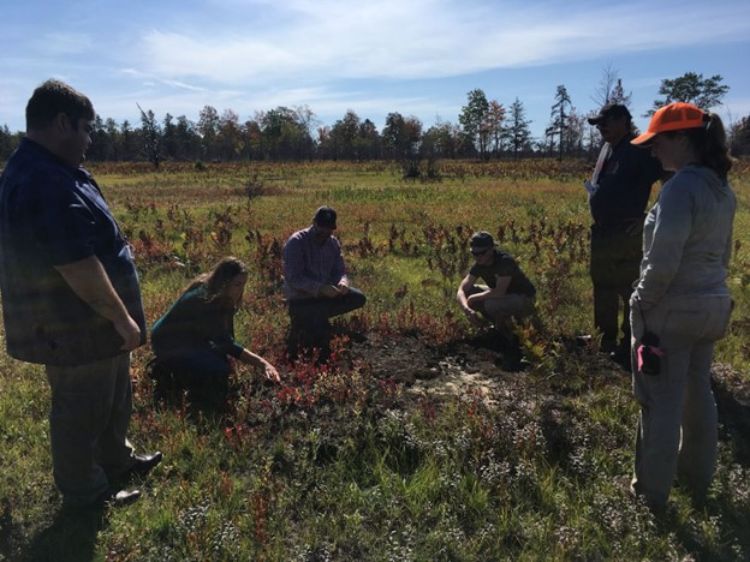 As of 2022, Michigan has 12 federally recognized Native American tribes. These tribes vary in their sizes, histories, and cultures, but a common element surrounds all indigenous people in North America: a connection to the natural world. Despite centuries of colonization and forced assimilation, many tribes still work hard today to ensure this natural world is stewarded and managed properly for the benefit of all.
Today, all of the tribes of Michigan have their own departments or employees devoted to conservation and natural resource management. Each tribe has a different organizational structure that may include conservation, fisheries, or wildlife departments, depending on the needs of their communities. Such tribal departments are engaged in a variety of projects, often exercised through their treaty rights, aimed at stewarding, protecting, and restoring the natural resources of Michigan. Below is one such project that showcases the breadth and impact of tribal nations in Michigan on the beloved natural resources all Michiganders enjoy.
Sault Ste. Marie Tribe of Chippewa Indians
In the far northeastern part of Michigan's Upper Peninsula, the Sault Ste. Marie Tribe of Chippewa Indians Natural Resources Department – Wildlife Program works hard to co-manage the natural resources throughout the 1836 ceded territory. Their projects are many and range from wild rice restoration to snowshoe hare population monitoring; all with an intention to better steward these resources for future Michiganders. Recently, the department has begun work on a new and ambitious project involving fire, or better described as Ishkode in the Anishinaabe language of Anishinaabemowin.
Danielle Fegan, a wildlife biologist with the department and a member of the Sault Ste. Marie Tribe of Chippewa Indians, describes Ishkode as an "essential actor in Anishinaabe and Ojibwe life, creation stories, and teachings." The Wildlife Program has worked with community members to better understand perspectives around Ishkode. Many community members share the perspective that Ishkode creates complex benefits and risks, some of which are knowable to and usable by the Anishinaabek. However, it is important to understand that Ishkode is not controlled by the people, but rather is used for a shared purpose. Yet, Fegan and others in the tribe began to notice both the lack of understanding of Ishkode and the lack of Ishkode itself across tribal lands and the region. In 2019, the department began a project to better understand the relationship between tribal members and Ishkode and to determine the role Ishkode may be able to assist with natural resource management goals.
Historically, Ishkode occurred by both indigenous peoples and natural causes such as lightning strikes across much of Michigan's Upper Peninsula. These forests are dominated by boreal forest remnants with many lowland conifers, a unique ecosystem in the United States that provides a habitat for many rare species of plants and animals. Ishkode allowed for a balanced and healthy ecosystem that was more beneficial for all. For example, Ishkode can clear areas by burning the dense understory which allows more direct light to reach the forest floor. This direct light and openness allows for smaller species, such as berries, to thrive. Additionally, as fires burn forests, they replenish valuable nutrients into the soil. Such burned forests were likely more open, with fewer, but larger trees then compared to today and were more diverse in the species they supported.
However, as human populations and the demands for natural resources, such as timber, increased, Ishkode was no longer viewed as a tool for forest health. Rather, Ishkode was now viewed as an enemy that could destroy towns and burn valuable timber. Assimilation and colonization also hampered the transfer of traditional knowledge and contributed to a decrease in the indigenous-Ishkode partnership. The ideology of Ishkode as an enemy or threat is still heavily present throughout forest communities in the United States today.
Changing the narrative
This is precisely what the Sault Tribe Wildlife Program is trying to change. The department is hoping to restore the community's relationship with Ishkode and alter the narrative of Ishkode from an enemy to a friend. To do so, the department began by interviewing tribal elders and others to better understand how Ishkode could benefit the community today. They drew connections on the ways the community interacts with the forest and which species the tribe believes are important to maintain.
The department found a handful of goals and priorities from their community interviews. These included using Ishkode to create openings for valued wildlife and to protect elder trees. They also noted the community valued Ishkode for promoting safety from wildfires, as controlled burns can clear deadwood and prevent dangerous, uncontrolled wildfires. The community also discussed how Ishkode creates greater ecological integrity and for the possibility of Ishkode to replace red pine plantations with a natural, mixed forest. Fegan summed up what the department learned from their interviews as "Anishinaabe community knowledge that can be combined with current opportunities (available to the department) to better steward the forest and its natural resources."
Since 2019, the department has worked to co-develop an Inter-agency Ishkode Stewardship Plan in collaboration with the United States Forest Service – Hiawatha National Forest. The stewardship plan focuses on Forest Service lands within the 1836 Ceded Territory in the eastern Upper Peninsula of Michigan and integrates community values into shared wildlife and forest stewardship objectives. Sault Tribe and the Hiawatha National Forest plan to use this Inter-agency Ishkode Stewardship Plan as the framework for long-term, collaborative adaptive management of forest ecosystems through the use of planned Ishkode. Currently, the Wildlife Program is working with Forest Service staff to plan a prescribed burn of the Betchler Marsh in the east zone of the Hiawatha National Forest.
Fegan wants to emphasize that this project "is about more than fire. It is about restoring the relationship between all of us: people, plants, and wildlife." She hopes this project can be a step towards rebuilding the integrated relationship between the Sault Ste. Marie Tribe and Ishkode for generations to come.
Learn more
Michigan State University Extension highlights that projects just like this one are occurring all over Michigan every day. Michigan's 12 federally recognized tribes remain active stewards of our natural resources and are working diligently to ensure these resources for the coming generations. If you want to learn about another tribal project, check out the article, "Fish for the Future," or consider using this map to find the tribe nearest you that may be working on managing the natural resources in your county or township.
Avery Tilley graduated with dual degrees in Fisheries and Wildlife, and Genomics and Molecular Genetics from Michigan State University in 2023. He is a citizen of the Cherokee Nation and a Texan. Tilley is pursuing a Doctorate of Veterinary Medicine at the University of Georgia with hopes to further a career in tribal wildlife medicine.