True 4-H science teen leaders: Huron County
Huron County has a true 4-H science teen leader in Addy Battel.
March is when we start thinking about spring, St. Patrick's Day, luck, rainbows, pots of gold and four-leaf clovers. Whenever I see a four-leaf clover, all I think about is the 4-H clover and the wonderful opportunities provided in 4-H. This is another article part of a series featuring "True 4-H Science Teen Leaders" from around Michigan. In District 10, there is a young woman from Huron County that stands out and is an inspirational 4-H teen leader. I had the pleasure of meeting this true 4-H science teen leader, Addy Battel.
Battel has been a 4-H member for 10 years, including when she was a cloverbud (4-H programming offered for youth ages 5-8). She is currently the community service officer of Boots and Bling 4-H Club and president of Cows-n-Clover 4-H Club. Battel has shown dairy, feeder steers, market goats, broiler and fancy chickens/ducks, rabbits and pigs. She is trying sheep this year.
Battel shared her thought-process when working on "science-y" projects.
"I like taking full responsibility for my projects and learning about animal nutrition and health," said Battel. "I give all my own vaccinations and so on. For the last four years, I've been studying the effects of various changes to my broiler chicken diets to raise an ideal bird for me. I've also done a science fair project on how weather affects maple sap production. I raise a few hundred broilers a year to sell or donate to the local food pantry and have a business with my friend making maple syrup from 215 taps on sugar maple trees."
Patti Errer, Huron County 4-H program coordinator, commented on why she believes Addy is a true teen leader.
"She is a very active member of 4-H," said Errer. "She is a very responsible, reliable and self-motivated individual who wants to do great things. She demonstrates the ability to teach others in her club and at events provided by 4-H throughout the area. I have never met a young individual who has the drive to learn and educate others. Addy is a remarkable young lady who has the leadership skills to make a difference while representing 4-H."
In her Michigan 4-H 2017 State Award application last year, Battel stated, "Because of 4-H, I'm lucky enough to have something not many people my age have: a true love of learning. Not learning for a grade or for some sort of recognition, but learning simply because this world is fascinating. 4-H has shown me that around every corner there is some new and fascinating idea waiting for me. I was always the type of little kid who wanted to touch everything, I always had to know exactly what you were doing. It drove my parents crazy; it still does. 4-H has helps me feed that fascination. My earliest memories are on the farm with my uncle, a constant stream of questions. 'What is that?' 'Why are you doing that?' 'Show me more!' I never really stopped asking those questions, and through 4-H I get to spend my summers asking more and sharing the answers with people who share my fascination."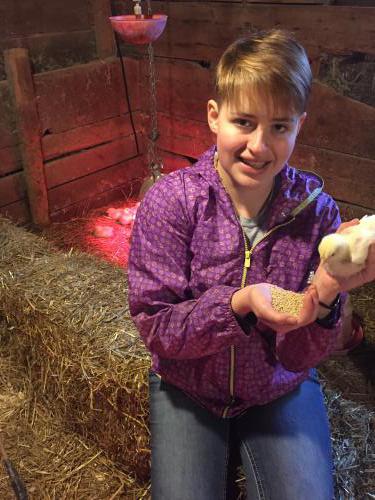 When it comes to special awards, offices held and community service, Battel has been very active. Her extensive list includes:
Michigan 4-H State Youth Leadership Council, 2017-present
Huron County 4-H Senior Ambassador, 2016-17
Junior president Cows-and-Clover 4-H Club, 2015-16
Boots and Bling 4-H Club, 2016-present
Community service officer, 2017-present
Treasurer, 2016-17
President, 2014-16
Secretary, 2013-14
Cass City FFA Chapter vice president, 2017-present
Reporter, 2016-17
Junior high president, 2015-16
Co-founder of the highly successful local hunger relief projects "Meating" the Need for Our Village, Milk for Our Village and Eggs for Our Village since 2014, involving 120 local youth and providing $26,460 in food initiated.
Thumb Dairy Odyssey series of on-farm workshops for youth, reaching 130 youth at five farms, worked alongside dairy Extension educator to plan and execute, 2016 and 2017, 2018 in planning.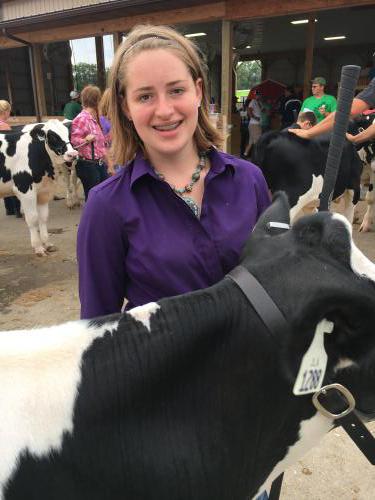 Battel also attended the World Food Prize Global Youth Institute on food security, which is where I got to meet her. The awards she has received is extensive, too, and include:
President's Volunteer Service Award: Gold, signed by President Obama
2016 Farm Credit Fresh Perspectives Top 100 people making a difference in American agriculture
2016 World Food Prize Michigan Youth Institute Borlaug Scholar
2016 and 2017 World Food Prize Global Youth Institute Delegate
2017 Prudential Spirit of Community Award State Distinguished Finalist
2017 Michigan 4-H Birds and Poultry Science State Junior State Award
2016 Huron County 4-H County Medals in Citizenship, Leadership, All Achievement, Goats, Poultry, Dairy, Beef, Clothing and Entomology
FFA state winner in Junior High Dairy Judging, Junior High Crop, Junior High Broiler Contest, Greenhand Public Speaking and a number of gold state awards.
Battel has local community, national and global involvement to add to her list of accomplishments. Locally, she's involved in the Cass City "Meating" the Need for Our Village Hunger Relief Project, and she's the costumed presenter for Thumb Octagon Barn and Cass City Historical Society. Nationally, she's been part of the National Youth Agri-Science Summit and will be keynote speaker at North Carolina 4-H Healthy Living Summit in May. Globally, she was a World Food Prize Global Youth Institute Borlaug Scholar.
She has also initiated the Thumb Dairy Odyssey to bring animal science fun and learning to other youth who love cows. She's participated in Michigan 4-H Animal and Veterinary Science Camp, animal science sessions at 4-H Exploration Days, where she loved taking a rectal sample from a sheep, and Michigan 4-H Dairy Conference. She taught other youth healthy soils lessons, participated in the Michigan 4-H Ag Innovators program and National Youth Agri-Science Summit in Washington, D.C. She has also participated in educational contests at Michigan 4-H Dairy Days and Michigan 4-H Goat Expo.
In 2018, Battel prepared a project at the Arthur Berkey Agriscience Fair at Michigan State University about the effects of supplemental cracked corn on broiler chicken performance and marketability. This science fair is open to Michigan 4-H and FFA members. She usually takes animal science and veterinary science projects to the fair, and have included learning about highly pathogenic avian influenza and common poultry diseases. She also does crop science. Most recently, her fair project was about Rhizoctonia in sugar beets. There is just no stopping her in science!
Errer offered advice for other youth interested in becoming a 4-H teen leader.
"A teen leader is a senior member who can assume additional leadership roles," said Errer. "Teen leaders will participate in educational sessions to learn skills to teach science to other 4-H youths. They may co-teach with club leaders or may lead the project area independently. There are many opportunities for 4-H youth interested in becoming a teen leader on a local, state and international level. 4-H offers programming for teens to learn and to pursue many interest areas within the science domain. Information is sent to 4-H youth as it becomes available of trainings provided by 4-H through emails, newsletters and Facebook postings. With a little drive, and the willingness to learn, any youth can become a teen leader."
Battel commented, "I like to ask why, almost to an annoying level." Which is what 4-H science is: Asking Questions and Discovering Answers!
Huron County 4-H has a very lucky, four-leaf clover, "pot of gold" true 4-H science teen leader in Addy Battel!
Michigan 4-H is proud to be part of the National 4-H tradition of supporting and growing true leaders. The next generation of empowered 4-H True Science Leaders continues growing in Michigan.
Michigan 4-H has many 4-H science programming areas for youth to explore. Science is everywhere with many questions to ask and discoveries to be made. For more information about 4-H learning opportunities and other 4-H programs, contact your MSU Extension county office.