Turkey leftovers
It is quick and easy to make turkey soup using leftover turkey.
Are you looking for some ideas for using leftover turkey? There are all kinds of ways to use turkey, but the first step is to use it promptly recommends Michigan State University Extension. Leftover turkey should be eaten, frozen or discarded within three or four days to make sure the turkey is still safe to eat.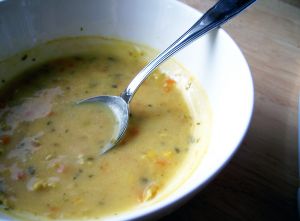 To freeze turkey, package the turkey in freezer bags or containers that are air tight in amounts suitable for your family and the intended use. For example, if you plan to make turkey soup, you will need less turkey than if you are planning to make turkey sandwiches. Use the frozen turkey within three to six months and always thaw it properly, in the refrigerator.
You can easily make turkey soup. The recipe is as follows:
1 cup cooked turkey, diced
6 cups water
½ cup uncooked rice
1 cup onions, chopped (2 medium)
½ green pepper (chopped)
3 medium carrots, washed and sliced
2 stalks celery, washed and sliced
1 bay leaf (optional)
1 (15 oz.) can tomatoes
1 (10 oz.) pkg. frozen mixed vegetables
Directions:
In large saucepan, combine turkey, fresh vegetables, water and rice
Simmer covered 1 ½ hours.
Add frozen vegetables and tomatoes and simmer covered for 15 minutes or until vegetables are tender.
Serve immediate or freeze in small containers for later use.
This recipe is from the "Eating Right is Basic" recipe set from Michigan State University Extension. For other inexpensive and easy turkey recipes, check out the SNAP ED recipe connection.