Two MSU students named MANRRS national officers
Christián Henry, Micah Cuevas will serve as parliamentarian, vice president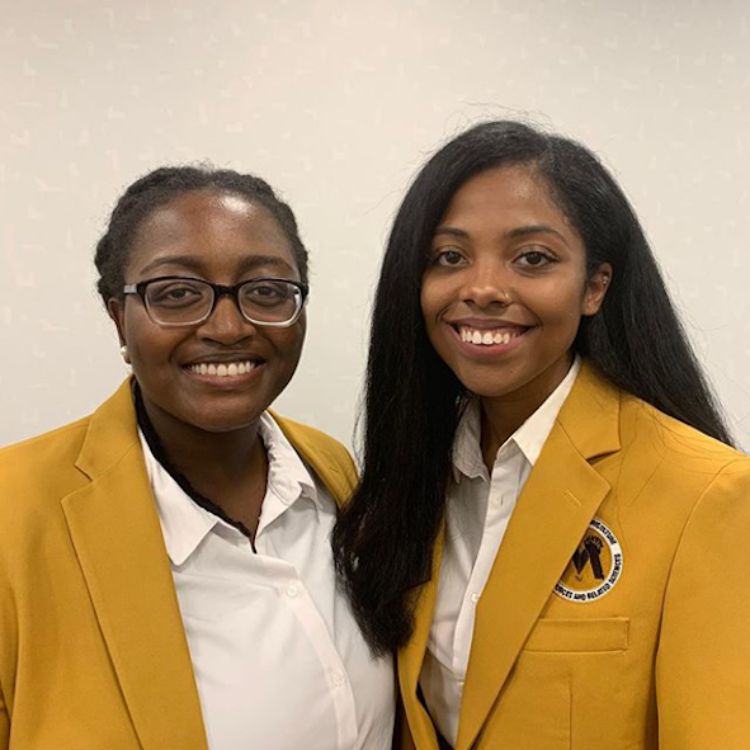 EAST LANSING, Mich. – Two students will represent Michigan State University (MSU) on a national stage as 2019-20 officers for Minorities in Agriculture, Natural Resources and Related Sciences (MANRRS).
MANRRS is a nonprofit organization dedicated to fostering and promoting agricultural sciences "in a positive manner among ethnic minorities."
Christián Henry, a forestry Ph.D. student, was selected as graduate student parliamentarian, and Micah Cuevas, an agribusiness management junior, will serve as the undergraduate student vice president.
MANRRS aims to provide a springboard into careers in agricultural sciences while also giving undergraduate and graduate students opportunities to learn leadership, organizational skills and public speaking skills in a professional environment.
"In this role, I hope to refine my skills as a leader and as a professional, so that I am able to serve those that are underrepresented in agriculture," Cuevas said. "I also hope to share and highlight the importance of diversity with everyone I meet."
Quentin Tyler, associate dean and director for the Office of Diversity, Equity and Inclusion in the College of Agriculture and Natural Resources (CANR) is a current MSU professional representative on the MANRRS advisory board.
"The National Society of MANRRS recognizes the development, training and support students receive from advisers and administration that are a part of MSU's MANRRS chapter in the College of Agriculture of Natural Resources," Tyler said. "When MSU students are elected or appointed to the national officer team, it is a seamless transition. They imbue a sense of pride and motivation for MANRRS that is unmatched. We are definitely excited to have Christián and Micah represent not only CANR and MSU but also the National Society of MANRRS."
Henry received her bachelor's degree in agricultural engineering technology and business from Mississippi State University. She came to MSU in 2018 to pursue her Ph.D. in forestry. She said that being a part of MANRRS at Mississippi State and now at MSU has played an important role in her college career.
"To me, MANRRS is a family. I've been in two different chapters on opposite sides of the U.S.," Henry said. "At Mississippi State University, I was the only person of color and the only woman in my classes, so once I found MANRRS, it was a good foot in the door to find people like me in a space where I didn't really see myself represented. Then when I came to Michigan State University, the first thing I did was look up the MANRRS chapter."
In her MANRRS role, Henry will review and serve as an expert on the organization's brand, constitution, bylaws, procedures and strategic plan. She will also serve as spokesperson to national members on parliamentary procedure and speak on behalf of the organization to promote the MANRRS mission.
Henry describes herself as an introvert, and she said MANRRS has "made her comfortable with being uncomfortable" and allowed her to become more assertive and confident.
Cuevas is a recent graduate of the MSU Institute of Agricultural Technology. She is entering her junior year at MSU and plans to graduate in 2021. The Holland, Michigan, native is currently working as a student employee at the MSU Swine Teaching and Research Facility.
As MANRRS undergraduate student vice president, she will take the lead in developing new collegiate chapters and initiatives and relationships with representatives of MANRRS national sponsors.
"Agriculture is an industry that impacts literally everyone. For this reason alone, I believe it's crucial for us to uplift every voice advocating for our industry, regardless of skin tone, religion or gender, to cultivate a better environment for the next generation of agriculturists," she said.
MANRRS members participate in a variety of programs throughout the year, including research programs, regional meetings and the annual national conference, which brings together more than 1,000 members to discuss diversity issues and concerns in agriculture, natural resources and related sciences.
Related Article