Undergraduate Denny Alt talks about why he chose to study crop and soil sciences
Growing up on a farm in Michigan is what first interested Denny Alt in growing crops. His academic studies through the Department of Plant, Soil and Microbial Sciences will support his plans in agribusiness.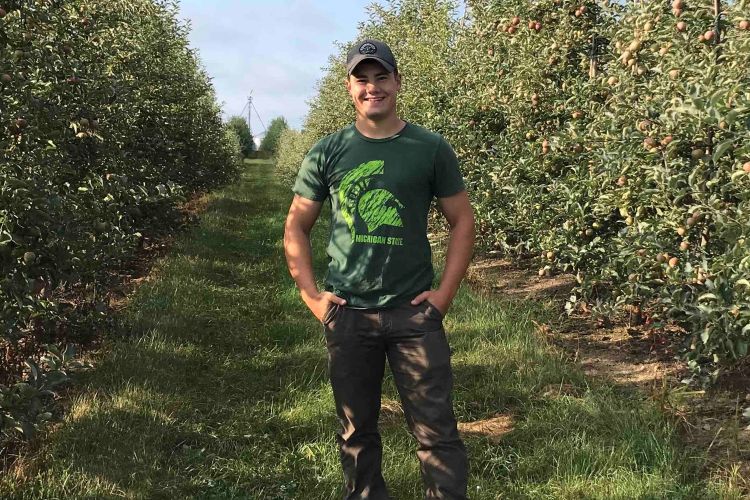 MSU undergraduate Denny Alt grew up on a farm in Michigan and hopes to pursue agribusiness after graduating with his degree on crop and soil sciences.
---
Name: Denny Alt
Hometown: Comstock Park, Michigan
Major: Crop and Soil Sciences
Academic Advisor: Susan Gruber
Why did you choose this major and concentration?
Growing up on a farm has always had me interested in growing crops. My brother went to MSU and went through the same program. He told me that I would enjoy the major based on my interest in agriculture.
What are your future plans?
My future plans are not clearly made yet, but I want to work at an agribusiness that helps build the future of agriculture with farmers. Someday, I would also like to return to my family's apple and grain farm and produce food for the growing population.
What or who inspired your interest in your program?
The history of my family being farmers and growing up on a farm, and seeing my brothers and dad work the land to provide a life for my family, while helping other families get food as well.
What has been your best experience in your major so far?
The best experience in my major so far has been meeting people who are just like me, and who are going to school to make a difference in the agriculture community and are driven by the same values that I was raised with.
Why did you choose the Department of Plant, Soil and Microbial Sciences?
Learning about the rapid growing population and the need for more food in the future, I wanted to play my role in making a difference. I felt like i could do the best in Plant, Soil and Microbial Sciences.
What is the best selling point about your major that you would like others to know?
That soil is the building block for all agriculture field crops, and that the crop and soil sciences major teaches one how to use the soil to grow the best crops possible in a sustainable way.
What has been your favorite part about being a Spartan?
All of the diversity, it helps me to learn in different perspectives and now to look at a situation in multiple ways.