Uneven Implementation of Regional Pesticide Policies in West Africa Region
First assessment results lead to safety and environmental concerns
By Steve Haggblade, Professor, International Development, MSU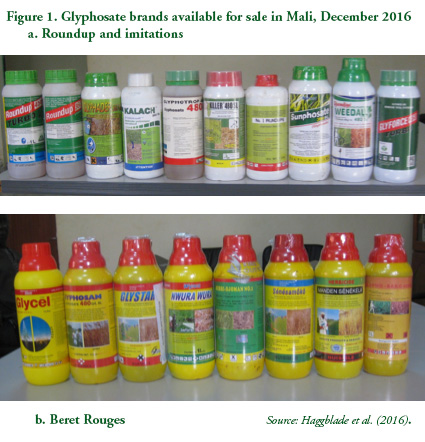 In response to concerns expressed by ECOWAS on the uneven implementation of regional pesticide policies, FSP West Africa Region team is undertaking fieldwork and analysis for use of pesticide in the region. Early results from Mali suggest three major findings:
Photo: Glyphosate brands available for sale in Mali (S. Haggblade)
1. Rapid growth of herbicide use in Mali
Since 2000, herbicide imports have roughly doubled while prices have fallen nearly in half. As a result, herbicide use has increased rapidly, particularly nonselective brands of glyphosate. At the same time, Malian farmers continue heavy insecticide application, particularly in cotton production.
2. Falling prices trigger innovation, imitation and fraud
These large and growing pesticide markets have stimulated a proliferation of new pesticide products and brands along with rising numbers of unregistered products and increased regional smuggling of counterfeit and fake products. Pesticide inventories in Malian markets suggest that roughly half of all glyphosate brands are unregistered, many of them smuggled in illegally for coastal countries such as Ghana and Guinea. Illegal, unregistered herbicides may account for 30% to 40% of the national herbicide market.
3. Emerging safety and environmental concerns
The explosion of new knock-off brands of pesticides by regional traders (see Figure 1) has led to widespread stakeholder worries about product quality and possible product adulteration. Many of the stakeholders we interviewed – in both the private and public sector – expressed concern about possible adulteration of these numerous unregistered products. Indeed, the faded photocopies on some unregistered pesticide labels suggest minimal attention to product quality on the part of the counterfeiters. In some cases it appears that the counterfeiter's business model involves delivery of limited-edition knockoff brands to local markets for a single season. Even if farmers experience unsatisfactory results, the offending pop-up brands appear likely to disappear the following season, as new imitation products with new packaging emerge. For farmers and honest traders, quality control becomes problematic.
Despite widespread concerns, the environmental impact of this increased volume of pesticide application remains largely unknown and unmonitored in Mali. In addition to concerns about possible product adulteration, issues of storage, handling, farmer application and disposal of unused stock and containers raise growing concerns given the large and growing volumes of both insecticides and herbicides. Currently, no testing of product quality is possible in Mali, given the current limited equipment available in national testing laboratories. The Mali study suggests several possible solutions to these growing concerns.
Efforts to generalize more broadly will await the findings of additional ongoing case studies in Senegal, Gambia, Ghana, Guinea and Nigeria. The team aims to complete these by December 2016, following which the team will begin active synthesis and outreach discussions with regional regulators and stakeholders in the Sahelian and coastal zones.