Urban & Regional Planning alumnus Adam Jenks receives 2017 AICP Outstanding Student Award
Recent Urban & Regional Planning alumnus Adam Jenks was awarded the 2017 American Institute of Certified Planners (AICP) Outstanding Student Award for his dedication to the field of planning as a graduate student.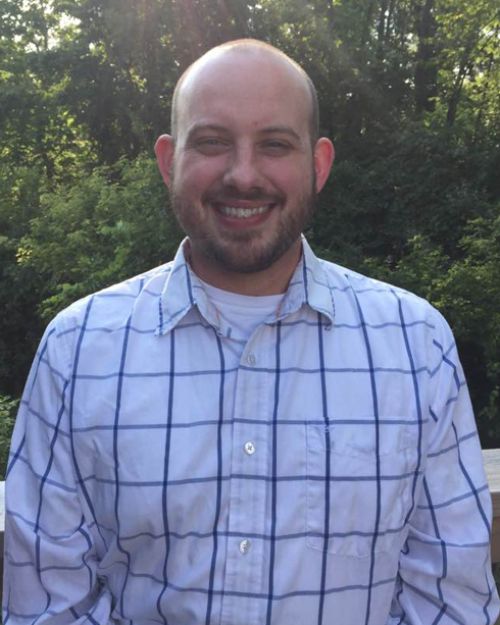 Recent Urban & Regional Planning alumnus Adam Jenks was awarded the 2017 American Institute of Certified Planners (AICP) Outstanding Student Award for his dedication to the field of planning as a graduate student.
This award recognizes outstanding achievements in the study of planning by students graduating from Planning Accreditation Board (PAB)-accredited planning programs, such as the URP Program in the School of Planning, Design and Construction.
A student is chosen at both the graduate and undergraduate level by each program. To be considered for the award the student must first be nominated via a formal letter from the program lead at their university.
Jenks was nominated to receive the graduate level award by a vote of the URP faculty. To be considered for nomination by the program, a student must demonstrate high levels of academic achievement, leadership and commitment to planning.
Jenks journey into planning started slightly unorthodox with a degree in teaching from Central Michigan University. With that, he began student teaching, while volunteering for the Calhoun County Habitat for Humanity where he witnessed the deficit in community resources.
"I chose a slightly unconventional path, so when I began I had limited information about planning, but I was smitten with it." Jenks said. "I loved the interconnectivity within the process, and how there was room for interdisciplinary skills."
In 2010, while finishing up his student teaching in Portage, Jenks was introduced to Sprout Urban Farms—a youth program for helping better communities through food, education and community enterprise. The goal of this program was to increase food access for all residents, especially those in areas known as food deserts.
Jenks explained that a food desert is an area where fresh produce is not available to residents within walking distance, usually equating to three-and-a-half miles. He said food deserts are often made worse by abandoned buildings and vacant lots, which contribute to gaps in walkability and increased crime.
Jenks partnered with Sprout Urban Farms to bring community gardens to help fill these gaps. One project he worked on was a run-down city block that was transformed into a greenhouse with rows of vegetables growing outside.
"The gardens are a bright spot in Battle Creek," Jenks said, "They even employ 10 to 15 high school students over the summer to maintain them."
Jenks said his excitement about community planning was sparked through this experience of developing the city gardens with the school and Sprout Urban Farms.
A conversation with Battle Creek's planning manager Cristine Zuzga took place during the summer of 2010, where Zuzga encouraged Jenks to apply for the master's program in Urban & Regional Planning at MSU.
"She inspired me," Jenks said. "She explained that there is not a prerequisite degree for graduate school, and that there is a lot of opportunity within the field."
In the Fall of 2015, Jenks was accepted in the URP Master's program and he graduated just two years later in May.
During his graduate study, Jenks took part in Urban Planning 494 Planning Practicum, the program's capstone course, where he was able to work with a team of planners on a project from start to finish for the first time.
The goal was to highlight features of East Lansing that portray the City as more than just a college town, but a community where graduates can work, have influence and raise a family.
Jenks said, "We collected data, worked as a team, and assembled a report that gave recommendations East Lansing can actually use."
Jenks also spent much of his master's studies in Manchester, MI, collecting qualitative data for their Safe Routes to School (SRTS) Program funded by a grant from the Michigan Department of Transportation (MDOT) in 2014.
His thesis provided a basis for SRTS program improvements by asking primary advocates and stakeholders if the program helped change public perception surrounding the fitness and safety of walking or biking to school.
He worked with and was guided on this project by URP senior academic specialist Wayne Beyea on this and other projects. "He opened the door for many exciting and engaging experiences during my time at MSU," he added.
A key aspect of SRTS started with a community wide "Walk to School Day" where local schools, city employees, nonprofit organizations and the public walk to school, while identifying barriers along the route that would usually stop them from walking or biking. Jenks said barriers included a variety of variables, but included busy streets lacking crosswalks or areas where the sidewalk ends.
The data Jenks used for his thesis was collected by the National Center for Safe Routes to School, Michigan Fitness Foundation, and 11 qualitative interviews. He found that the Manchester Safe Routes Program was a great success story for how a planner can positively impact a community.
"Of those we interviewed, no person stated that they felt the program was unsuccessful," Jenks said. "A majority found it to be very successful, while the rest found it to be either successful or neutral."
He said the reason he thinks Manchester was so successful is because of their strong community involvement with the program and planning process.
"The program was targeted towards elementary and middle schools, but even the high school marching band took part in the Walk to School day event," Jenks said. "They made it more of a community parade than a task or experiment."
What Jenks has learned from his Master's experience is that while empathy is important in every job, a career in planning demands it.
"It's not about what a planner thinks they know, but about what they don't, and you can't learn that without listening to the needs and struggles of the community," Jenks said. "Empathy is a big part of that."
He says his favorite part of the jobs he's worked on is that there is no set rulebook for how to be an outstanding planner.
"There is an array of opportunities to follow your passion as a planner, and an opportunity will come along where you can contribute your unique skill-sets in a rewarding way," he stated.
Currently, Jenks is on the hunt for new opportunities in the field of planning.
Please join us in congratulating him for this award!