Van Buren County farm set to host the third Breakfast on the Farm this summer
Interested in seeing where your food comes from? Visit Hood Farms Family Dairy on August 8 to learn more.
July 8, 2015 - Author: Nichole Hersch, ANR Communications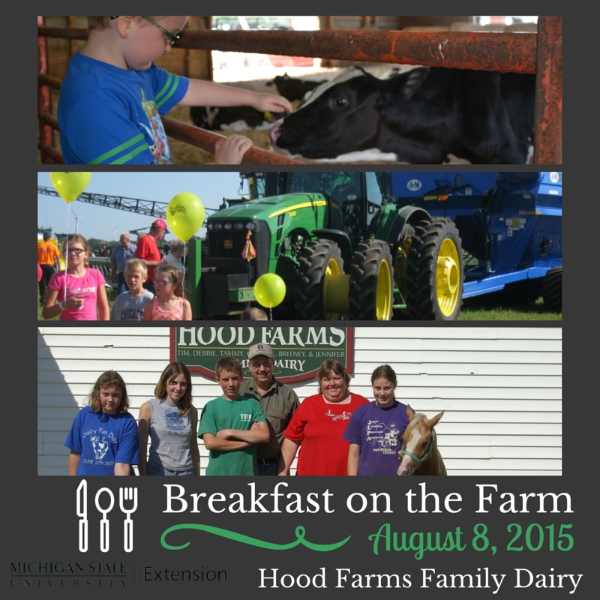 It's almost time for the third Breakfast on the Farm (BOTF) event of 2015. On August 8, Hood Farms Family Dairy will be hosting a free farm tour and breakfast for folks of all ages. BOTF is a great opportunity to meet the producers of your food and to ask any questions you may have about modern-day food production.
Hood Farms Family Dairy is owned and operated by Tim Hood, his wife, Debbie, and their four children. They pride themselves in being a family-owned and family-operated farm.
The farm is located at 41488 County Road 358 in Paw Paw. This event will take place from 9 a.m. to 1 p.m. with breakfast being served until noon.
"I see people drive slowly by the farm trying to get a look inside, I know they are curious," Tim Hood said. "Consumers don't understand modern-day farming practices, and it is important that they know our story."
"This is a family farm and we take care of our animals," Hood said. "They are clean and comfortable in their freestalls. We take care of them because they are our livelihood."
Hood and his family look forward to opening their farm to consumers through BOTF.
The Hood family houses 500 cows and produces 1,100 acres of crops to feed the cows. When the Hoods expanded their herd, they began implementing irrigation practices to increase crop yields. Today, nearly 75 percent of their crops are under irrigation.
Breakfast on the Farm is a statewide event made possible by Michigan State University Extension. Breakfast is served at the event and consists of Michigan-grown and Michigan-produced products. Following the meal, visitors will be invited to explore the farm on a self-guided walking tour. Visitors will see cows being milked, clean housing for all animals, farm equipment and irrigated crops. Volunteers from the community will be stationed around the farm to answer visitors' questions about modern-day farming practices.
"We want consumers to know the truth about where their food comes from. We want to be able to tell our story," Tim Hood said .
The event is free, but tickets are required to eat breakfast. Tickets are available after July 10 at:
Bangor: Webster Memorial Library - Bangor Branch.
Battle Creek: Battle Creek Farmers' Market.
Benton Harbor: Berrien County MSU Extension.
Berrien Springs: GreenStone Farm Credit Services.
Bloomingdale: Webster Memorial Library -Bloomingdale Branch.
Cassopolis: Cass County MSU Extension.
Covert: Webster Memorial Library - Covert Branch.
Decatur: Rajzers Farm Market; Village Market; Webster Memorial Library- Decatur Branch.
Gobles: Village Market; Webster Memorial Library - Gobles Branch.
Grand Junction: Stokes Homestead Market.
Kalamazoo: Kalamazoo County MSU Extension; Kalamazoo Valley Museum; Texas Township Farmers' Market (Saturdays from 8 a.m. to noon. and 4 p.m. to 7 p.m.).
Lawrence: Southwestern Michigan Feed; Webster Memorial Library - Lawrence Branch.
Lawton: Wagoner's -- Your Hometown Food Store.
Mattawan: Antwerp Sunshine Library; Wagoner's -- Your Hometown Food Store.
Paw Paw: Brookside Farms; Family Fare Supermarket; Van Buren County MSU Extension; Village Hall.
Schoolcraft: GreenStone Farm Credit Services.
South Haven: South Haven Public Library; Tractor Supply Company.
Vicksburg: Vicksburg Farmers' Market (Fridays from 2:30 p.m. to 6:30 p.m.).
The statewide sponsors for the 2015 BOTF events are the Corn Marketing Program of Michigan, Crystal Flash, Dairy Farmers of America, Dairyland Seed, GreenStone Farm Credit Services, Kroger, McDonald's, the Michigan Ag Council, Michigan Farm Bureau, Michigan Farm Bureau Insurance, the Michigan Milk Producers Association, the Michigan Soybean Promotion Committee, the Michigan Wheat Program, Northrop Trucking and the United Dairy Industry of Michigan.
For more information about the Van Buren County Breakfast on the Farm or other BOTF events, visit www.breakfastonthefarm.com or contact Ashley Kuschel at kuschela@anr.msu.edu or Mary Dunckel at dunckelm@anr.msu.edu.