Weekend Survival Kits help prevent hunger in Lansing School Districts for 7th year
Local collaboration fills in where school lunches can't reach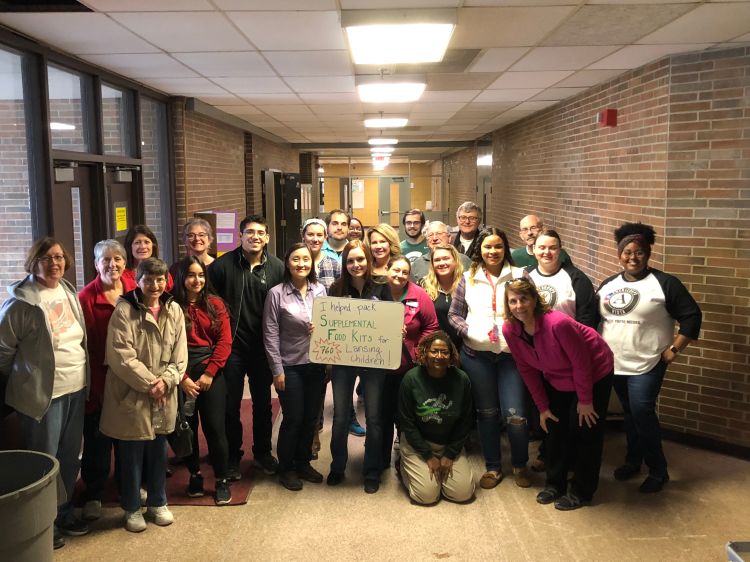 Roughly one in five children in Ingham County are food insecure. Undernourishment and hunger have a high impact on school readiness and performance. Children who experience hunger early in life are more likely to have lower reading and math scores, to be hyperactive and disruptive in the classroom and to suffer from poor mental health. Additionally, food insecure children are more likely to have higher absences and repeat a grade than food secure children.
Meal services in schools, including school breakfast and lunch, play a vital role in addressing childhood food security and providing children with the nourishment needed to learn and thrive. The National School Lunch Program and School Breakfast Program provide free or reduced price meals to children of qualifying families based on household income. Roughly 69 percent of children in the Lansing School District qualified for free or reduced price meals in the 2017-2018 school year. For many, these meals represent their only source of nutrition throughout the day. It is for this reason that many national efforts to improve childhood nutrition focus on the quality of food service in schools given that many students depend on school meals for their daily nutrition, it's important to make sure that these meals provided as much of a child's required daily nutrients as possible.
But what happens on the weekend?
That's a challenge the Weekend Survival Kit Program (WSK), a partnership between Michigan State University Extension, Northwest Initiatives, the nonprofit Weekend Survival Kits and Lansing Public Schools SodexoMAGIC Food Service is trying to tackle. Together, these organizations have helped feed hungry children in Lansing since 2012. Weekend Survival Kits are supplemental nutrition kits provided to food insecure students. They contain enough food for five to six meals. Kit contents vary month-to-month, but include foods that are kid-friendly, easy to prepare and individually portioned. The program also makes an effort to meet the needs of all students, providing separate kits to new American families who may have dietary restrictions or aren't used to certain products. In this manner, the partnership aims to make sure every student's needs are met and are they able to benefit from the program. The kits also come with simple, healthy recipes using the provided ingredients.
Roughly twice a month during the school year, teams of 30-40 volunteers get together to pack kits, assembly line style, to be distributed to the 700+ students participating in the program. Packing sessions are lively and fast paced, bringing volunteer groups from local businesses, MSU student groups, Lansing school district and other local organizations and individual community members. These kits are then packed up by Lansing Food Service and delivered to schools where administrators and teachers distribute the kits to students they've identified as at risk of not having enough to eat over the weekend. Often this is based on free and reduced price meal reimbursement qualification. As teachers and administrators are on the front line, they can also identify students whose families may have fallen on hard times and need assistance until they get back on their feet.
In 2017-2018, the program currently served by NorthWest Initiative and MSU Extension has grown to serve 10 schools and over 900 students per week. Since its inception in 2012, this partnership with the help of many volunteers has packed 40,762 kits, providing almost 204,000 meals to Lansing children. It's hard to overestimate the impact of full bellies on kids. This program and others like it are essential in making sure children arrive to school Monday morning nourished and ready to learn. To learn more or volunteer at the next Weekend Survival Kit packing, email alexandriam@nwlansing.org. To donate in support of this work, visit http://weekendsurvivalkits.org or click here.