West central Michigan small fruit update - June 7, 2022
Pest management is top priority for blueberry growers. Cranberry fruitworm and cherry fruitworm are ovipositing and mummy berry shoot strike symptoms are visible.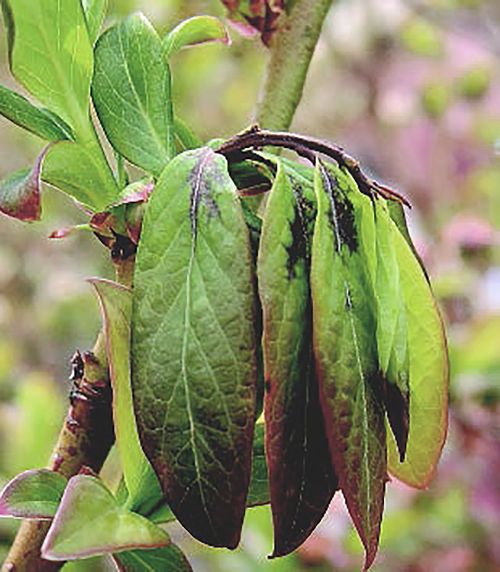 West central Michigan has remained under below normal temperatures for the last seven days. Daily minimum and maximum temperatures in the area were on average 51 and 72 degrees Fahrenheit, respectively. Those temperatures allowed a degree day (GDD) accumulation since March 1 that averaged 580 GDD (base 50 F). The largest accumulation occurred around Grand Junction, Michigan, and the lowest at West Olive-Fennville, Michigan, locations. Rain on the other hand, was present but only in the form of isolated showers and drizzle that deposited between 0.5 and 0.7 inches of rain during the past seven days.
Regarding fruit crop conditions, blueberries are in the green fruit stage with early varieties with pea size green fruits. Because the prevailing low temperatures, pollination was not a problem in most varieties despite some reports of low honeybee activity in the field. And as of June 7, the size of the blueberry crop looks excellent. So far, no June drop has been observed.
There are several things grower need to pay attention to. One issue is disease management. Because the rain shower and drizzle from past days, fields with history of mummy berry infections are showing mummy berry shoot strike symptoms (Photo 1). Although the advanced weather forecast for the next seven days indicates low probability of substantial rain in the area, daily temperatures will continue below the 70s. According to Tim Miles, MSU small fruit plant pathologist, the optimum temperature for infection is 57 F (14 degrees Celsius) and with adequate moisture (morning due for example), germination and infection can occur within 4 hours. Thus, our recommendations are to continue monitoring the fields searching for shoot strike symptoms and keep tight fungicide application program to prevent further infections. Please check the 2022 Michigan Fruit Management Guide (Michigan State University Extension Bulletin E-154) for recommended fungicides and doses.
Another issue is cherry fruitworm (CFW) and cranberry fruitworm (CBFW) control. According to our MSU monitoring program, the CFW emergence has almost finished but the CBFW reached its peak of emergence this week (Photo 2). Thus, we are expecting a large fruitworm oviposition starting at the end of the week. It is important to be ready to initiate the fruitworm control as soon as you find the first eggs in your field. Check the 2022 Michigan Fruit Management Guide for recommended insecticides and doses.
2022 Blueberry Pre-harvest Meeting
We want to remind growers about our free 2022 Blueberry Pre-Harvest meeting on Thursday, June 9, from 5:00 to 7:00 p.m. at the Van Buren ISD Conference Center, 490 S. Paw Paw Street, Lawrence, MI 49064. This program is also offered virtually. The meeting agenda is as follows:
5:00 p.m. – Management of insecticides for blueberry pest control—Carlos García-Salazar, MSU Extension
5:30 p.m. – Nematode Management in Blueberries—Marisol Quintanilla-Tornel, MSU Entomology
6:00 p.m. – Preparing for SWD management in 2022—Rufus Isaacs, MSU Entomology
6:30 p.m. – Fruit Rots: The Long and Winding Road—Timothy Miles, MSU Plant Pathology
Growers attending this meeting will receive two RUPs for renewing their pesticide applicator license. Preregistration is required to estimate the number of handout and refreshments.