West central Michigan small fruit update - May 31, 2022
Petal fall started in blueberries and the Cranberry Fruitworm (CBFW) overwintering moths are flying in Allegan and Van Buren.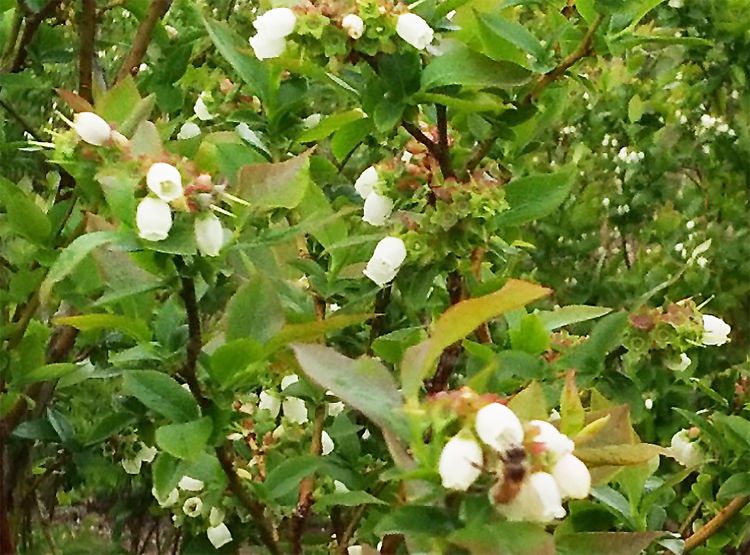 West central Michigan has seen variable weather conditions going from cold, rainy, and hot and windy conditions in a short period of time. For the past seven days the average daily minimum and maximum temperatures were 56 and 76 degrees Fahrenheit, respectively. During the same period there were some rains that left and accumulation that varied from 0.5 to 2.0 inches of rain. The most accumulation occurred around Grand Junction, MI and the smallest amount around West Olive, Michigan.
Weather forecast for the next 5 days indicates daily temperatures around the 80s, and low relative humidity (rH). These conditions cause high evapotranspiration and plants may suffer water stress at the time when water requirements are critical. Water stress during bloom or the fruit set period could cause flower abortion and extensive fruit "June drop". Our recommendation is to provide supplemental irrigation, especially for blueberries and strawberries that are in bloom or green fruit development and in blueberries in sandy soils.
Another important issue for blueberry growers is the initiation of the fruitworm control activities. Growers need to focus their attention on managing the cherry and cranberry fruitworm complex (CFW and CBFW). According to our pest phenology model the forecasted activity for these insects at this time is presented in Table 1.
Table 1. Fruitworm phenology model forecast for the next seven days at west central Michigan
Insect

1st adults

1st eggs

Current Degree Day accumulation (5/31/2022)

Grand Junction, MI

Fennville, MI

West Olive, MI

Cherry Fruit Worm

238±30

432 ± 15

565*

445*

470*

Cranberry Fruit Worm

375±20

460±20

565*

445

470
*It is time to scout for fruitworm eggs
According to the model forecast, the first insecticide applications against fruitworms should be already in progress for fields with history of Cherry fruitworm (CFW) infestations. However, in the case of the Cranberry fruitworm (CBFW) the combat of this fruitworm should be started this week in the Grand Junction area. A large pick of moths has been already detected at Fennville, MI in sentinel monitory traps maintained by the MSU Trevor Nichols Research Center. For control options, please check the fruitworm management recommendations developed by Rufus Isaacs at al. from Michigan State University.
2022 Blueberry Preharvest Meeting
The MSU Extension Small Fruit program is offering the 2022 Blueberry Preharvest Meeting on Thursday June 9, 2022, from 5-7 p.m. at the Van Buren ISD Conference Center, 490 S. Paw Paw Street. Lawrence, MI 49064. This event will be In-person and via zoom for those growers unable to travel to the meeting location.