West central Michigan vegetable update – April 24, 2019
Early crops are being planted or emerging, with asparagus harvest coming soon.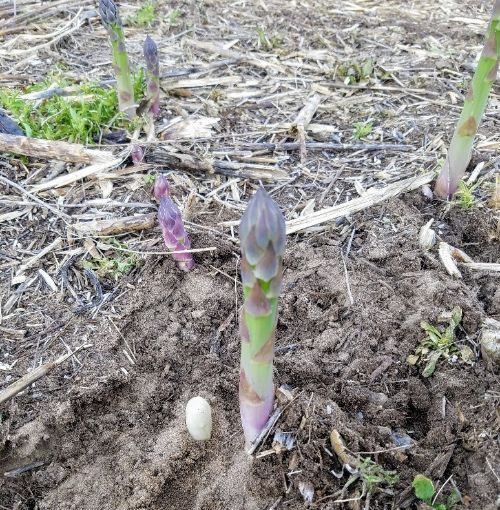 Weather
Thursday evening, April 25, will bring a chance of rainfall with chances decreasing north to south and most areas seeing minimal precipitation. Another weather system will move in Saturday into Sunday, which will bring cooler weather and possibly mixed precipitation. We should see temperatures moderate early next week, with an active weather pattern that could bring chances for rainfall.
Overall, temperatures should warm in early May. In the medium term, outlooks call for near- to below-normal temperatures and above-normal precipitation (40-50 percent chance) for next Monday, April 29, through Friday, May 3. The forecast for May 1-7 calls for near- to above-normal temperatures and above-normal precipitation (33-50 percent chance). The three- to four-week outlook for May 4-17 calls for above-normal temperatures and below-normal precipitation.
Crop report
Asparagus harvest has not started in Oceana and Mason counties. Insect pests to watch for early in the season include dark-sided and white cutworms. Control options include chlorpyrifos and permethrin. Read more in this Michigan State University Extension article, "A tale of two cutworms: Cutworm control in asparagus."
Weed control products for preemergence or "holdback" control that are labeled for preharvest are shown in the below table. One newer asparagus herbicide to consider is Prowl H20. It has activity against pigweed, lambsquarter and sandbur and is a different mode of action than other herbicides. Experience suggests it needs soil moisture from rainfall or irrigation to be activated.
Tradenames, active ingredients (a.i.), preharvest intervals (PHI) and the herbicide class number for herbicides with preemergence activity that are labeled for preharvest application in asparagus. The "class" is the Weed Science Society of America Site of Action, for consideration in resistance management.

Tradename

a.i.

PHI

Class

Prowl H20

pendimethalin

14

3

Tricor

metribuzin

14

5

Sinbar

terbacil

5

5

Karmex

diuron

0

7

Solicam

norflurazon

14

12

Command

clomazone

14

13

Spartan

sulfentrazone

14

14

Dual Magnum

s-metolachlor

16

15

Callisto

mesotrione

27
Celery planting was ongoing in Ottawa County this week. Weed control programs including Chateau should include measures to reduce the risk of crop injury. Grower experience suggests it should be applied after the ground is fit but before transplanting or as a post-transplant application (the label specifies three to seven days after transplanting). Growers have noted that timing is important for post-transplant applications; applying it too early or too late could increase the risk of injury. The label requires that Chateau should only be applied in water without tank mix partners or adjuvants. Experience has borne out that tank mixes with products like Dual Magnum greatly increase the burndown activity of this herbicide.
Onions and barley cover crops were up and herbicide applications were beginning in Ottawa County this week.
Tomato growers should consider using an intensive spray program in the greenhouse for transplants if bacterial diseases are of concern. To get maximum benefit, streptomycin and copper applications should begin after the first true leaves have emerged and continue on a five- to seven-day interval. Ream more in "Protect greenhouse tomato transplants from bacterial spot" from MSU Extension.
Sweet corn growers should read up on tar spot this year. Keep an eye out for this new disease in late summer. It has been detected in Allegan and Montcalm County field corn, but not in sweet corn. Read more in "Corn tar spot now confirmed in Allegan and Montcalm counties" from MSU Extension.